Greece Wildfire Relief Campaign
Devastating wildfires have swept through the suburbs of Athens, resulting in 
at least 91 deaths and an unknown number of injured.
Thousands have fled the fires, with at least 700 being rescued from the sea after jumping in there to escape the flames. Thousands of homes have been destroyed. The fires are a "biblical disaster with human losses," Greek Interior Minister Panos Skourletis has said.
This is a major catastrophe, and the people of Greece need your help. 
Photo credit: Angelos Tzortzinis/AFP/Getty Images
Photo credit: Costa Baltas/Reuters
WHO IS RAISING THE FUNDS?
This campaign is hosted by the Hellenic American Leadership Council (HALC) and Chicago Sister Cities International - Athens Committee. Both HALC and the Athens Committee are official, registered American non-profits. HALC has launched several relief and fundraising campaigns for the people of Greece before. We have close contacts with the government, with non-profit organizations across the country and with community leaders. We have an excellent track record of accountability, transparency and will make all fund disbursements public. HALC and the Athens Committee are not retaining a single cent of any funds raised: all funds will be distributed directly to help the people of Greece. 
Photo credit: Costas Baltas/Reuters
AP Photo/Theodora Tongas
WHERE WILL THE FUNDS GO? 
HALC works with 
registered, vetted nonprofits and other organizations
 that have a clear record of transparency, accountability and effectiveness. We are in the process of continuing our vetting but at the moment, 
100% of funds raised
 will be directly distributed to the following vetted, approved organizations:
* Hellenic Red Cross (Ελληνικός Ερυθρός Σταυρός)
This organization is providing direct, urgent emergency relief to those affected, such as first aid, shelter, and more. 
* SOS Children's Village Greece (Παιδικά Χωριά SOS Ελλάδος) 
This organization provides support services to children. At least 23 children have been injured by the fires, some in critical condition. We will distribute funds directly for any medical care, feeding of displaced families, housing of displaced families or care for orphaned children. 
As your donations are dispersed, we will provide a full accounting of where the funds were distributed and how your donation helped. 
Photo credit: Alkis Konstantinidis/Reuters
Photo credit: Costas Baltas/Reuters
HOW MUCH SHOULD I DONATE? 
Every dollar matters. We appreciate any size donation.
HOW ELSE CAN I HELP?
Awareness is the #1 priority right now. There is a lot of news going on, but the people of Greece are suffering and we need to get this campaign as much attention as possible. Please share this page on your social networks to help us crowdfund as much as possible so we can donate to as many organizations as possible. 
Main photo credit: Angelos Tzortzinis/AFP/Getty Images
Aris Messinis/AFP
Giorgos Moutafis/Reuters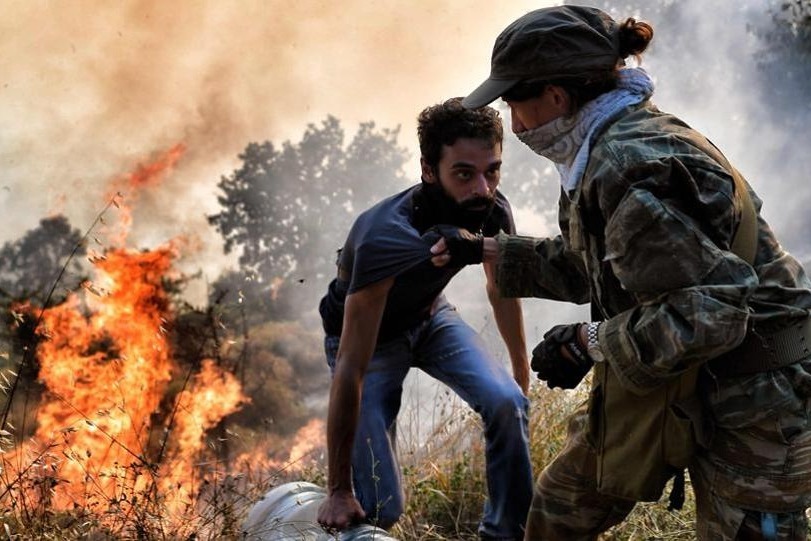 Aris Messinis/AFP
Christos Doudoumis/Intime/Athena Pictures/REX 
Become the first supporter
Your donation matters
Organizer
Hellenic American Leadership Council
Organizer
Chicago, IL