Go Home Harvey! Help Families Now.
Photo update: Family affected by Harvey. All personal belongings in trash heap in front yard, and their home gutted. We helped with essentials and backpacks for their 1st day of school. This is how YOU help us help others!
We are The M.A.D. Girls...our mission is to HELP. Period. I'm Jodi Jackson and am experiencing Hurricane Harvey and it's aftermath right now with millions of others. Right now, I'm one of the few lucky ones who is dry. But people are losing EVERYTHING. Shelters are to capacity. Friends are hunkered down on their 2nd floor with no power. Refrigerators are floating. Trees are falling. People are being rescued. It is truly unbelievable. THIS. CITY. IS. UNDER. WATER.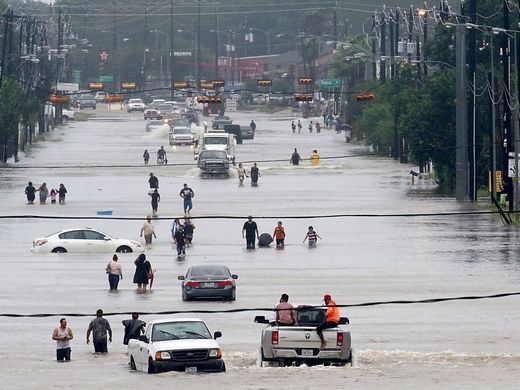 In February, Nichet, Jordin, and I were in Houston for the annual Jordin Sparks Experience during Super Bowl week where we partnered with local organizations to make a difference in the community. And we did. We forged relationships with some amazing local people and charities and want to do it again.
We want to help. And we will help. If we don't raise a dime, we will still help. We are on the ground and willing to get our hands dirty. We are tiny but MIGHTY and we WILL make an impact on behalf of all of YOU. And not just now, but for the long haul. This is my city. We will be hurting and rebuilding physically and emotionally for years to come. We are ready to dig in and stay and make a positive impact for the coming weeks, months, and years.
100% of your donations will go directly to help as many as we can during and after this catastrophic event and we will show you exactly what we are doing with it. We are already identifying families that we can help right now. But believe me...there will be needs for a LONG time. We are preparing to get a crew together to help cleanup and rebuild in the aftermath.
If you want to help this is how:
❤️ Pray for this city and the millions affected.
❤️ Donate to help us purchase supplies and help those with immediate needs now.
❤️ Donate regularly to help cleanup and rebuild going forward. Our immediate goal is only $20,000, but we hope to raise much more to keep going long term! Please share, share, share!
You can follow my Harvey Experience on Facebook
www.facebook.com/jodibsparks 
You can follow The M.A.D. Girls on Facebook too at 
www.facebook.com/themadgirls
We are also doing a t-shirt fundraiser (the shirts are so cute!) Just 
Click here!
For  more info on The M.A.D. Girls go here:
www.themadgirls.org
#GOHOMEHARVEY
Thank you! Jodi
The M.A.D. Girls, Inc. is a 501c3 non-profit corporation and your donation is tax deductible.
Organizer

Registered nonprofit
Donations are typically 100% tax deductible in the US.