Gabriel + Remy's Fire Recovery Fund
Update (Friday 9/14)
Hi everyone,
Thank you so much for all of your donations and kind words of support. Even small donations make a big difference. We are going to keep the GoFundMe up for a few more days. Please share as much as you can so we can reach our goal. This money is going to Gabriel and Remy, to help get them on their feet again, and try to recover some of their losses.
We are very happy for unit lessor Henry and his partner Natalia, as they have reached their initial goals and continue to fund raise on their GoFundMe.
The pain of any tragedy leaves a mark, sometimes financially, sometimes emotionally, and sometimes both. It's important to treat those around you with kindness, as you never know what they are going through. If anything, this fire has reminded me to give everyone a pass.
"Carry out a random act of kindness, with no expectation of reward, safe in the knowledge that one day someone might do the same for you."

-Princess Diana

------------------------------------------------------------------

On September 9th, 2018 at 4am, an electrical fire began inside the wall of Gabriel Vicéns' bedroom, engulfing Gabriel's entire bedroom in flames and spreading to Rémy Labbé's room through a shared closet. Gabriel and Rémy lost their ability to live in the apartment, along with losing their belongings inside.
Gabriel and Rémy are two of the most wonderful people I know... Gabriel is my amazing partner, and Rémy is my hardworking classmate from Berklee College of Music. They are both kind, gentle, hardworking artists, musicians, sons, and partners.
We are all grateful they are safe, since both of them were outside of the apartment when the fire happened, but it is painful to imagine losing all of your belongings as they did. Gabriel is from Puerto Rico, and Rémy from Belgium - they are here in New York City as students and working musicians. Staying afloat financially is difficult as a musician, let alone in a foreign country without family and friends to help.
Between the two of them, we estimate that Rémy and Gabriel lost over $7,500
worth of equipment, furniture, clothing, instruments, electronics, books, countless things of sentimental value, and Gabriel's beautiful paintings which he worked on with all of his heart.
We are hoping to raise at least $5,000
, to help them out both with temporary living situations and replacing lost items. Gabriel and Rémy did not have renter's insurance, and the building management will not reimburse them for their losses.
Gabriel and Rémy are two modest people who did not want to ask for help, but would be the first to extend a helping hand to others. Please help these two wonderful people get back on their feet.
For more information about Gabriel Vicéns and Rémy Labbé, please see their websites:
www.gabrielvicens.com
www.remylabbe.com
Here are pictures of Gabriel's bedroom:
Gabriel's closet:
Entrance to Gabriel's room: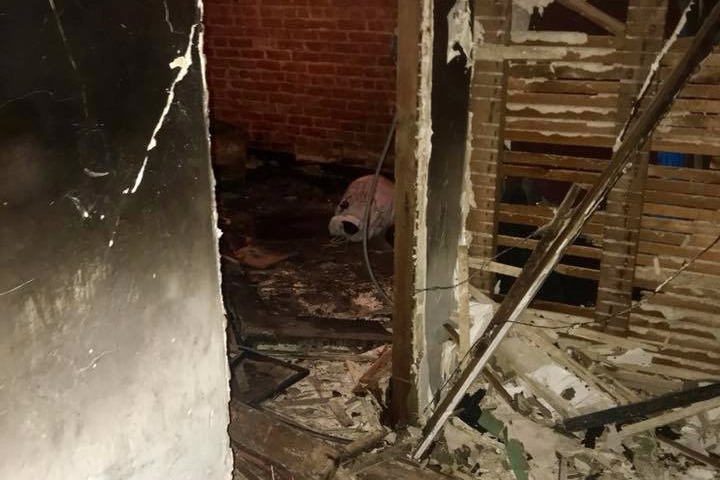 The entrance to Gabriel and Rémy's bedrooms. In the middle of the picture is the closet that connects Gabriel's bedroom (left) to Rémy's bedroom (right):
Entrance to Rémy's bedroom:
Gabi + Elana:
Rémy:
Organizer and beneficiary