Fundraiser for the Future
This year, NACC has expanded its community outreach programs, investing in a youth workshop with multi-disciplinary artist Kiera Kolson and elders in three NWT communities. Our core funding was reduced by $30,000, and with added expenses from programming, NACC is turning to the community with a crowdfunding campaign to raise $10,000 to fund programs that help youth start creating.
Live Your Gifts Art Workshop
Hosted by Kiera Kolson and Blaire Russell, Live Your Gifts Expressive Arts Workshop gave youth in Fort Simpson, K'atl'odeeche First Nation Reserve and Enterprise the opportunity to learn from established artists to create art and present their work to their community. Participants worked with their peers, gaining valuable teamwork skills and connected with Elders who taught them traditional values and skills.
Northern Scene Series - Mentorship Program
Our mentorship program is designed to equip export-ready performers with the skills and resources to take their art to the next level. This year, we have 5 mentees – Baby Brian Weadick, Rosalie Scott, MIRAJ, Norm Glowach and Dylan Jones, aka Crook The Kid. Past mentees include Andrea Bettger, Tiffany Ayalik and Grey Gritt (Quantum Tangle), Caroline Cox, Carmen Braden, Sinister Occulus, Erebus & Terror, Terry Pamplin, Digawolf, Pat Braden, Godson, Theresa Baird, Natasha Duchene, Leela Gilday and Leanne Goose to name a few. The program this year costs $25,000.  This allows artists to travel to conferences and network with talent buyers, artists and publishers. It also helps them learn marketing tools and strategies, like designing an effective website and electronic press kit, to get their art out there for the world to see. 
Rosalie Scott
Quantum Tangle



Natasha Duchene




Children's Festival of Silliness



Performances for everyone


Since 2012, NACC has presented 140 community shows and 130 school visits.
Northern Arts and Cultural Centre works diligently to bring world-class performers from around the world to communities in the Northwest Territories.
With support from our sponsors and partners, NACC brought in Jimmy Rankin to tour the territory in October, making stops in Fort Smith (sold out), Hay River (sold out), Inuvik, Norman Wells and Yellowknife, almost selling out every show.
In addition to performing at concert venues in the communities, Jimmy gave a special performance for students at schools during the day. We arrange these visits with artists so everyone can experience spectacular performances. In total, bringing these shows and outreach programs to our communities costs just shy of $350,000.
Other projects NACC has spearheaded
Women's Words Play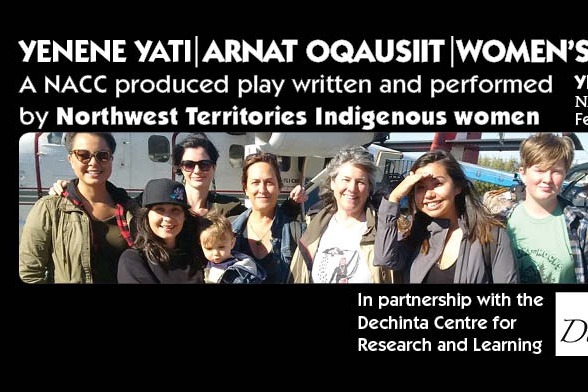 Listen Up!
Ko K'e Spoken Word and Music Festival& More


Art is the lifeblood of culture
Northwest Territories is home to a wealth of diverse cultures each one unique in their values, art and aesthetic. Every community has talented artists and artisans, songwriters and crafters who contribute their personal flavour that makes this territory special. You can bet there are budding artists who just need a push in the right direction to start off on their creative journey. 
Every child is born a creator. They go through the world trying things to see if they work, and do so without judgment or expectation. As they grow up, pressure from their friends, family and the world pulls them away from art in an attempt to make them fit a mold. We can prevent that by nurturing that creative spirit in every youth – in all of us – and giving them the tools to create and telling them it's okay to be an artist. 
We can do that through education. One on one interaction with experienced artists and performers will teach them what they can do, how to do it and build their confidence. Working in groups of their peers will build valuable skills to make them better teammates and communicators.

Everyone deserves an opportunity.
Our goal is to enable as many artists – current and future – to pursue their dreams and arm them with the knowledge and skills to take it to the next level.
We ask our patrons, our community supporters and our partners for their support in raising money to create community outreach and artist development programs. If you believe the kind of programming NACC offers is valuable not just to you but the
Which brings us to you. If you believe the kind of programming we offer is beneficial not just to you but to the community at large, we could sure use the help. If you believe Indigenous voices need to be supported, please give us a hand. Every little bit helps. If you don't have the means to support us, spread the word to people who can help us.
Nationally acclaimed musicians, community theatre and Northern artists are just some of the things the theatre at the Northern Arts and Cultural Centre helps support, but we can't do it without your help.

Rewards for donors
As a token of our thanks, we will be giving donors gifts until we run out of supplies according to their donation level. These were generously donated by our friends and supporters. 
Level 1 - Any amount


Personalized thank you + your name on a poster with other donors who supported this campaign


Level 2 - $50 - Reusable NACC Cups + Level 1 gifts
Enjoy a beverage of your choice in the theatre and beyond.
Level 3 - $100 - YK Gold and Silver Aurora Gold Vial and Wishing Wood  + Level 1 & 2 gifts
Generously donated by Jake Olson, Aurora Gold Vials are handcrafted and designed in Yellowknife. This memento features a vial of real gold! Added with genuine quartz crystals that were mined in Yellowknife. This vial is set in a fun fact-filled card teaching some of Yellowknife mining history and gold facts guaranteed to make you learn something new! 
Wishing Wood is a small wooden plaque with immense amounts of power. Pick your plaque (or does it pick you?) and write down on the back a wish or something you want to bring into your life and hang the Wishing Wood somewhere important to you in your home or outside. Once the wish comes true, destroy the plaque to release the energy back into the universe.
Level 4 - $250 - Backstage tour and NACC Black Slate Coaster  + Level 1,2 & 3 gifts


A pair of classy slate coasters decorated with our logo to remember the theatre by.
Level 5 - $500 - NACC Wine Glasses and T-shirt and 2 tickets to any season show + Level 1,2,3 & 4 gifts 


Toast to anything you like with branded wine glasses and a cotton NACC t-shirt. 
Level 6 - $1,000 - 2 Season passes for next year, "60 x "65 Canadian Mosaic Project NWT Poster + Level 1,2,3,4 & 5 gifts


Get first dibs on seats for next year's season.
Special: $1,500 - Intimate concert with Baby Brian Weadick
Baby Brian has donated a 45-minute music set to the donor who reaches this level first. The concert can take place in a private residence, office or workplace or venue. Perfect for a holiday party!

Organizer and beneficiary
#1 fundraising platform

People have raised more money on GoFundMe than anywhere else. Learn more

GoFundMe Guarantee

In the rare case that something isn't right, we will refund your donation. Learn more

Expert advice, 24/7

Contact us with your questions and we'll answer, day or night. Learn more