Fundraiser for Art Documentary of Tom Woodruff
This GoFundMe is still active! 
On Sept. 16th we held a Movie Night event at Northport Arts Association(NAA) to share the first 15 minutes of our documentary film with our community! It was an incredible turnout, so thank you to our friends, family, and to NAA for making it so special! 
We are raising funds for our next round of travels and interviews here on our GoFundMe page, so please consider donating, and sharing this with others to help get the word out! With your help, we can complete this film, and share this inspiring story with the world. 
"Follow the Art": Words from Tom Woodruff
My daughter and I have been talking about creating a documentary film of my life for some time now. The truth is I'm not getting any younger and there are so many things that I would like my children and their children to know. This film is a timely opportunity for me to share my legacy with my family, and thank the countless people who have inspired me along the way. This is a tribute to those friends living and past who have opened doors to a world I might never have known.
"Follow the Art" was inspired by a visual timeline my daughter created when she was in 5th grade. It's a compilation of photos and text that follows the many turns my life has taken. Now all these years later, she and her partner Christopher Jones have the abilities and passion to bring it to life through film. 
We are in full production at this time, scheduling interviews, and scouting locations throughout the country from Michigan to Florida. All proceeds from this project will go towards the production itself, travel expenses, equipment rental, and post-production. 
This will be an epic project with lots of behind-the-scenes photo&video, and steady updates on our progress. We would love for you to join us along this journey. We're hoping that our friends, followers, and art community will help us reach our goal, not only through donations but also by spreading the word and sharing this page! Thank you so much for your interest, support, and contributions. 
Check out our website for more information, sponsorship options, and ways you can participate!
Follow the Art
"Follow the Art: The Creative Journey of Tom Woodruff" 
Follow the Art is a cinematic documentary that explores the life and art of Tom Woodruff. As a teaching artist, he found a way to share his love for art and adventure through storytelling and interactive art projects with students throughout Michigan schools. This film traces his life journey from being a street artist, sailor, and merchant seaman, to a stained glass artist, muralist, children's book illustrator, and art educator of 35 + years. This documentary is his way of giving thanks to those who have inspired him, and the many he has inspired along the way.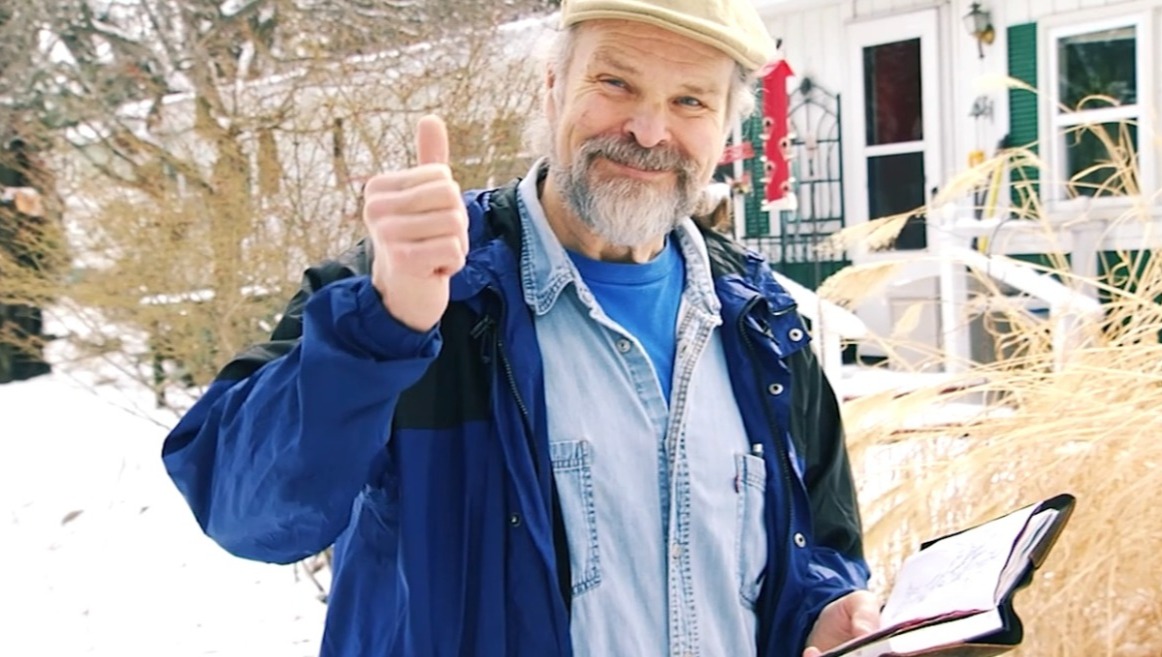 MEET THE TEAM
Lydia Woodruff - Filmmaker and Director
"It has always been a dream of mine to create a documentary about my dad's life! It all started with a timeline I created when I was in fifth grade that detailed his life in photos and text. Throughout the years I've captured his stories, videos, and candid moments on camera knowing that one day it would all come together. Now is that time. It's incredible to see what he has accomplished in his life, and how much of an impact he has had on the world around him. He is an inspiration, and we are so excited to share his journey with you all!"
Christopher Jones- Filmmaker and Director
"There's a special light to the Woodruff name and family. If you talk to Lydia or Tom, you can easily see it, you feel it. It's the light that brought me to Michigan. Follow the Art will be epic. Half documentary, half movie, and I'm so honored and blessed to be a part of it. Tom Woodruff will inspire you."
How can I help? 
-Donation to GoFundMe: If you'd like to donate, that is what keeps this project alive! This budget covers over a year of planning, filming, and editing.
- Sponsorship:
You can check out our "Follow the Art Bundles" on our site @ 
Follow the Art
-Photos, Video & Stories:
Other ways to contribute are by sharing your stories, or old footage of Tom Woodruff! For more information visit:
The Treasure Hunt
-Share: Sharing our Website and GoFundMe to get the word out there! 
Thank you so much for your help and support! 
The Cost: Expenses Breakdown
-A portion will be used to reserve rights, music, talent, and filmmakers. 
-Raising funds is essential for travel costs, and studio rentals for interviews.
-A big portion of these funds goes towards production equipment. The right equipment is vital for production + post-production. 
-Promotions, Print and Preparation take a significant portion of funding. From reserving premiere locations to merchandise, official Blu-Ray production, and footage conversions. 
Stretch Goals
We are seeking $35,000 to make this film. Any pledges that take us beyond our goal will be spent on the production of the documentary.
 If we go beyond our budget goal this is what we could do with the funds. 
$37,000 - Hire talent to recreate additional scenes of Tom Woodruff's life. 
$39,000- We have budgeted for Michigan, Georgia, Florida, and Illinois but with these extra funds, we could expand our travels to California to map out Tom's days spent out West.
$42,000 - We will be able to make "Follow the Art" more widely available in theaters throughout Michigan! 
Risks & Challenges
 We believe in this project, and we know that with it comes its own set of risks and challenges. Without support from our friends, family, and community it will be very challenging to complete this project, but we are committed regardless of the fundraising outcome. This is an opportunity to hear the story of an inspiring artist in his own words, and all contributions will directly enhance and expedite the completion of this documentary. 
We don't anticipate many challenges other than the budget, but we will discuss anything that comes up in our updates or on our Facebook page. This process will be documented so well, from concept to screen, so we hope you'll be along for the ride! 
FAQ's 
When will Follow the Art be released?
Our ETA for release in the Fall of 2023. 
When will production begin? 
We are in full production at this time! We have successfully traveled to numerous Michigan locations to track down Tom's art, and friends. On Sept. 15th we premiered the first fifteen minutes of the film to help raise funds for our cause.  
Where will this documentary take place?
Most of our filming locations are in Michigan: Leelanau County, Traverse City, The Upper Peninsula, Ann Arbor, and Grand Rapids. Other places- depending on the budget include Florida, Georgia, Colorado, Illinois, and California. 
 I want to contribute via another method.
You can also donate via PayPal, visit our website for more info! 
Why is the goal for this campaign so high?
This project is huge. Not only does it cover the life span of an incredible artist, but it involves many moving parts. This budget also covers over a year of planning, filming, and editing for a production crew of two. 
Organizer