Help us to be at WJUC the next week
First we want say really thanks for everyone for the amazing help that you gave us in every tournament that we played. Your support was hugely important in helping us to reach our goals. 
This last month has been like living in a dream. WUCC was an amazing tournament and then last week was US Open and next week is at the WUJC will be the last junior worlds that we participate in as players.
All of these tournaments, living this experience, is life-changing. 
Unfortunately in our sports every player still has to pay to be able to play. 
Fortunately we have managed to cover the expenses we have had thus far, but we still don't have the means for payments such as for the hotel, food, and uniforms for the upcoming junior worlds next week. We know that your help has been vital in making possible previous worlds, such as WJUC 2014 and WUCC 2014 in Italy, WJUC 2016 in Poland, WUGC 2016 in London, and the most recent WU24 in Australia. You all have been the reason we have been able to achieve our dreams and we are inexpressibly grateful.
Travel Cost for this Worlds 
Coach cost= 100usd 
Hotel= 421usd 
Food cost= 478usd
Transportation= 30usd 
Uniforms= 114usd 
Total for one person= 1143 usd 
Total for two person= 2286 usd 
History 
We're Valeria and Manuela Cardenas, twin sisters that were born on July 28 of 1999. When we were little, the first approach to sports that we had was with soccer, where Manuela was the one who scored the goals and Valeria was the goalkeeper. At 8 years old we started playing chess until we discovered Ultimate, when the Institute for Recreation and Sports of Medellin (INDER) did an exhibition about it in our school.
We started training and 4 months later we entered Desarrollo Deportivo, INDER's competitive team. Our first match was in a beach in Santa Marta, where we ended up in second place. In that moment our only desire was throwing and catching frisbees. From then on, Ultimate has been the number one priority in our lifes.
Days passed and Revolution's main coach Moore invited us to play in his club. We've been there since 2009. 
With Revolution Club we've been national champions 6 times: in 2010, 2011, 2013, 2014, 2015 and 2016. We've also played international championships such as US Open 2013 (won Spirit of the Game), Worldwide Club Championship 2014 in Lecco-Italy, Panamerican Games Mexico 2015 (champions), US Open 2017 (champions).
And with Colombia's National Team: World Junior Ultimate Championship Ireland 2012 (gold medal), World Junior Ultimate Championship Italy 2014 (bronze medal), World Junior Ultimate Championship Poland 2016 (bronze medal),  World Ultimate and Guts Championships in London 2016 (silver medal), World Games Poland 2017 (silver medal).
And this year we are silver medal in the WUCC in Cincinnati.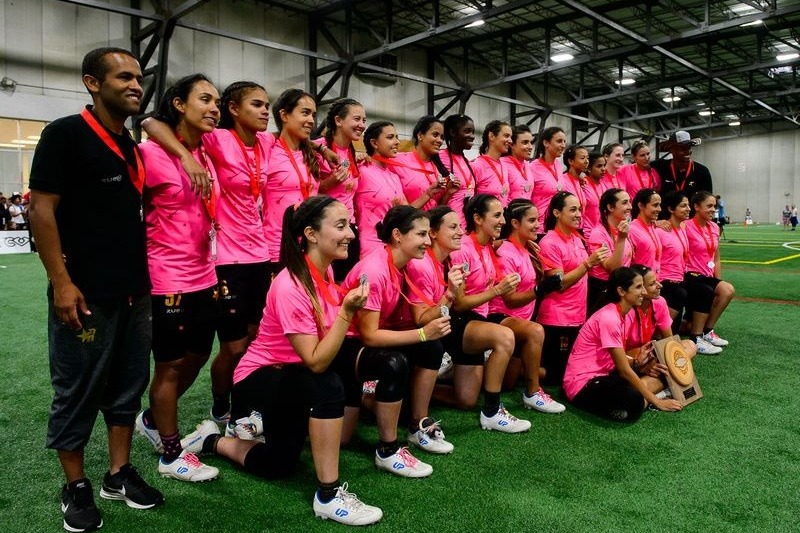 We are very grateful to have taken the path of playing this beautiful sport, to meet people like you, to be in communities like the Ultimate community, thanks to this we have managed to enter one of the best universities in Colombia, thanks to playing this beautiful sport .
We want to make sure that the people who help us have something of ours as a token of gratitude, so my sister and I are going to make sure each of you has a signed photo of us as a token of our appreciation.

Organizer and beneficiary