9
2
Ezra Vancil Themed Tri-Album Project
$710
of $5,000 goal
Raised by
8
people in 5 months
Bare with me, grab a coffee, and let me tell you a story.
In 2018 I released an album that garnered quite a few accolades and awards titled You . It was made to be the beginning of an album.. a really long one. Three intact albums.. kinda like a triple album.. but that sounds funny to me.  Here is the story, what happened, What I've been doing, and what I'm trying to do next. 







Broke a guitar on stage, then everything else 
Though there had been quite a few albums before 'You ' was released; they had been apart of bands, projects etc... where I was in the sway of some great moments with great partners in music, such as the Ezra / Thomas albums  with Aaron Thomas taking in the producers chair.

Sunday flowers, from the olden days :)

Grateful for a Hope
I couldn't be more happy for the wonderful works of Ezra/Thomas , Gypsy Tree,the wills session,  the live Congregation project  and my work with, mainly Jeff Stanley, on Sinners & Slaves .

Yet, for a very long while, there has been a dream brewing. I've even attempted to climb this mountain a few times, only to drop off a cliff, because the timing just wasn't right. That dream was a series of albums that explored this one guy's history of love. A series that looked deeply at different angles of life through the different forms of love, my life and the lives of those around me, specifically... but in the hopes of finding something more universal to the human reality.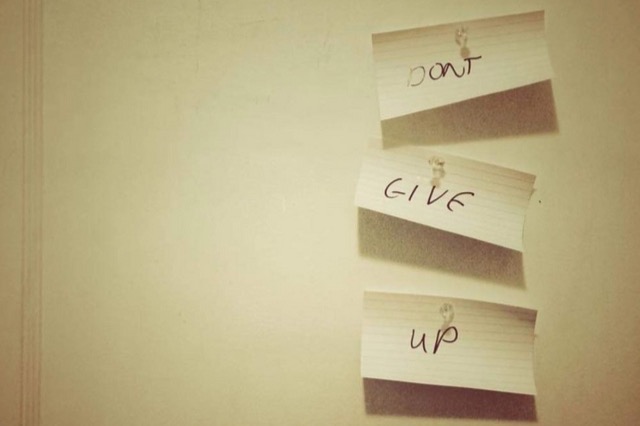 The dead horse
I feel like I'm beating a dead horse, but it's important to the album's story.. (and probably all the albums I'll ever make)  Pre 2013, I was a different man, as different as one soul can be in one lifetime. I was hell-bent on killing myself, had all kinds of life sucking addictions to the mind-altering fun stuff... I was truly a dead man walking, every attempt at a type of normality of emotion was stillborn. It is a true miracle that I'm still here, and I don't ever want to forget that.  But even worse is what my family and friends (that knew), had to endure.
Especially my immediate family. 

It was a long hard walk out of that hurricane.. but one morning as I sat in one of my daily panic attacks (yet sober) in the back yard, a bluebird came and sat next to me and sang her little heart out. I felt this odd sensation.. it was true peace. At that moment, I realized I had not felt any type of peace since the early days of childhood.

In the midst of still enduring pains, I still felt that peace, like warm water in the depths of my being and I knew something dramatic had happened to me. 'To me', and not by me, because I had not done much except decide to try to live.and that meant to live differently.

The series of love
In that coming year 2014—where I had once experienced eternities of death in only years—I experienced instead eternities of joy in a year.  My eyes were open and I saw how beautiful my life could be and already was.

I had a minor heart attack that year, it felt major, I thought I might die, and I didn't even care... I had seen what I needed to see—astonishing Beauty. That's what I wanted and I never knew it was right here, every day, whenever I was brave enough to look. 

From this came the idea of some works I had to do. Call it an amends, or a historical revision, but I had to re-tell my life through this new view.

I love my old albums, they are moody as shit, but I love them because I was being very true in most of it.



I wanted to be true again, but in someway tell the whole story.. even the things I couldn't see at the time. That love, even in those dark ages, was present.

That became an idea for a sweeping big ass project.. a whole history of love. Looking, and searching for the love that was present in divorces and suicide attempts and addictions. 

I started writing... and made plans to execute this big ass idea. Every inch of it would be meticulously crafted, down to the instruments that were used, to the feeling and mood of my spirit while writing, and that of the players. I was gonna go straight up Kubrick on the details haha.

But then.. life happened. A good life, but IT happened over and over. 

I would get halfway and it seemed impossible, finances were impossible, circumstances were impossible.. sometimes I'd get one of the rough songs cut, and give up and just release it or put it on another EP, because I could see no way I could ever do 30 or 40 recordings done the way they needed to be. I could hardly get one done right.

But I finally I got the first album tracked. That is the album 'You '... (I was such a quitter) But! It was so damn hard... it took years.. so at the very end, I mean the very last few weeks before release announcements .. I scrapped my Big Idea. I also had some industry people in my ear at that time.. and I somehow got convinced not to even try for the three albums. So I made You, and marketed it, kind of confusingly as the history of love. Which was only the first part... I even scrapped the cover art which you can see here and went a whole different direction.


'You', did well, I got more accolades and awards than I've gotten in a long time. But at the end of it, I realized I might have stretched myself too far. Things were falling apart.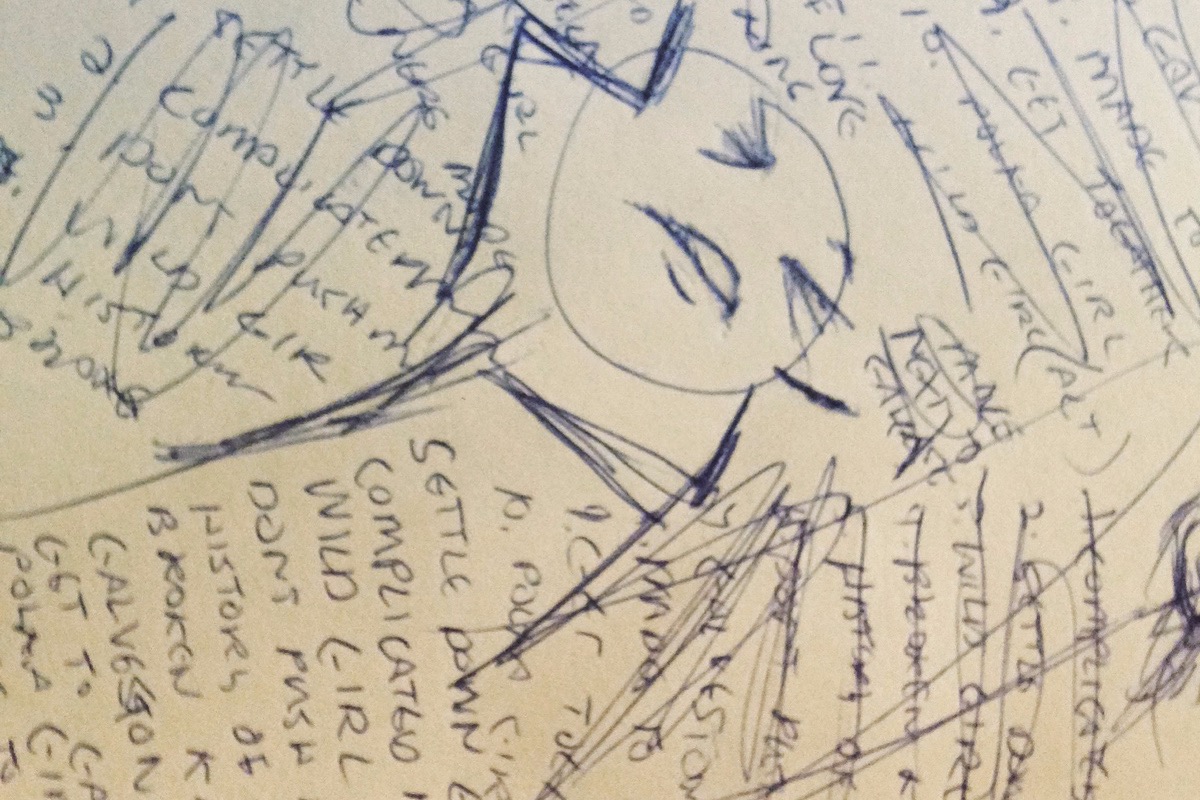 From my journal ... planing the big ass tri-album.

Big House
Very long story shortened ( a bit). I went home and started a whole different (easy) EP project.

During this time, there was a suicide of a family member I loved dearly, he had texted me one of the songs he was listening to a week before the tragedy and said some sad words. It was one of those songs I had written for this love series ideas but gave up and released as a single...

I'll spare you all the grief and guilt I felt in that time, there was also another suicide, my son's best friend within weeks, and a couple of suicide threats attempts to follow by other's close to me... a crazy rash of tragic sadness.


The second album in the series, after 'You' —The romantic love history—was supposed to be the exploration of love among family and friends album.

I think it was the tragedy that caused another 'fuck it' to spring forth, but the good kind.. like 'what do I have to lose'. Family was already incredibly important to me, but after the suicide; I was obsessed with loving them like never before. These things have a way of powerfully bringing to remembrance how fragile we all are. How fragile I am, how fragile my children are and my wife and cousins, parents, and friends and strangers... I wanted to just grab people and squeeze them till they squealed and tell them how much I appreciate them. I'm not good at that kind of thing... I might be sensitive, but I'm also born and raised Texan. I do have a way through that get's slightly close to portraying my love to others and that's my music.




I decided to put my padded suit on and go for it.. the whole big three album thing, again. I worked my tail off, made some extra money, made new friends and somehow, kinda miraculously found that what took me two or three years to do with 'You' I got done in about 7 (or so) months on this second in the series, which for now I'm calling 'Big House'. It is actually 75% tracked just the way I wanted it, and sitting waiting for mix. And hopefully due out this summer 2019.

Not only that, I'm two tracks into the third album in the series. Which I'm calling at this time ' Ancient Lights' which is themed on my personal exploration for love in the higher things, society, God, our existence.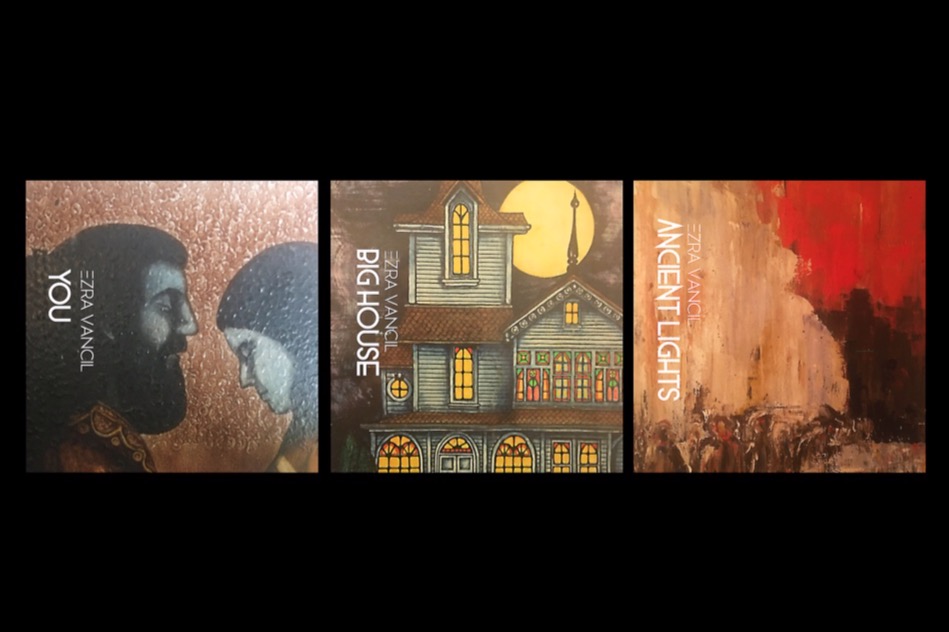 This is a rough for the album covers - I'll be getting higher resolution photos of my father's paintings. 
The artwork - My Dad 
The artwork is also a special part of the dream. My dad is a very talented man.. like a renaissance sort, in a cowboy way. A poet, a songwriter, a painter. I wanted to really bring this all home by using his artwork as the covers for the three albums. These three that you see here are my favorites of his work. The painting for Big House, is an inspiration to the title song 'Big House' and other songs on this 'family/friends' themed part of the series. It tells stories from my childhood growing up with these two crazy artists (my parents) and my kids growing up with these two crazy artist (my wife and I). So the art kinda ties it all together for me. And was the original idea for 'You', which I will be re-released with a new track and the proper art as the series comes out.

I hope someday to make some kinda awesome vinyl box set of all these... 'cause that's the fun stuff.


What am I doing, why all that dough?
So here is the breakdown. I don't really expect that we will hit the mark.. I'm just putting up an amount that is still left to go in my budget and see what help may come. Everything helps us get closer to the series being done. My commitment, either way, is to just keep trucking and do whatever it takes to get it done. 
I'm going to run this campaign slowly and may hype it every once in a while. Also included in the budget is hopefully the ability to do a vinyl box set of these three and release enough for a small vinyl release after #3 is done.

The hard numbers
Three albums. By my calculations from the budget of the first album in the series, 'You': Each album takes around 13-15,000 to complete. Not including marketing, videos etc; just the tracking, any studio time needed and mixing, tuba, strings etc.

Each album has 11 songs, plus, each also will have several bonus songs to come out over time. (the songs that didn't make the cut for the final 11).

You - You is done and released. There will be a small re-releasing of it. The part in the budget for it, is for its inclusion in a vinyl box set when all said and done.

Big House - Big House is about 75% tracked already. I calculate another 4-5000 left on getting it completely mix/mastered and finished. I'm planning on a release in summer 2019, or maybe fall.

Ancient Lights - Is about 15% tracked already. It has the furthest to go and I'm planning on having it all tracked and maybe mixed for an early spring release 2020 with a planned three-album vinyl set around the same time. I'm expecting this one to be the most expensive because I will need to go into the studio some, get the congregation again in...  About $13,000 left on this one.

Vinyl box set - I've looked around, and I think this might be running around $3500-4500 for a short run (vinyl so expensive.) This is not really included in the fundraiser but is a part of the plans. Help with the fundraiser, will help me put and more for this fun thing.

Either way, however much funds we raise.. I'll make ways to finish up what I started. I do really appreciate all of you who have seen some value in what I make and helped me along the way. It is a beautiful thing.

I decided not to go the rewards route, because they all impose some kind of artificial urgent time limit. But there are rewards. For 10-20 zone a CD, 30-50 t-shirt and CD, above $100 all the below and a print with hand written lyrics and CD's of all three. A special vinyl one off for $500 -700 and Executive producer for above $1000. 
+ Read More
Update 1
1 month ago
Share
To my friends who helped raise some funds for the upcoming album BIG HOUSE, I have a special gift.

This is NOT the new album, but I have some special first time released CDs of my 2016 live album "Live from the deep" with new artwork and the full concert was it was meant to be heard.

I want to send you one while we work on getting Big House Album competed.

An update on the NEW 2020 album Big House: The new album is coming along well.

Right now the first mixes are in the works and it looks like there may possibly be a pre-release this year.

But! Of course, I'll send you the album as soon as it is done.

The funding campaign I kinda abandoned as I felt I could find some alternate ways to get it moving along.
But! I so appreciate those who got us off the ground! That would be You!

!! One thing I need. If you funded the gofund me for Big House in any way, please send your address to ezravancil@gmail.com so I can send your gifts when the BIG HOUSE album is done, and also this live CD when it arrives.

Put in the subject line "BIG HOUSE"
Thanks so much for your help! Once again send to ezravancil@gmail.com
+ Read More