Eli's Journey
Our son Eli, is a 5-year-old happy little boy. He was born prematurely at 30 weeks, at age one Eli was misdiagnosed with Cerebral Palsy and although his first two years of life were almost as any typical baby other than many respiratory infections due to his prematurity, that quickly changed after he became sick with the flu in February 2015. Eli was hospitalized for 2 months due to what the doctors thought it was "Flu Encephalopathy". Our son regressed a lot and our lives changed that day drastically requiring tube feedings, countless medications and intensive therapies for him to relearn all of the skills he lost. Since then Eli has suffered another episode of Encephalopathy this past December 2016, what seemed to be just a simple fever became a mystery to figure out where the fever was coming from, what was happening to him and why he was having another of these acute illnesses.
Diagnosis
After many tests and almost 3 months of inpatient hospitalization, we received a diagnosis of an extremely rare degenerative neurological condition known as Aicardi Goutieres Syndrome (AGS). Eli has 2 pathogenic variants in ADAR gene associated with AGS which is even more rare. AGS is a degenerative disease so it wasn't good news. To say we were devastated was an understatement. During the last acute illness, Eli regressed a lot more and the damage caused to his brain was severe, he spent a total of 6 months hospitalized.
Aicardi-Goutières syndrome (AGS) typically it demonstrates the subacute onset of a severe encephalopathy characterized by extreme irritability, intermittent sterile pyrexias, loss of skills, and slowing of head growth. AGS is a very rare genetic disorder and there is around 300 in the world affected by it.  It is so difficult to know the exact number of cases due to how rare it is and it is often misdiagnosed as many of the symptoms overlap other disorders such a Cerebral Palsy. 
Eli's symptoms include regression with significant chorea and dystonia managed with artane, clonazepam and baclofen along with many other medications related to this condition. He is at an increased risk for seizures, glaucoma, scoliosis, IDDM and hypothyroidisms based on the diagnosis of AGS. Eli has already had two episodes of developmental regression requiring intubation in the setting of a febrile illness.
While there is currently no treatment of cure for AGS, we decided to try a trial medication that could save his life. I'm not a risk taker & although this is without a doubt the biggest shot in the dark we have ever agreed to; we had no option – other than to watch him struggle & possibly continue to deteriorate if he has another acute illness.
A Little Hope
Eli began his treatment June 25,2017 he is now part of a research study, the medication is called Baricitinib, a JAK 1/2-inhibitor at Childrens Hospital of Philadelphia seen by Doctor Adeline Vanderver. As his mom, I am beyond thankful that we are able to receive care by Dr. Vanderever and her team. This gives me a little more hope. However, even though i am an educated single mom with a bachelors degree in Business Management, having a child with chronic illness who needs around the clock care, between therapies, doctor appointments has made it almost impossible for me to find employment. Eli's father is very involved and helps anyway he can, but to take care of the medical bills, medication lists, and travel expenses can add up quickly over time for the both of us.
Eli is required to follow up his care with Dr. Vanderver at CHOP (Children's Hospital of Philadelphia) every three months depending on medical evaluations, after this upcoming visit in July 25,2017. We are praying for good news at this appointment. 
Also Eli is currently receiving physical, occupational and speech therapy locally in Texarkana,TX however Eli needs a lot more help to reach his goals of crawling, sitting up unassisted, and improvement of speech. As his parents we are always searching the web and reaching out to others across the world who could possibly lead us in a direction that could give us even more hope to help our Eli live his life to the best of his ability.
After hours of reasearch we found a therapy that has touched our heart, is called HBOT
( Hyperbaric Oxygen Therapy).  The link below will explain in more detail what it can do for our Eli and how it can help patients with similar brain damage. Recent studies marked improvement however this method of therapy has not been approved by the FDA therefore all costs are out of pocket. The estimated length and price of this therapy will depend on how many session Eli will need determined after evaluation. To give you all an estimate of a total price will easly be between 15,000-20,000 , each session at around $400 for at least 20-40 session total.
HBOT information:  
http://www.oxyhealth.com/hyperbaric_therapy.html
Reverse Brain Damage on two year old after HBOT Therapy:
http://www.newsweek.com/eden-carlson-brain-damage-reversed-drowning-638628
AGS information:
http://ulf.org/aicardi-goutieres-syndrome/
A Little About Eli
We believe that God has amazing plans for our superhero, as he has already shown us all. Our faith is in Him and above all we give God the glory for giving Eli the strenght to continue to fight when odds were against him. Eli is true testimony of God grace and love. He is loving, charming, and has a smile that lights up the room. Eli is very energetic when it comes to playing with his cousin. He also loves going to the pool, all sports but specially baseball and watching anything that has Captain America in it who is his favorite superhero!!
Eli also love to wrestle I think thats why he is so tough lol... Eli is such a warrior of God.
God has blessed us with many family and friends that have supported Eli's recovery throughout the past two years and we could not be more thankful for the support and love.
#PrayForEli 
Any donation given will go directly to Eli's treatment & flight expenses to & from treatment facilities. We would be more than grateful if anyone could ease some of this burden, but most importantly we want to share Eli's story and raise awareness for such a rare disorder that can easily happen to anyone.
To give directly and ensure 100% of your donation reaches Eli, you can send to:
                                  Capital One Bank
​Account Name: Katherine Malca & Justin Coats
                                         For Eli Coats Recovery
Account Number: 36034695156  
Thank you and God Bless!
December 29,2016 
Eli and his physical therapist at Kennedy Krieger Institue, Baltimore Maryland (inpatient rehabilitation) April 2016
Arkansas Children's Hospital
Eli at Children's Hospital in Philadelphia for trial medication evaluation 06/25/2017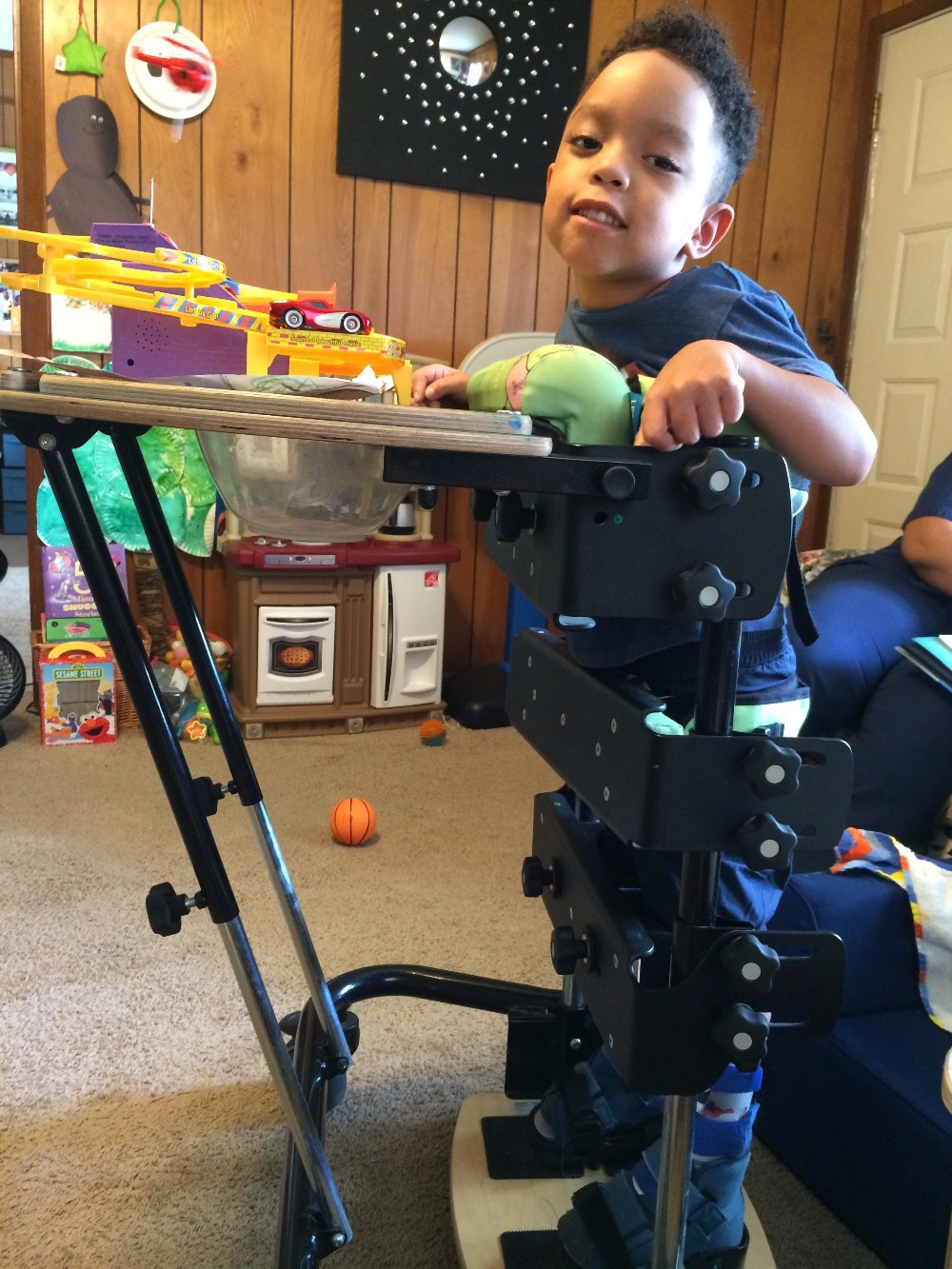 Eli is enjoying his time standing in his standard device at home. July 2017.
Please Follow us on Eli's FacebookPage:
https://www.facebook.com/prayingforEli/
or at  Eli's Recovery God is Working
God Bless you all. 
Love Eli, Mom & Dad.

Organizer