First things first, lets get this formality out of the way so that I can tell you all about 1Eid insha'Allah. 
So, Eid prayer on the park requires prayer Tarpaulin to cover the grounds and we rent Marquees in case it rains in some parks.  The Tarp cost is about £100 which covers enough ground for about 100 worshippers.   We have many parks and require many tarps.  This means massive sadaqa jaariyah opportunity for you and me.  

£10 is up to 10 people worshipping x 10 x 70 x 700 in Ramadan = 4,900,000 good deeds
£100 is 100 worshippers x 10 x 70 x 700 = 49,000,000 good deeds subhan Allah
£250 is  250 worshippers x 10 x 70 x 700 = do the math
£500 is 500 ....  you get the point
£1000 will mean you love this project and you want to cover an entire section of the prayer of 1000 worshippers.
That is a lot of good deeds or hasanat. 

You really should just go straight over to the donate button. 

That is not all.  If you manage to give a bit every night and catch layla tul qadr then you may as well throw the calculator away for that means those millions of rewards times an entire lifetime, Ameen yaa Rabb.  

Seriously, click donate now and invest in both our Akhirah.   Oh yeah, 100% of your donation goes to the project so donate with peace of mind.  Wait, no, its 125% donation policy because even the gift aid is spent on this project.  How?  Because we are all volunteers with our own careers and we give our skill sets and time to this sunnah revival as well as donate to it.  It is our presentation to Allah now and we pray accepted in the Akhirah. 

Best part is still coming.  Ready?   Allah azza wa jall will reward you and I with not just what we donate or the ground of the few we cover, Allah will reward us with the prayers of every single person in every single park praying correctly on Eid day including the women and children who normally miss out on the Eid prayer and of course the festival which used to not exist and the non Muslims would have learned nothing about us, our deen or Eid for that matter.  Now the Da'wah is massive at 1Eid  with people even taking shahaada every year.  You get all that reward as well as anyone else who follows our lead in other towns and countries.  Allahu Akbar. 

So what have you done now?  Have you clicked and donated?  Not yet?  Seriously?  The akhirah is so much better, isn't it?  
Now let me tell you all about us and the 1Eid project insha'Allah. 
Just keep in mind I will ask you to donate every Eid.  Why?  Because it is your Eid and your responsibility and your da'wah as well as ours and Eid happens twice a year every year for life.  We will make it bigger and better and more beautiful every year until it is big as or bigger than Christmas.  People, non Muslims, are already donating towards Eid, giving Eid gifts to Muslims friends and many companies now have Eid products and Ramadan products and Halal products.  The Da'wah is working and Eid is growing Alhamdulillah.  

When Allah says "Hurry back to Allah.." it truly moves the good heart.

Do you want to join me in making a difference against Islamaphobia? I'm raising money in aid of The Eid Celebration Committee and every donation will help. Thank you in advance for your contribution to this cause that means so much to me and all of the volunteers who give so much to keep this Sunnah revived. 

Established in 2007 1Eid is the most culturally cohesive and multi-generational celebration for all to attend and enjoy the festival of Eid. The word 'Eid' meaning 'to feast' traditionally was celebrated with the whole community regardless of faith. The aim of Eid was to come together and celebrate the fabric of humanity, happiness, harmony and respect for all.

By the Grace of God, 1Eid™ has successfully Pioneered the revival of Eid whereby the Muslim community is able to share their festival with the wider community and celebrate together in a pool of diversity, dispelling any and all avenues for prejudice.

♥ Our Vision

We believe that people should get to know one another to achieve peace and unity.

♥ Our Mission

We will strengthen and unite local communities by reviving, celebrating and sharing the essence of Eid.

In loving memory of our beloved brother Ameen Siddiqui (Rahimullah).

Please spare a few minutes and watch this video, a message from the founder of 1Eid Sunnah Revival telling the beautiful story of how this project was born and who were the pioneers that gave it all they had.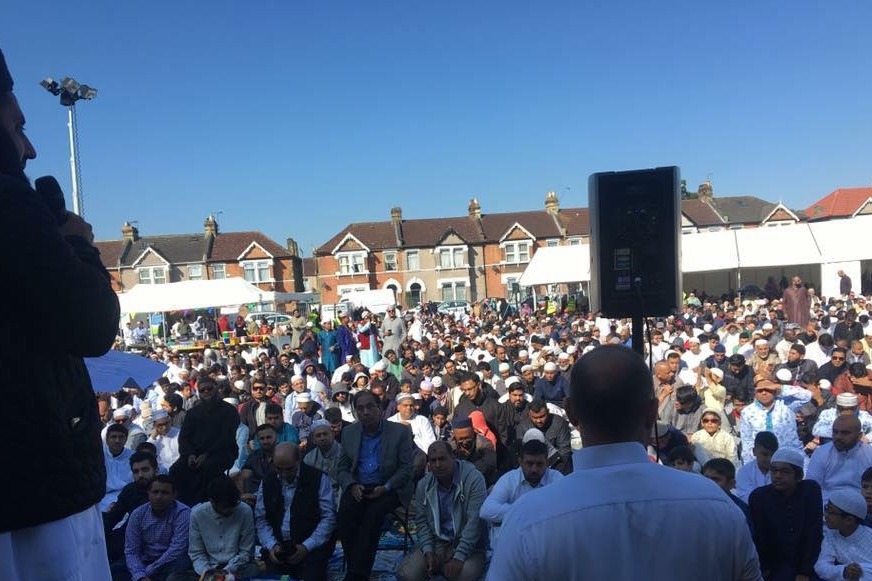 Leave The Mosque?

At the time of the Prophet SAW, when it came to Eid the Prophet used to take his congregation out away from the mosque to an open area in a place where the whole community could gather and listen to the khutba.

Obviously in today's day and age the Mosques cannot cope with the demand for Jummah Salah let alone Eid Salah. On top of that the majority of Mosques do not cater to women and we have more women than men in our Ummah. The severity of the situation is mostly belittled and this Sunnah must be revived.

"O you who believe! Answer Allaah (by obeying Him) and (His) Messenger when he calls you to that which will give you life" [al-Anfaal 8:24]



Leave The Women?

Or we can empower women through the Eid prayer in obedience to the Sunnah where we were commanded to include all of them to the Eid festival.

Sahih Bukhari Hadith no: 88
Narrated / Authority Of: Um-Atiya

We used to be ordered to come out on the Day of Eid and even bring out the virgin girls from their houses and menstruating women so that they might stand behind the men and say Takbir along with them and invoke Allah along with them and hope for the blessings of that day and for purification from sins.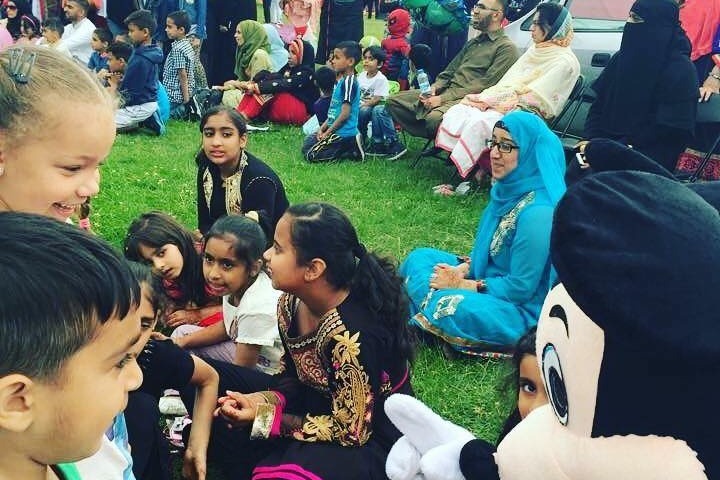 Children? Future?

"Every nation has its festival and these are yours!" 

One of the main points that the 1Eid project is trying to revive is the status of Eid in the eyes of Muslim children. Unfortunately, due to our lack of adherence to the Sunnah Eid has become a boring chore in the eyes of many children, they hunger for fun but instead are dragged around visiting family and not doing anything engaging, stimulating or constructive.



Their eyes, therefore, turn towards haram or harmful celebrations misleading them into evil places, actions and environments.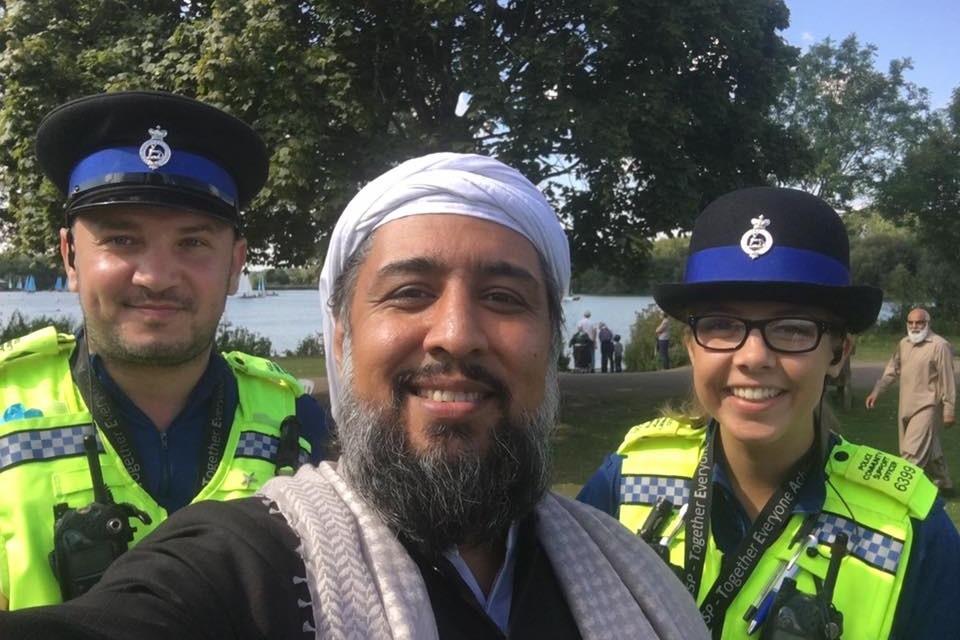 Ad-Dawah Is Fardh!

Share the essence of Eid with the community [Da'wah]

• Introduce fun, food and culture to local communities

• Establish Eid as a national celebration for all

Shaykh Salim Al Amry (Peace TV) - International scholar (UAE)

".. Alhamdhulillah, in some places, the brothers they are reviving the sunnah. The team at 1eid are trying their best to revive it and insha Allah the rest of the Muslims will follow them…and insha Allah all the rewards will be in their records…."



Fundraising team: 1Eid UK (4)
Jalal Mohabbat
Organizer
Raised £1,390 from 7 donations
Wembley, Greater London, United Kingdom

The Eid Celebration Commitee
Registered nonprofit
Donations eligible for Gift Aid.
Dawa Art
Team member
Raised £420 from 3 donations
Abdur Rahmaan Mohabbat
Team member
Raised £40 from 1 donation