Making the dream of education come true in Nepal
I am Rachana Sunar, 26 years old from Nepal. I'm the founder of the non-profit organization IDEA Nepal (Investment For the Development Empowerment and Awareness), which aims to invest in quality education, women's empowerment and enhance to access human rights.
Currently I'm working as the head of the kindergarten which we established in 2018. There is a great story behind this kindergarten. Let me please share it...
I grew up living in the rural part of Nepal, a city called Surkhet. I was raised in this muddy and dusty village. There were so many social issues, problems and hardships of living. The first challenge in a day would start from my own home being victimised of domestic violence because of being born as a daughter and it would end from school being dominated, scolded, discriminated by teachers and friends because of being born as a lower cast so called Dalit child.
By the time I came to realize the different values between girls and boys. Different behaviours and social status between upper casts and lower casts people. Different education qualities, facilities between private school and our old public school. But I wasn't ready to accept the situation I have had in my childhood. I wanted to do something which can make a difference in my society. I worked so hard for my education. I was lucky to get a scholarship to study. I know the value of education opportunities very well, which made me what I am today. 
I was forced to marry off at the age of 15, which wouldn't only abandon me from school but would kill my dream to live independently. So I went against my family and did stop my marriage. Since that time I take everyday as my grant day to make a difference.
In 2015, I was selected as an exchange student in Norway where I studied in Hald International college for one year. I learnt about cross- cultural communication and social justice and youth leadership. I did an internship in the kindergarten there. I learnt many good ways of raising kids in a child friendly environment. That made me very passionate to open a kindergarten in my village for vulnerable kids suffering from domestic violence and poverty, who would never get access to quality education and happy childhood.
BUT I had literally nothing to start in the beginning other than my dream. Yes I had a very clear dream of opening a school for marginalised children and let them grow as responsible, honest citizens for transformational change in our society. 
THEN one morning, I decided this is the right time to take action, thinking if I don't do it now, I won't do it anytime later either.
Then I took a carpet and placed it in front of my house. In an open tiny yard,  I collected some pieces of stones, sticks and markers. Then I started calling children to play with me who were playing in the mud by the road. Suddenly children ran to me and we played. I told them to come every day to play with me. Time started from there to educate children and making changes in their behaviours. Pieces of stones, sticks, funny games, hugs, smiles were all the resources I had  began with...
I was honoured to receive "Hear My Voice Award" from Plan International Norway which financially benefited to our kindergarten. We were able to establish Balan Shikshya Kindergarten in 2018.
Today we are raising 60 children. We provide full scholarship and half scholarship to children who come from very marginalised communities having different heart-breaking stories. Some kids don't have parents; some have physically disabled parents and some kids come from very violent family background.
We aim to run this kindergarten until high school and we thank everyone who has been supportive to our cause. We couldn't have come this far without helping hands and guidance.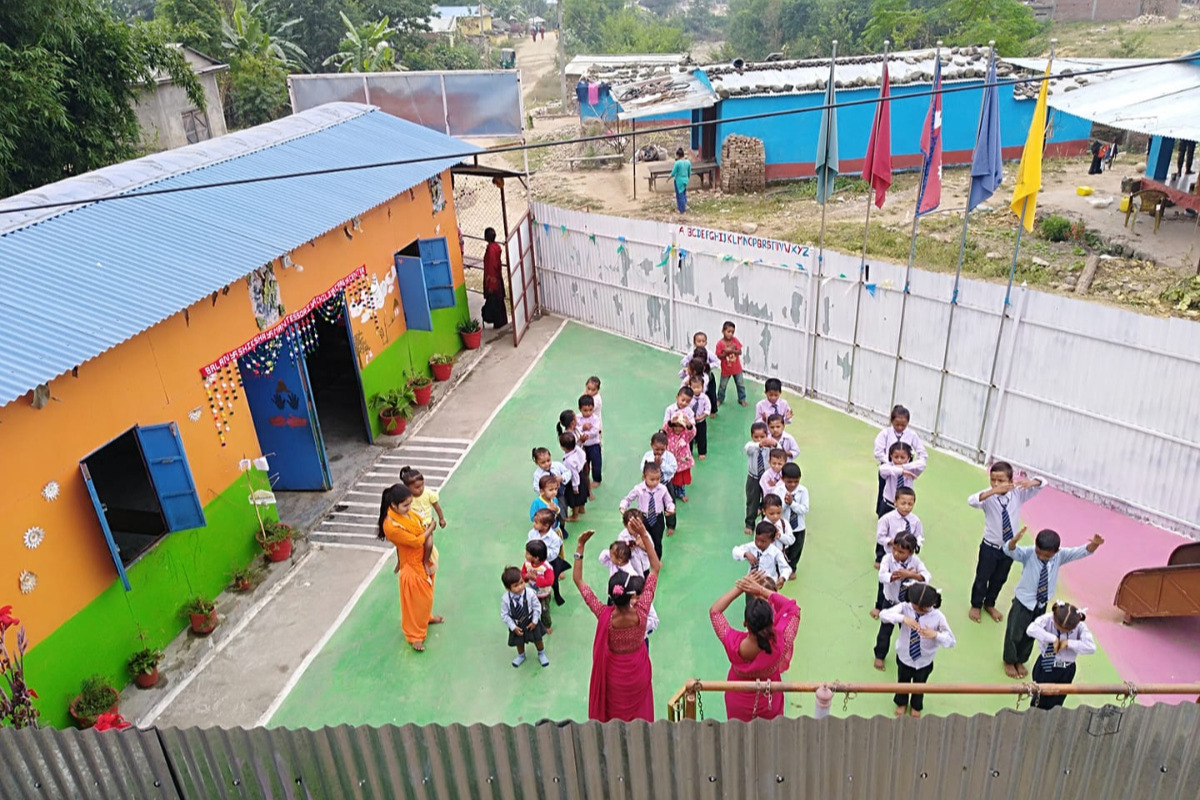 Despite all of our success stories there is still a challenge that we face to keep our school running. We don't have enough resources to maintain financial expenses of the kindergarten. We have very few sponsors (9) for 60 kids. Our first need is to find sponsors for our kids so that the kindergarten can offer a free space to needy children.
I'm not very sure how many sponsors we will have after this fundraising campaign, but I'm truly sure that there are still some generous people who want to contribute to make a difference in human lives.
As this is our first fund raising campaign, we set our goal to have 20 sponsors. To sponsor a child for a year, the cost is about 600€. So we are expecting to raise funds, at least for 20 children, in total 12 000€.
We want to make clear how the money will be invested throughout the year. The estimated budget covers:
Two pairs of uniforms and tailored fee: 30€
Two pairs of shoes, socks :20€
Warm clothes, sweater, hat, :20€
School bag, water bottle :€10
Books, copies, pencils, colours, stationery:100€
Playing toys: 35€
Library and first aid medicine : 30€
Extra activities and sports : 35€
Competitions and outdoor activities: 40€
Craft materials, teaching resources : 40€
Snacks and drinking water: 150€
Teachers fees : 50€
Cleaning supplies :10€
Home visits and transport 20€
Administration and others : 5€
With prayers I hope this small campaign will reach those kind souls and will knock at those generous families' doors to believe in us and to support us.
We believe "happy childhood is the foundation of happy livelihood ".
This is our heartily appeal. Please be the one to gift a bright future to a child.
Please share this campaign with your friends and families to support us.
To know more about our work:
https://www.facebook.com/KindergartenBalan/
Thank you!!
Organizer
Francoise Binsfeld
Organizer
Dudelange