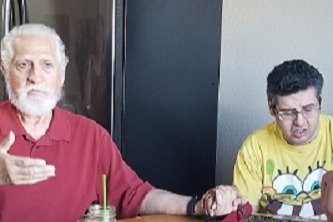 The following is a letter sent to family and friends by my son and daughter-n-law. Please take a few minutes to read it over. This gentleman is a Navy Veteran and now suffers the effects of contaminated drinking water consumer at Camp Lejune NC. His wife has had four brain surgeries and recently suffered a stroke. There son is autistic and nonverbal. I hope you will find it in your heart to reach out and help them during this very difficult time.
We are writing this as a last effort to help us during this time of transition and crisis. The past 3 months have been life changing, not only for us but, for Natalie's parents and her autistic nonverbal brother Paul.
Natalie's father has recently become disabled due to a type of bone marrow cancer that has plagued his body in multiple ways. He has a diagnosis of Myelodysplastic disorder, aplastic anemia, his body does not make red blood cells and he struggles for oxygen and strength. He has had multiple blood transfusions in a very short time and has been hospitalized on several occasions. Just Wednesday he was in for his chemotherapy shot at Texas Oncology, and he passed out in waiting area and started what looked like a seizure.  He was foaming at the mouth and convulsing. Natalie was with him and yelled for help as she held him up into a chair while doctors and nurses rushed to him and EMS took them to near by hospital for more transfusions and critical care response. His doctors are trying chemotherapy shots that make him incredibly ill with side effects, and this time his hemoglobin level was at a critical 4 g/DL...In addition to all of this, her mother suffered a stroke last week due to all the stress, as she has had to take on full power of attorney in her husband's decision making, due to his state of confusion and general lack of well-being. This resulted in her facial features changing after the stroke and she now suffers Bells Palsy. She has to be extra careful because she has had 4 brain surgeries due to shunt malfunctions and is now unable to drive.
Natalie works for Paul and other clients with disabilities, she does this in San Antonio. She has had to take on more responsibilities because her brother does not understand why his parents are so sick and dad cannot work anymore. Paul has had to be put on different medications to help him through this time. But he finds comfort in the both of us and the pets.
We say all this to fill everyone in because Natalie's parents now need 24hr care, and there simply isn't anyone to help assume responsibility for Paul, or for them, other than us. We have to make great changes now and decide to step up for the safety and wellbeing of all in this situation. We choose to be there for family despite not being fully prepared for a move. Our lease expires at the end of July 2019, and we have to give the apartments notice that we intend to leave. With such an abrupt change, we find ourselves in a financial crunch. We have to get our apartment packed and moved into a storage facility in San Antonio as soon as possible. This is our biggest concern and challenge at the moment. We can move the pets and ourselves once all is safely stored away in San Antonio, where we will have to live with Natalie's parents until further notice. They do have room for us and the pets, just not our furniture and most belongings.
Chris works through this whole month and there isn't anyone to help us make this happen. So we need movers, or extra hands! We will have to save what we can until Chris nails down a permanent job. There are prospects on the horizon but nothing official as of this moment. We know how crazy this sounds and a lot of people would not even attempt to do what we are trying to do, but we have made this decision and now have to get through regardless of the challenges we will face. We chose to stay together and not live separate because Chris and I need each other and chose to stick this out and depend on each a great deal for support for our own mental well-being. In closing, all we ask is if you have any means in any way, shape, or fashion, we ask you keep us in your thoughts. We do need financial help gathering what is needed to obtain for storage and moving truck/assistance. We will manage the rest. But, the storage and movers takes a big chunk of something we just don't have right now.
So if you can help with even just $50, all will add up to help lighten this load. We do not ask for you to put yourself in a bad way on our behalf; that is unacceptable and not at all what we wish. We simply have to reach out and say something, if only to inform you. We do not know what the future looks like, but we aim to make it work for all and for what is left of it.Your love and support never goes unnoticed so please don't feel bad if you cannot send anything but a prayer. We simply had to try.  We ask that you do not look down on, or fault us for that.If you are able to send anything financially or physically, please just contact us on a private message, I trust everyone knows how to reach us.
In Humility and Strength, Natalie and Christopher