Growing up my Mom was always the one helping others so I naturally had the same approach to life.  But then I had twins. And I was the one needing help. If there's one thing I learned, it's to welcome help from others when you're in need. Many of you have expressed interest in helping and asked that we set this up. It's really important to us that everyone reading this knows your love, support and prayers alone are enough and you should not feel obligated to contribute. But I've also come to terms with the fact that my parents really need help.
At 6am Friday, May 4th my Dad and Grandma were quickly pulled out of our home in Leilani Estates by police and civil defense personnel. There was a crack on the street a few homes down and it was starting to smoke. This was the second fissure to open and it later went on to take a neighbors home. This pattern of earthquakes, ground cracks appearing, steam and smoke then eventually lava outbreaks happened on every street surrounding our home for the next few weeks. My Mom had already been in California for Emilie's 4th and Stella + Sloane's 1st Birthdays so she was unable to be there to help take anything out of the home. My Dad and Grandma left with the clothes they wore and nothing else. It was so scary. I remember being on the phone with my Dad that morning as I could hear one of the guys say "let's go we gotta go now". I was trying to calm him down as I heard him panicking. 
My Grandma was able to stay at a senior center in Hilo and my Dad flew out to California to stay with us while we tried to see what was evolving in Leilani Estates. I woke up every morning scared to check my phone. I tried to find every person who was monitoring the area since the information from the government resources was useless.  
I received a Facebook message from one of the photographers I had made friends with Thursday afternoon as he thought they may have been impacted by an unexpected outbreak in Leilani Estates. We had managed to get thru several fissures opening and even homes being taken on our street and were hopeful we could make it thru this disaster. Sure enough in the middle of the night on Wednesday, May 23rd, a lava pool that had accumulated on the next street overflowed sending a huge amount of lava on to Kaupili Street. We were one of five homes taken that night then the flow continued on to take another 20 homes the next day and at the time of putting this together it still continues to destroy homes.  
This home was everything to us. It was my parents first home they've owned and we designed and built it ourselves when I was in college.  I remember picking out every finish with them, the countless hours painting it and practically losing my finger prints from spreading out the caulking on all of the siding! And you know my Mom she's the type of person where everything is special, unique and handmade, which makes losing all of her possessions even tougher. 
We don't know where they will go from here as we are still in disbelief and heart broken. All I know for sure is that they need love, prayers and support  in any way that you can. 
As a retired student activities coordinator of Kamehameha High School for 13 years, I know she needs the love she was surrounded with each day on campus from her KS Ohana more than ever.
I'll use this space to keep everyone updated as they figure out where to go from here. I am trying to find the positive in this tough time and remember that health and life is the most previous asset we have, but there is so much grieving and pain ahead. We appreciate your love and support more than words can ever express.
Love,
Jenn
(Don & Mary Lynn's Daughter)
May 11st - This was the first time we saw our home since the outbreak on May 3rd


May 20th  - Home circled in yellow
May 21st - Lava had advanced a bit but home was still safe <3
May 24th - Home is Destroyed. I had to draw in lines as I couldn't make sense of it since there was so much lava that had covered the area. This is the picture that I showed my mom when I told her it was gone and she just kept staring at it saying "no it's not no it's not". 
Better view to understand the level of activity that picked up in Leilani Estates

View of what would have been our ohia tree lined street with our home. Now the entire area for miles is just lava fields with mini volcanic eruptions that continue as of 5/27.
Another view of our street showing where our home was.
Our home
<3
  ~~13-3444 Kaupili Street ~~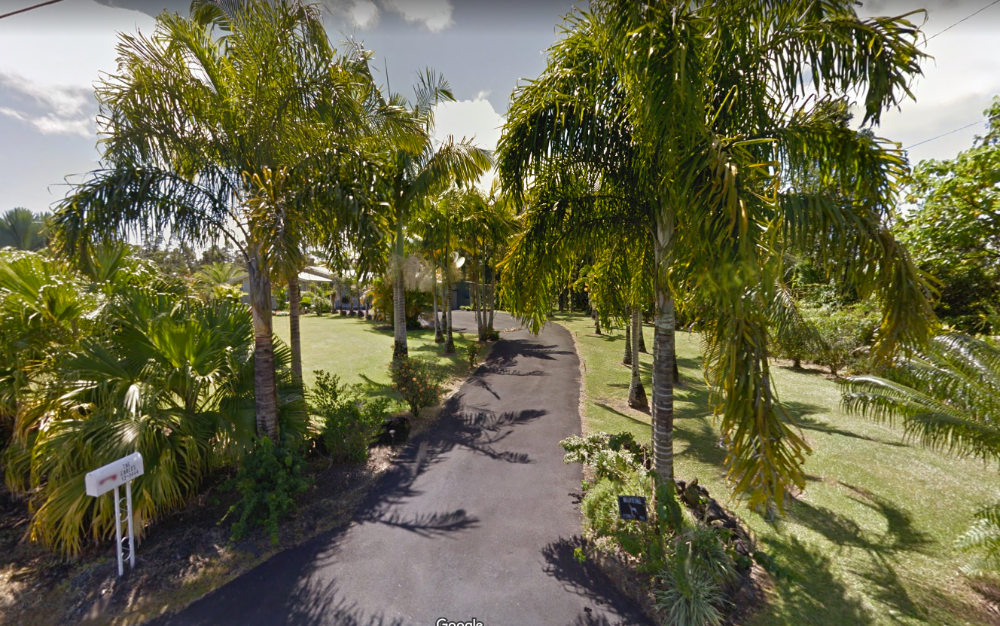 Taking Nella on a walk down Kaupili Street :) I'm so grateful she passed shortly before this happened as I can't imagine Nella going thru this.....