Donations for Silver Lining Acres
As most of you know I moved to Bedford Virginia in May of 2017 to start a new life after losing my beloved Ross.  I started an Equine Therapy Farm to help people heal through horse therapy. In particular, those who suffer from PTSD, mental health conditions and children with challenges.  Therapy through animals has been proven to be therapeutic to aid in comfort and support to those individuals.  At Silver Lining Acres clients often connect and feel empathy for animals before they have empathy for themselves. Being around animals helps people talk more openly and easily about their feelings.  
Every day I am reminded that Ross could of gotten treatment if he was more vocal about his mental health condition. I lost him to depression and PTSD from his experience working in law enforcement. Being a past ranch owner and avid horse rider, I moved to Bedford to open my Farm and loving arms to those in need. Horses have measurable positive impacts on the humans who care for them. They can reduce stress, reduce anxiety, lower blood pressure, boost the immune system, and promote exercise.
All my beautiful horses are rescues from slaughter. They are happy and healthy and need to be put to work now!  Peyton, Rosie and Monte require attention, as they are dependent upon someone for their food, for their grooming, and for their exercise. For the person experiencing mental health issues, it is helpful to have an animal near which requires the focus to be shifted away from self and toward them and their needs.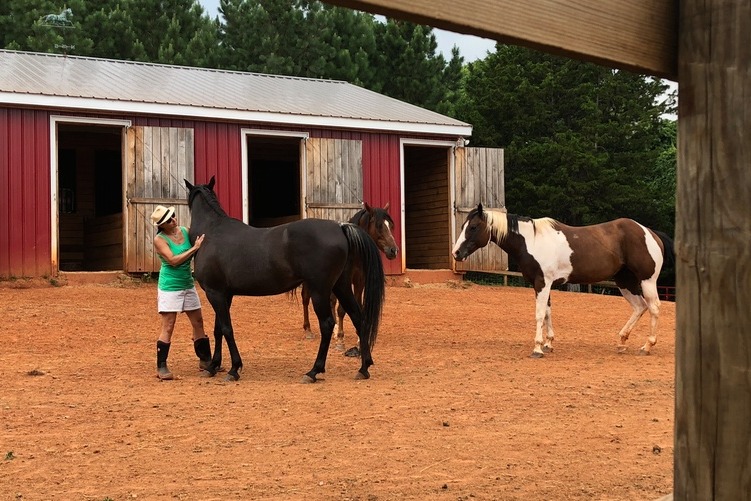 With your donation it will help provide feed, medical attention and general maintenance for the animals and help in the beginning stages to market my farm as a viable business.  Your funds will be put to work immediately. I can't even begin to tell you all how grateful I am for your donations and support.

Organizer
Jaime Latchford Bruce
Organizer
Bedford, VA