BILLBOARDS AGAINST DOG MEAT TRADE!!
NOVEMBER 3 2017 - UPDATE!

NJ BILLBOARD UPDATE – NEW CREATIVE ADDED TO ROTATION – 2x DONATION MATCH FOR 2 MONTHS (a donor will match your donation from now until the end of the year, as a HOLIDAY CAMPAIGN GIFT, with the goal of expanding the DCMT message to NEW CITIES)*see below

 NEW CREATIVE/NEW BOARDS have been added to the mix, posing the question "HOW WOULD YOU FEEL IF THIS WERE YOUR DOG?"  It should be only too painfully obvious to those that cherish their own companion animals – the pet dogs and cats that they love on, that sleep in their beds at night, that have every need met and that are treated like kings & queens – how can we not completely EMPATHIZE with these unlucky dogs and cats, caught up in the torturous dog & cat meat trade and experiencing an unimaginable and prolonged hell on earth?

 I still continue to wonder and wish, from seeing the out-pouring of un-edited video documentation and pictures coming from these countries for decades….why don't these animals fight back, bite, scratch, lash out, attack, try to run away?  I fantasize that they all develop the ability to communicate with each other and start a revolution against their captors – a "Planet of the Dogs & Cats" if you will. 

 The ultimate sadness of it all, aside from the physical brutality and slaughter methods, is that these dogs and cats are in many cases DARTED and DRUGGED at point of capture, and after that waers off, they are subsequently PARALYZED with FEAR and PAIN, unable to even process what is happening around them and to them.  Dogs, with a several thousand times greater sense of smell than humans, are bombarded with the stench of torture, suffering, pain and death.  (Research is coming out that cats have even greater olfactory capabilities than dogs).  These animals have resigned themselves to their fate, they are defeated and without any hope - the mere thought of this is utterly soul crushing…

 WE ALL AGREE AWARENESS MUST INCREASE!  These billboards are reaching people and helping them to make the obvious connection….a dog is a dog…."meat dog" = "pet dog."  "meat cat" = "pet cat."  Even in this country many well-meaning people are unfortunately apathetic to events that occur outside their comfort bubble, and turn a blind eye to reality, not wanting 'to know.'

 As we enter the holiday season, it's estimated that these billboards will be SEEN EVEN MORE by those shopping and traveling during the holiday months.  An anonymous donor has graciously stepped up & will match ALL donations made from now until the end of the year, as a HOLIDAY CAMPAIGN GIFT, with the hopeful goal of expanding the DCMT message to NEW CITIES. Top 10 TARGET MARKETS on the radar for consideration for future outdoor signage (billboards, posters, bulletins, buses, metro, etc.) == they have the most dog-friendly restaurants & pet-friendly hotels, dog parks & beaches, dog events & pet expos, etc. == Portland, OR., Austin, TX., Sacramento, CA., Minneapolis, MN., Colorado Springs, CO., Chicago, IL., San Diego, CA., Boston, MA., San Francisco, CA., Kanab, UT (site of Best Friends Sanctuary) – NYC & LA are always considered but are also the most $$$!   Thanks again to all those supporting this effort, donating, sharing, commenting… ANY contribution is welcome and greatly appreciated!  TO DONATE: https://www.gofundme.com/dcmt-billboard-campaign
(people have also asked about sending checks direct via snail mail - for anyone wanting to do this, mail to Luka's Legacy, Inc. P.O. Box 5702 Englewood, NJ, 07631, USA (make check payable to Luka's Legacy, Inc.) - Thank You






SEPTEMBER 19-2017 UPDATE!
‼️"THAT ONE LOOKS JUST LIKE MY DOG!! ‼️" – This was one guy's response when I asked him, in person, about what he thought when he looked at the Rt. 46 billboard (Little Ferry, NJ., USA). ️ ️ TO DONATE: https://www.gofundme.com/dcmt-billboard-campaign
(people have also asked about sending checks direct via snail mail - for anyone wanting to do this, mail to Luka's Legacy, Inc. P.O. Box 5702 Englewood, NJ, 07631, USA (make check out to Luka's Legacy, Inc.) )Thanks so much!!

• Since the boards have been up, I've asked a lot of people for their reactions (Rt. 46 location only – impossible to do on Rt. 80!) – most people did not want to be on camera, so to keep it real, make it more about the issues and get them to be honest, I did not push it. I thought most of you would like to get an update.
• I will say that the reaction from people I stopped was one of shock & disbelief. And they were always questioning "WHY?" "What can they do?" And a lot of people responded to the photos – "those poor dogs- why do they bind up their mouths?" "I had no idea – I didn't know" – "why do they need to eat dogs?" – "dogs do so much for people" – "where do they get the dogs & cats from?" "dogs and cats are our friends" "those cats look sick, scared & wet" were the very common responses – and some people also offered that we should treat all animals with kindness, and some said to not eat any of them at all – nice to hear.
• For those that had an idea about the trade – they had NO understanding of the purposeful torture and the shocking methods & "reasons" behind the torture – yes, there were a few that said every culture is different, we eat meat, etc. – the same comments we are all familiar with- but we quickly got to the facts by pointing to the "MYTH/FACT" board which led to more of a conversation….they made the connection between the torture and the trade, and saw the invalid points in culture comparison that they were making as gut reactions. A few said they would help contact legislators – more said they would go to the WEBSITES to LEARN MORE & DONATE TO THE CAUSE – this was VERY ENCOURAGING AS THIS IS THE GOAL OF THE CAMPAIGN! Many took the information I had to hand out as well.
• It's really important to point out that A LOT of people are seeing these boards –there are several stop lights here at Rt. 46 and the board is above a 7-11 (as you can see from videos) - so many people are really seeing & getting the message - These locations get a crazy amount of traffic 24/7 so literally hundreds of millions are seeing these digital signs. And at NIGHT, they really POP- the colors and the photos get attention and draw people to the messages.
• I truly wish media wasn't so expensive, but the more people you reach, the more expensive it is – and outdoor is actually one of the most efficient mediums. And I know, there are so many other critical issues going on in our world – so much to do to help the animals, and to help people!
• Again, I just want to thank everyone that's supported this, that's donated to the campaign & has shared it around! Without you all, this could not be possible!
• Advertising really does work and we really need to shine a light on this issue – the media is just not covering it!


JULY 17 - 2017:
EXCITING NEWS!!! DCMT OUTDOOR BILLBOARD CAMPAIGN – NJ/NYC METRO – SUMMER 2017
 I am THRILLED to announce that
2 DIGITAL BILLBOARDS (14 FOOT X 48 FOOT) WITH A "STOP THE DOG & CAT MEAT TRADE" MESSAGE ARE GOING UP ON THE NJ TURNPIKE (1ST BOARD = NEWARK AIRPORT EXIT) AND (2ND BOARD = ROUTE 46, NEAR TETERBORO AIRPORT)
- (See attached photos). *******
(UPDATE: the Turnpike Board has since BEEN REPLACED by the RT. 80 BOARD - 20 ft. x. 50 ft.)*********
 The boards will be up
JULY 17TH
and will reach
MILLIONS
as these are
incredibly busy PRIME locations
.  They will be seen 24/7 during the run. 
The GOAL is to run the boards for 12 weeks each – from July 17-October 8).  Right now, there are donors to get us to the launch, but the hope is that with your help via this FUNDRAISER, the entire time period can be covered. 
 This timing is advantageous as we are all heartbroken over YULIN and no doubt, could use some good news about now!  We can capitalize on the awareness that YULIN has garnered in the press, and also cover the BOKNAL duration, since as we know, BOKNAL is around the corner.
 We all struggle with getting the DCMT message out to the mass media – these billboards will allow
US TO TAKE THE LEAD and make our voices heard
.  The creative message (see attached) addresses the
"MYTH" and TORTURE behind the DCMT without getting too graphic, but still grabbing people's attention.  It also will drive them to VARIOUS WEBSITES that will appear in ROTATION to get more information, facts, and what they can do to help.   The boards are broken into 2 parts
as we did not want them to appear cluttered and unreadable. 
Each location will see 2 billboards - BOTH THE "MYTH/FACT" and "STOP THE" BOARDS WILL RUN AT BOTH SITES.
  (Network for Animals has graciously allowed their photo to be used on the boards). 
 This has been a DREAM to get the DCMT message out to the masses – it became a REALITY under the umbrella of Luka's Legacy, Inc. – my 501c3 non-profit that promotes adoption/rescue vs. buying/breeding of dogs and cats via education & advertising campaigns.  Luka's Legacy, Inc. will also cover specific issues, like the DCMT, and work to get campaigns up and running, such as these billboards.  This is a fledgling 501c3 (website and social media pages currently UNDER CONSTRUCTION).  Having Luka's Legacy, Inc. CREATE, SPONSOR and FUNDRAISE for these boards allowed
ADVANTAGEOUS pricing to be negotiated
as it falls under
a legit 501c3 non-profit charity (EIN # 47-3767998) - P.O. Box 5702 Englewood, NJ 07631.
Here are some additional details on the boards:
·      Current websites to be featured in rotation (there may be others- TBD)
o 
Animalhopeandwellness.orgo  Stopdogmeat.como  Soidog.org

 o  Savekoreandogs.org
·     
Combined, both boards will reach an estimated 10,751,472 EYEBALLS over the course of the 3-month goal!!!!
·     
Board #1 location – This highly visible digital billboard is located on the MOST TRAVELED section of the NJ Turnpike at Exit 14 North – Newark AIRPORT.  Weekly Impressions = 795,207 Adults 18+ *******(UPDATE: the Turnpike Board has since BEEN REPLACED by the RT. 80 BOARD)*********
·      Board #2 location – This highly visible digital billboard is located along Rt. 46 East in Little Ferry, NJ close to Teterboro Airport and the Garden State Parkway.  Weekly Impressions = 100,749 Adults 18+·      Both boards are 14 feet x 48 feet·      Press will be notified and the goal is to get additional media coverage, as this MAY be the FIRST TIME ANY DOG AND CAT MEAT TRADE BILLBOARD HAS GONE UP IN THE U.S.
Anyone who would like to DONATE to this campaign – itis greatly appreciated! 
It would be amazing to keep this going for 3 months
– it takes time to build awareness and the more people who get the opportunity to see the message, the more it will ultimately help!
PLEASE SHARE, SHARE, SHARE this to everyone and post to pages where you like!  Collectively we can make an MASSIVE impact for the Dogs & Cats!!
I am happy to answer any questions as well.
xo - Jennifer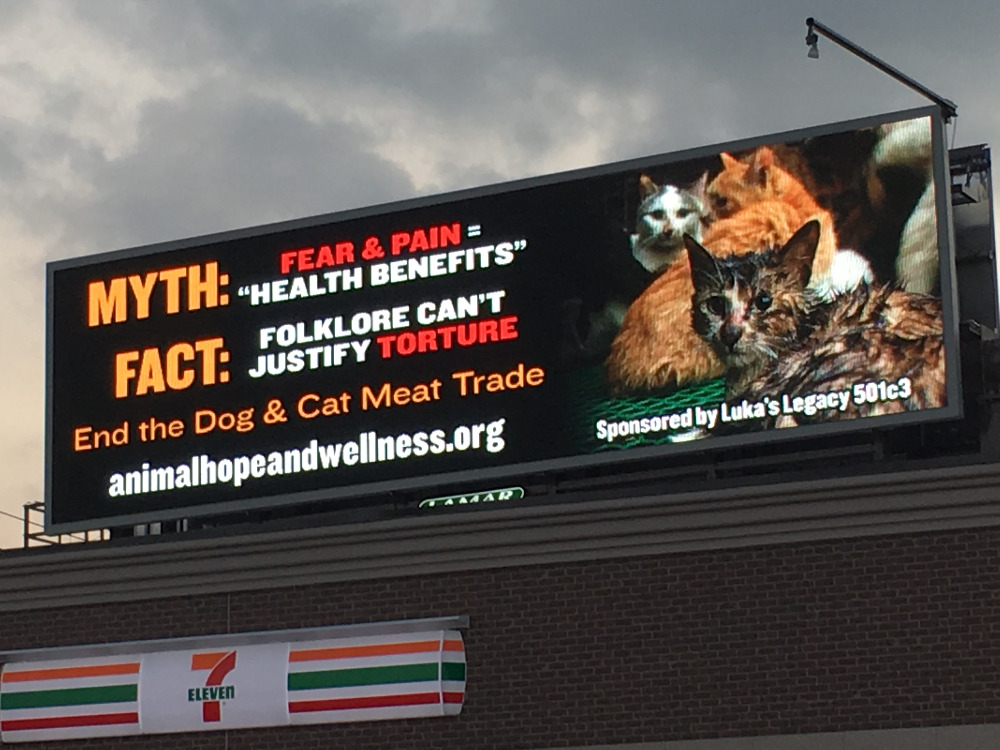 Organizer

Registered nonprofit
Donations are typically 100% tax deductible in the US.