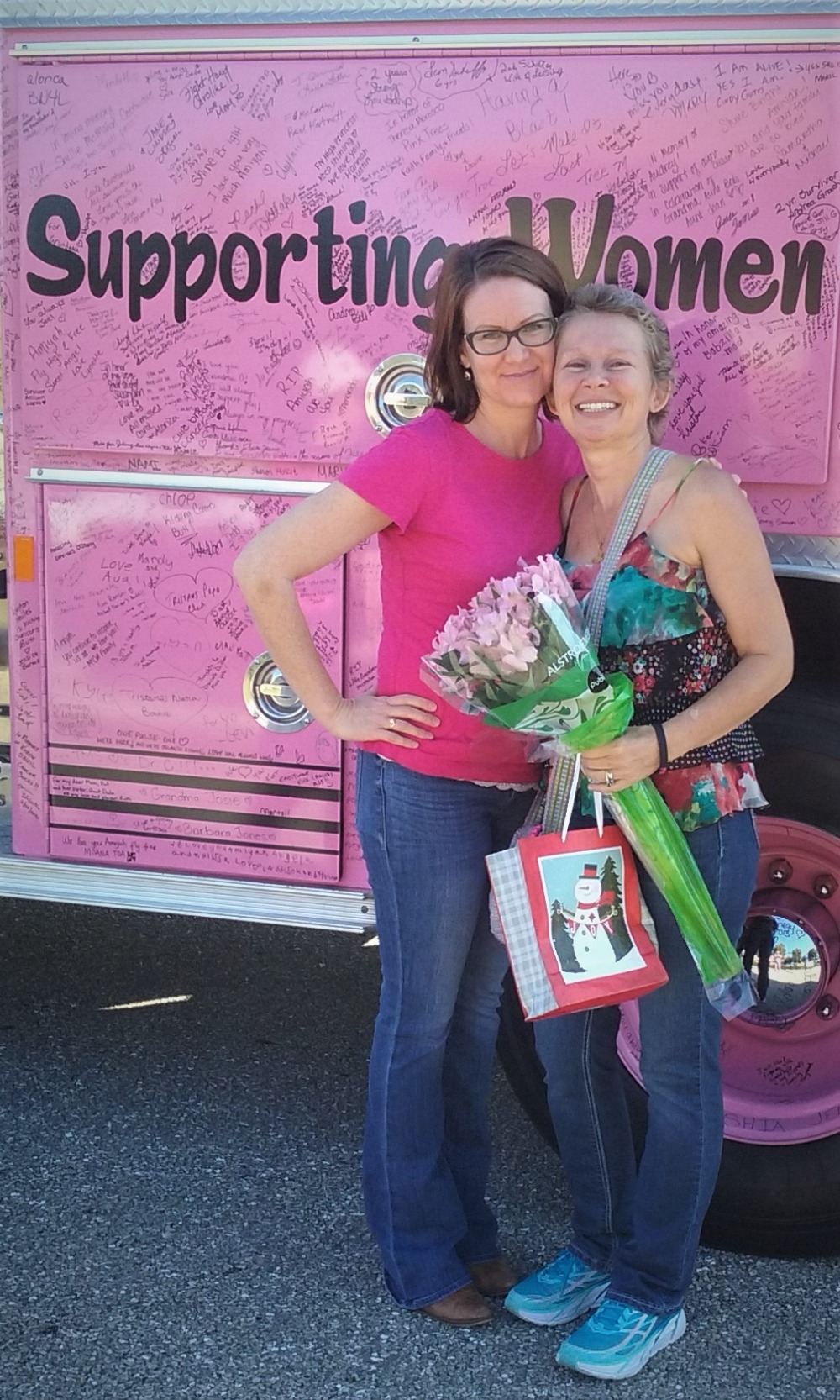 I met Marguerite a few years ago through my current employer, where she was a massage therapist. At the time she had been in remission from her first episode of breast cancer. She had a double mastectomy and took a more holistic approach to fighting the big "C". Marguerite relied on her faith in God along with family and friends to get through this terribly tough time. As far as we were concerned, she was healed, but I'm certain Marguerite still lived, somewhat, in fear. Our fears came true a little over two years ago when "C" came crashing back into Marguerite's life. It returned with a vengeance and she has been fighting incredibly hard ever since. We have been praying even harder for God to heal Marguerite. Cancer is in her bones, lymph nodes, liver and has spread to other parts of her body. Although she did try a few rounds of chemotherapy, she was then fighting not only the cancer, but also against her internal moral compass. You see, Marguerite is a holistic gal through and through. Her approach to living is a very non-conventional way. We all know that insurance does not cover non-traditional medicine. This is where we need YOU! Although, Marguerite has not been able to regularly work due to the intense pain and lack of energy, she does make it a daily goal to stay as active as she possibly can. Praise God she is able to remain in good spirits! Marguerite is married, with a couple of fur babies (dogs), a home on a few acres and a garden that she looks after. She occasionally finds the energy to give a massage or two which brings in a very small income. Unfortunately, it is not enough money to cover the cost of fighting this kind of battle. Marguerite has had numerous people step up over the last two years with monies so she can obtain treatments in Cuba and discover healing options in other alternatives ways. She is exploring all of her holistic options and praying to God for guidance. Currently, Marguerite's wish list is for the following holistic cancer treatments; IV Therapy (vitamin C, B, B-Complex, Glutathione), Photoluminescence, Colonics and Aaron Mattes Active Isolated Stretching just to name a few. If you are not familiar with these types of treatments, I urge you to explore and think outside the box. I cannot tell you how unique and special Marguerite is to me and those who know her. She is a kind, selfless, God-loving soul. She is truly Beautiful from the inside out. She is my Mermaid and I pray for God to heal her every day. I pray that everyone who reads this will first pray to God and ask Him what He wants you to do. If He leads you to pray, then pray every single day for His will to be done in Marguerite's life. There is power in prayer! If He has blessed you in a way that you can financially give, we would be eternally grateful and blessed for your giving spirit. Marguerite and I Thank You for reading a little piece of her story.
Thank You for Praying and God Bless!



May 27, 2021

Hi there,

Its Marguerite. 

Well, I am still here.  God is not ready for me as of yet and yes still fighting the big "C" unfortunately.  The battle is real. Real hard at times.

I am with Hospice (at home of course) they help me manage some of my pain and help me as much as they can. I am doing what I can to         keep my body moving when my body allows. I still go for colonics once per week since the pain meds do not allow things to flow the way they should (#2 - you know what I mean). Also I go for Hocatt ozone treatments and get 1/2 hr massage with Hospice once a week.  I recently started going to the Ketamine clinic to see if that would help relieve more of my pain which has increased over time and stops me from doing many things. It is hard to eat at times for things do not taste the way they used to and the nausea has increased along with belly pain and all the other pain. I know I need to eat and I try so hard even if its a smoothie, jello or some almond milk.  I really am trying.  I was doing juicing for a while (mom had made me many really great juices with the new Nama juicing machine she gifted me for Christmas, but now its hard to drink that as well. 

I want to thank all my friends and family that have been so kind and generous of your time and helping me get out as well as  financially.  I could not do it all without all of you. 

As I stated above, I have recently tried some Ketamine infusions and it is giving me some much needed relief.  It is not cheap but I am grateful that insurance covers a good portion of it but I must pay the remaining portion which is not cheap. Dean is working hard every day to take care of our bills and daily needs and there is not enough $$ coming in to keep up with my treatments.  We are believing in Gods will to provide the money needed to keep up with these treatments or I will just have to deal with the pain level that my medications do.  If you are financially able to help in any way we would really appreciate it so much.  Please forward this to whomever you may know that may be able to help as well.

Thanks again everyone,

Love, Blessing and Hugs to all of you,

Marguerite  :)

I will try to post some pictures and more notes when I can and please call or come visit.

Organizer and beneficiary
Susan Harrison 
Organizer
Lehigh Acres, FL
#1 fundraising platform

More people start fundraisers on GoFundMe than on any other platform. Learn more

GoFundMe Guarantee

In the rare case something isn't right, we will work with you to determine if misuse occurred. Learn more

Expert advice, 24/7

Contact us with your questions and we'll answer, day or night. Learn more