Jennifer & Travis escape mold/lyme!
Leave it to me to get not one, but two diseases insurance doesn't cover! With both lyme disease and biotoxin illness (aka toxic mold exposure) you're pretty much on your own. With the former, even if you're "CDC positive" the most insurance companies will cover is a few months of IV antibiotics. Mold isn't even on their radar. Even finding a doctor to treat these illnesses is difficult at best.
Why you ask? Watch these fine movies! 
Under Our Skin  or  Watch the Full Movie
Black Mold Exposure 

And it's not just that we have some symptoms... these are progressive illnesses... and yes, fatal. Neither of us is bedridden or in a wheelchair, but we are sick, and really don't want to get worse. 

So all this started when we moved into moldy house #1 in 2010. I should have known, the master bath ceiling fell in a week after signing the lease. The paint on my bedroom ceiling was peeling. In 2013, Travis' bathroom ceiling fell in. When the walls came down the insulation was black with mold. This was after Travis got walking pneumonia and asthma, I had crazy fungal infections and spent 2013 thinking I had scabies. I didn't. I figured out that the house was infested with tiny bugs that eat mold called springtails. Everything we owned was covered in mold spores and the bugs that eat them. 
I found a new apartment, which my parents put a lot of work into to get ready (it was trashed), unfortunately it turned out to be worse. Within 2 weeks of moving in, Travis was complaining of fatigue so bad that "It feels like my legs don't work." I was putting my fatigue and joint pain down to age.... hmmmm.
I got a mold remediator in and this is what they did to both bedrooms: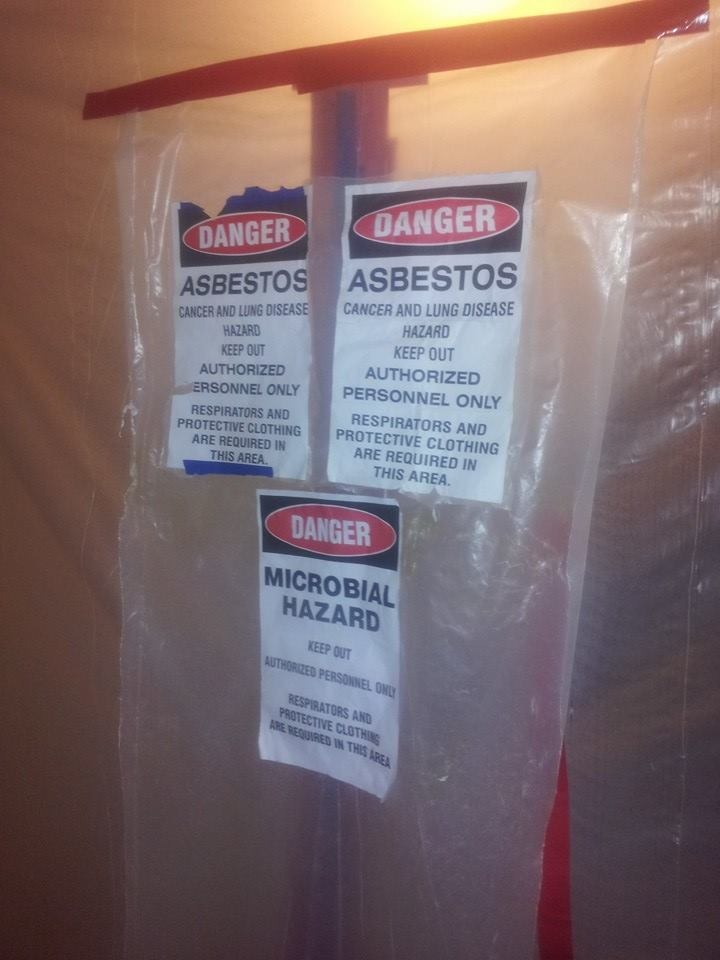 We fled. Literally. We lost 90% of our stuff, the remaining 10% is in a storage space I don't even want to open. 

In my research, and according the doctor we're seeing (an ND), there is a big connection between mold and lyme... your body is unable to fight the lyme if the mold is present. (Actually mold negates all medications according to my neighbor's rheumetologist.) The list of symptoms is long, and the doctors at Kaiser were useless. Worse than bad. 
My lyme disease test came back 1 band positive. To get the insurance company to pay for treatment you need 3 bands positive. (I have since tested positive for two more bands, but if they aren't on the same test, it doesn't count!)
Travis also tested positive for 1 band... but more telling, his CD57 test is low and we both tested positive on the Lyme Immunofluorescence Assay test. We both definitely have the co-infection Bartonella and mycoplasma... we may have others that we haven't tested for yet. 
All of these tests were/are of pocket! 
So now I'm trying to pay for treatment, keep my new house mold free (everything has to be sprayed down with alcohol, bleach or vinegar - mold spores live for 50 years waiting for a drop of water to bring them to life!), and hold down 3 (yes, 3) jobs. It's exhausting. Travis just got walking pneumonia for the second time, so I'm doubting the safety of the place we're living. 

Thank God(dess) for my friends and family who have given me clothes, furniture and blankets, loaned me money, paid my rent, and all the other things they've done to help. But now I need to spend the equivalent of a down payment on a house to get us back to normal. 

So help us get healthy by funding some of these fine remedies. Travis is on antibiotics, I'm going to start them soon (they make you super sick and tired, so I have to wait until work calms down), but antibiotics alone don't cure you... these are the things that have good results. I've researched the CRAP out of this stuff... if you would like to know more, please message me! 

Thank you for helping us stay upright!
Organizer