I'm not usually the one that would ever do something like this at all, but my friends from college have asked for a way to help out.
First I have to say thank you to all of the prayers and kind words we have received over the last month. And second thank you to everyone who has offered to watch Wyatt and cook meals my family truly appreciates it. Now here is my mom's story.
July 13, 2014 was a day that would change the life of my family going forward. I remember getting a panicked phone call from my dad that my mom had a heart attack. At 6am this is takes a little bit to process my mind was running 2000 miles an hour. My mom had always seemed so healthy. I quickly made my way towards Parkview regional hospital. I then received a call from my dad saying they took her to a different hospital a little confused I said ok and made my way. The journey back to the emergency room seemed to take forever as I walked in the room the look on my uncles face (moms brother) did not look promising. For those who don't know they lost their sister 3 years ago to cancer in the lung that spread to the brain. I began to panic a little bit as I waited to hear some news. You see my mom had actually had a seizure at her house and another in the ambulance this is why she changed hospitals due to protocol. As I'm finding all of this out my uncles look on his face became a reality. My dad softly told me that my mom had a spot in her lung and several in her brain. Nothing had been confirmed yet, but I softly prayed for the best outcome. My mom was taken for an mri and cat scan and then moved to the regional hospital. As I followed the ambulance my mind seemed to start bringing up all kinds of questions. I'm the guy that always looks to the positive so I was trying my hardest to stay that way. As we arrived at the regional hospital reality started to set in as mom was moved into a room on the oncology floor. My heart sank we still had heard no results, but obviously they already knew. My mind was going crazy as I sat in the room wondering and praying that it was nothing big. None of the nurses could believe my mom had only seen a doctor 3 times in her life. One when she was born the second in 1980 when I was born and third in 1989 when she was in a serious car accident. Mom never believed in antibiotics, vicks, a heating pad, rest, and nuprin could cure anything. Tuesday morning we finally received the results the longest 2 days of my life. That morning I will never forget. As her oncologist said she had stage 4 cancer a 4x3in mass in her lungs that had spread to her brain and her adrenal gland. My heart sank as the doctor told us without treatment we were looking 3 months with treatments 18months. This was the path of her sister I had just seen this happen I held back tears and maintained positive for her. She said she would take the treatment and she would fight. I knew why because 15 months earlier a special lil man came into her life. Wyatt or weebe or babyboy as she called him was her reason to push. She loved my son to pieces nothing brought bigger smiles to her face during this journey but him. The fight was on we had seen this years earlier as my dad has beat cancer 4 different times. I told her we can do this! That Friday she started her first of 10 radiation treatments to her brain. This was the major focus of the battle before chemotherapy on the lung. The radiation itself would prove to be a huge test as we watched my mom struggle with pain. She soon would begin to lose chunks of hair her response I can get a cap it could be worse. Soon she would struggle to eat and get fluids down. This scared me and I began to worry. Her energy levels were decreasing and she could barely get around. I guess I missed a crucial part of the story. A week before she had the seizure she had fallen going backwards down some stairs which we would find out in the hospital that she had broken her leg. So movement with a walker proved to be hard. Wednesday July 30th, my mom's last treatment she was grateful that it was over and ready to get the chemotherapy started. I worried as she still could barely eat or get liquids down. All through this journey all she wanted to see was her weebee my son her pride and joy the reason for the fight. Thursday August 7th I get to bed late around midnight. Too much on my mind, wondering if she will be healthy enough to have chemotherapy praying that it will help shrink it. And honestly still hoping for a miracle that it will eliminate it! Mom had 2 appointments Friday one at 11 for chemotherapy and another at 2 for her leg. At 1am Friday morning I receive a phone call as I look and see it's my dad I think one thing this cannot be good. My dad says I'm calling the ambulance for your mom she has no energy cannot get out of bed due to pain and she's coughing up blood. I race out of bed get dressed and race over towards their house again my mind 3000 mph, scared tears starting to flow as I pulled down the street the ambulance had just arrived. My mom's only concern make sure they don't run the siren or the lights on the way to or from her house. She didn't want people woken up. I am reminded just how much my mom wants to make sure she is not hindering anyone. Always putting everyone else first I watched this my whole life. My dad and I follow the ambulance to the hospital both if us trying to be positive. We will soon learn that my mom had gotten pneumonia and we were told that she was very very sick and would be going to the icu. Again my heart sank how....we are fighting this other fight this can't get in the way. Her right lung the lung with the tumor 2/3 full of fluid and essentially sticking together from the infection. My mom's reaction and exact words I'm not going to give up I'm not going to die. My mom's oxygen levels were very low so they started a her on a cpap machine. This was not at all comfortable for my mom and she fought to not have it on. Looking at it I thought I couldn't wear that at all my heart began to ache for her and tears began to flow. The doctor has a talk with her and tells her there is no way you can get better without this. She agrees to wear it and fight through the discomfort she soon falls asleep. She had only had about hrs a night for 2 weeks. About 6am we make our way to the icu. My father and I learn just how serious this is. I had already thought this cannot be good we are heading here this just isnt where sick people end up. We will soon be told that the cancer may not take her because she may not make it through this. The doctors were all very straightforward with us. I wanted that. Tears from both my father's eyes and mine begin to flow as they start talking about a do not resuscitate. This is not a decision anyone should have to make and not this young. My mom slept pretty much the rest of the day on the cpap machine. The afternoon physician said that if they pulled it off and her levels stayed up she could go to oxygen in the nose only. My mom hears this and I know the fight is on she's getting that mask off. She was a fighter and a feisty woman. By the evening no more mask oxygen levels were above 90 just as the dr had wanted to take it off. In my mind a small victory there was hope miracles do happen! I had been running on 1 hour of sleep that day. I barely remember laying down in bed. Saturday morning another phone call. You need to get up here she's going downhill. Another race out of the house this time tears ask the way to the hospital reality was setting in. I'm going to lose my mom I had prepared for more time another Christmas, her seeing weebee turn 2 years old, her getting to go see the grand ole opry her only bucket list item. Questions like why and I'm not ready for this Lord ran through my mind. I race up to the icu to see her I learned her levels had fallen to 41 and they needed 90 she refused the cpap cause she wanted to be able to talk. The nurse says then we have to turn up oxygen in the nose she agrees to it. While only the night before she had absolutely refused this said it hurt way to bad. I then learned that she had refused any pain meds because she wanted to be awake and be able to talk. I learned that she told my dad to call her brother, our pastor, and myself. This was real reality was here and she knew she wanted us all there. I walk over to her trying not to cry I can only muster up an I love you mom. She smiles. I can no longer hold it in tears start to flow. I could only stay strong in front of her so long. She grabs my hand and rubs it. The next words out of her mouth were wheres weebee everyone in the room begins to cry she needed her pride and joy one last time. My dad and I had struggled with this for 2 days would he be allowed in the icu. Would he be freaked out. Would he do what he always had done and crawl right up on her, what if he pulled something out what if it was too much pain for her. At that moment I could only say one thing. Mom hold on for 20 minutes. Stay strong. She said I will. 20 minutes seemed like eternity as I called my wife saying he needs to be here. I meet them in the lobby and take him into my arms. He doesn't understand he has no clue what's going on. We enter the room. My mom's eyes open wider than I had seen them in 2 days. And a huge smile. Mom says its my baby boy! Wyatt instantly holds his arms out for her the room literally loses it. Tears from everyone. I tell him to be careful, but in reality all he wanted to do was crawl up into her arms. My mom whispers Jason I dont care he won't hurt me. She wouldn't have said if he was. Her pride and joy was there. The reason she was fighting this nasty cancer. He loved on her so much and you could see the joy in her eyes at that moment she felt no pain. We all were able to have some great conversations with her in those couple of hours. I was told shortly after I got the original time line that I needed to take the time to tell her everything that I always wanted to tell her. Well 18 months soon came down to one day. I told my mom thank you for being and amazing mom and teaching me do much about life. Her response was me..amazing...no Jason you are amazing! I can no longer hold it in a burst into tears along with my dad and her brother. I will never forget the look in her eyes. Throughout the morning she had multiple conversations with us the nurses still trying to get her to take pain meds. She refuses asking for ibuprofen. She's not wanting to be knocked out and out of it. And remember this lady never took anything prescription and morphine would not be acceptable to her. She has a conversation with the pastor whom had raised me in the youth group and handled her mom's and sisters funerals about God and heaven. I had no doubt in my mind that my mom was going there and he was holding a spot for her. My mom was an example of faith. At the end of her talk she said im ready to go home. My mom had known this whole time she was just finishing out. Doing what she had done my whole life. Make sure we were okay never herself first always last. I think I told her I loved her 100 times yesterday. Can we ever say that word enough no! I told her I am going to take care of dad and she said I know and squeezed my hand. As the afternoon went on she took meds and slowly started talking less. Still scanning the room though and still getting random hugs from wyatt each time she tried to smile. Friday she could barely talk and Saturday she had all the energy in the world to talk. That was my miracle. It wasn't her being healed that wasn't in Gods plan. I realize now writing this that it was for her to communicate. The nurses were all surprised at how much she could talk with us. For a week my mom had struggled to talk she had been taking in minimal fluids and would get frustrated because we could not understand her. Her throat was so sore this past week and after the cpap machine she had virtually stopped talking. How did she get all of that out and as clear as before she was sick. It was my miracle. I had prayed so many times for a miracle. Saturday evening came around she was now on full pain meds and in comfort measures as the nurses called it. The nurses would give us status updates cause we had turned the monitor off in the room they said it would only continue to alarm and my mom didn't need that. They were monitoring from the station. But they continued to say her levels are still high and her heart is beating strong. One nurse asked if my mom was a fighter and feisty. I smiled and said oooooh yes. Sunday rolls around my dad had spent the night by her side. Her levels still high and heart rate good he left to go get a bite to eat. He tells her he will be back he was just getting some food in the cafeteria. Just after ordering he receives a call saying she had passed. Her heart just stopped. I whole heartedly believe my mom didn't want us there. She wouldn't want us to see that. She was always this woman that loved everyone and taught me that. Always giving never asking for anything. My mom will never get to see all those things that I wanted her to see in person. She will in spirit. But my miracle happened Saturday and I am forever grateful for that. Thank you Lord. This afternoon I was able to read a journal my mom had been keeping for a few months. 4 things were always there the weather for that day, how thankful she was to see her lil family, how excited she was to see her weebee, and always had a PTL -Praise the Lord. My mom had so much faith even in the heat of battle she remembered what matters the most family and faith!
Sorry I wrote a mini book. Honestly I think I needed this. I cried many times throughout it not even sure how I have tears left today. But I do have a reassured faith that my mom was an amazing person, that I have a wonderful family, and that I have some wonderful friends!
I was told to do one of these and I said that's not me that's not my personality. You see my mom had no insurance and well my dad and I thought we had 18 months to save for a funeral and bills. I responded I will just get a second job and set up a payment plan. My friends who are like my family responded with your whole life your family has given to everyone without expecting a single thing back. Its time let someone help your family. All the money raised here will go towards my mom's funeral and medical expenses. All that being said my family wants to say thank you and even if this page gets not a single donation .I hope you were inspired to love your family, cherish every moment and tell them you love them!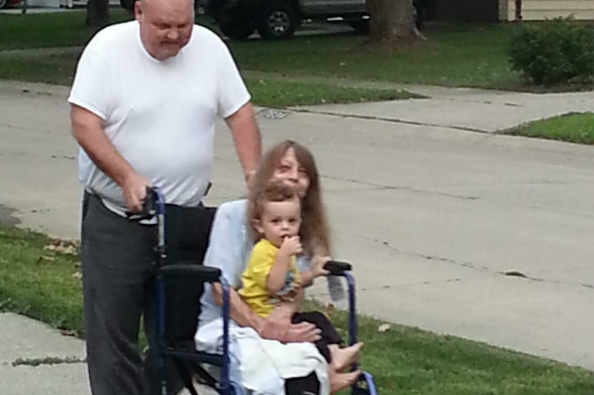 Organizer
#1 fundraising platform

More people start fundraisers on GoFundMe than on any other platform. Learn more

GoFundMe Guarantee

In the rare case something isn't right, we will work with you to determine if misuse occurred. Learn more

Expert advice, 24/7

Contact us with your questions and we'll answer, day or night. Learn more