Computer Literacy for Guinean Girls

Peter Einstein Memorial Fundraiser to Empower Girls through Computer Literacy & Ethical Leadership Development 

SUMMARY  

This weekend marks 10 years since my dad, Peter Einstein, died suddenly of a heart attack. In his honor, I will be running a half marathon and raising money for a cause that was close to his heart:
STEM & ethical leadership education, especially for disadvantaged youth.

I will be running 13.1 miles. I hope to raise $300 for every mile that I run: $3900.
This will fund the salaries for three years for 4 dedicated teachers to continue technology and leadership training for inspiring young people in Koumbia, Guinea where I served with the Peace Corps. Every additional $99 we raise will assure an additional month of training.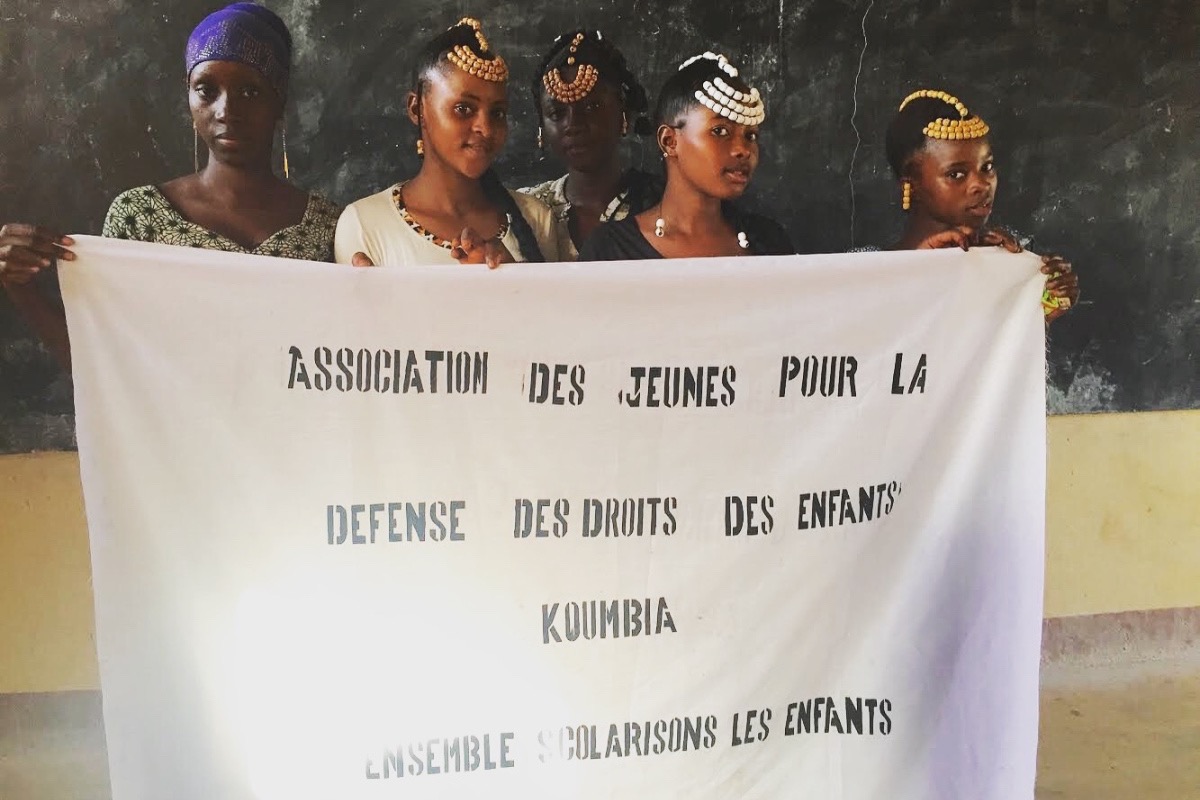 This Spring,
AJDE-Association des Jeunes pour la Défense des Droits des Enfants – "Youth Association for Children's Rights"
worked with generous partners to fundraise and install the first computers ever in Koumbia, building a solar-powered technology training center. In the first year, AJDE will provide training for 120 students (at least 50% girls). Before leaving for graduate school, aiming to gain new skills to further this work, the students and I identified 4 excellent teachers to work with youth leaders and train the students. They have been volunteering, but are unable to continue to donate the required 10-20 hrs per week if they are not paid, as they have families to support.  If I am unable to pay the teachers, they will either be forced to leave the village to find reliable work, or charge the students, many of whose parents cannot afford it or do not value schooling.
Suggested Donations: TEACHER SALARY FOR TECHNOLOGY & LEADERSHIP TRAINING*
$33-one month's salary for one teacher 
$66- one month's salary for two teachers 
$99- one month's salary for three teachers 
$132- one month's salary for four teachers 
$165- one semester of classes by one teacher
$330- one year of classes by one teacher
Dad was deeply passionate about great educators, and understood the profound impact they can have on young people's lives. I know that with continued training by capable local teachers these incredible students (
watch some of their videos
!!) can amplify the positive impact they are already having on their communities and change the tide for women and girls in Guinea.
Please don't hesitate to reach out if you have any questions, concerns, or suggestions. I deeply appreciate your consideration. I've included more details below.
Warmly,
Lisa
BACKGROUNDMy Dad 
I was blessed to be raised by a father who put as much care into nurturing our potential as he did into performing open heart surgery on a newborn. Dad taught me that my voice mattered. Through speaking up and, more importantly, taking action, I could shape the world around me to become more just, healthy, and free. "Any area where even small amounts of progress can be made by individuals who decide that they are going to work to make improvements…can help so many people have better lives." Perhaps it was for this reason he so valued STEM education, for it built a foundation of critical reasoning that empowered us to think independently about the world we inherited. Something is right not because the speaker is a man, teacher, adult, religious leader, political figure, lawyer, or a doctor, but because it is supported by evidence and reason. 
Koumbia + AJDE
I just completed my 2 years of service teaching physics with the Peace Corps in Koumbia, a rural village in Guinea West Africa. There, limited access to technology and books leads to an educational system based on rote memorization rather than critical thinking, which impedes progress in learning and perpetuates historic misconceptions about gender equality and health. Historic cultural norms suggest that boys should receive education, if anyone, and for girls, cooking, cleaning, childcare, and drawing water trump schooling. Further, girls face challenges to their health and education from forced early marriage and female genital cutting. Guinea has the second-highest prevalence of female genital cutting in the world, and some of my students had to drop out to marry as young as 12. My grassroots work on these issues resulted in some major successes including preventing early marriages and mobilizing youth to advocate for their rights through
Association des Jeunes pour la Défense des Droits des Enfants –Youth Association for Children's Rights- AJDE.
The school principal and I worked to prevent the early marriages of 2 girls, aged 13 and 16, who not only stayed in school but became 3rd in the class and 1st on the national exam. Empowered to help other kids, the girls and I founded AJDE with help from Mr. Balde, a dedicated Guinean teacher selected by the girls, who continues to support the student-led group since my departure.
More than 50 students (girls and boys) have become involved since AJDE's inception in January. They have galvanized support from adult leaders in the community, including the leaders of the Islamic Center, the Mayor, the Sous-Prefect, the Health Center Director, and the school Principal, who now openly discuss the consequences of early forced marriage and female genital cutting, and the importance of educating girls.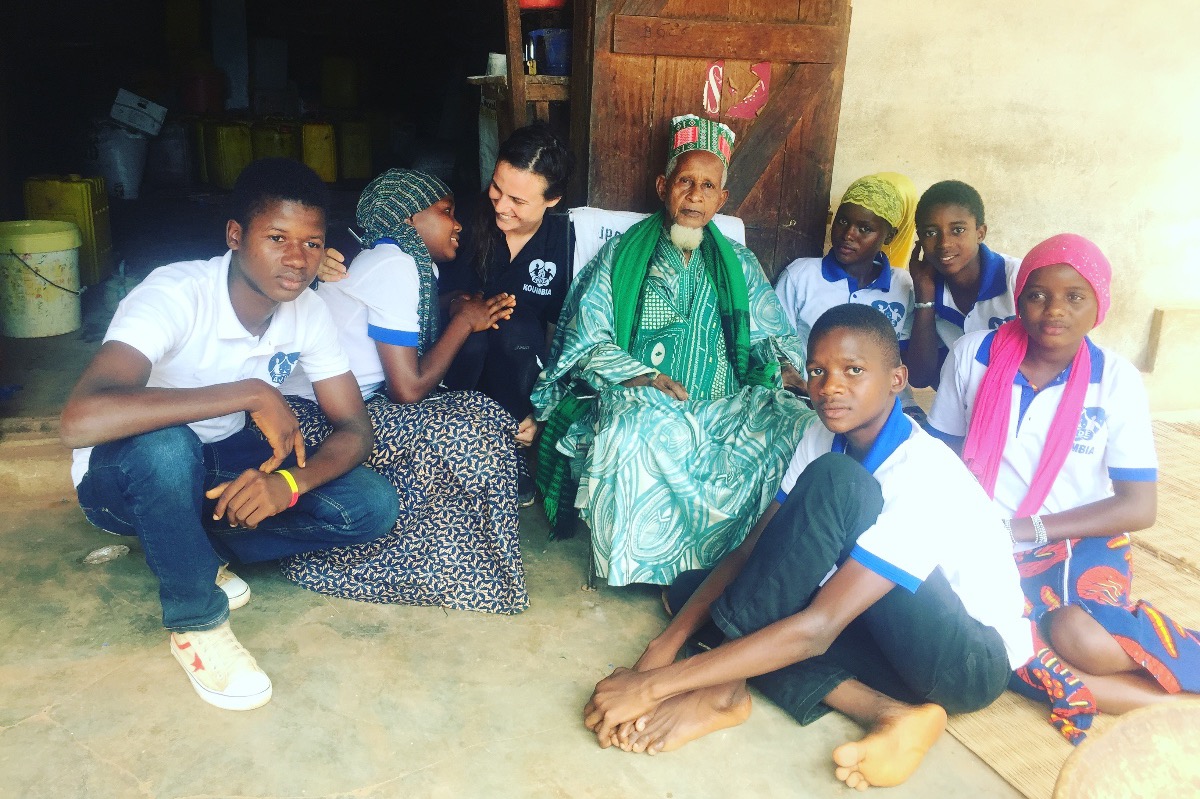 The leader of the Islamic League in Koumbia meets with members of AJDE and commits to supporting our work to raise the rate of education for girls and lower rates of early marriage and female genital cutting. Religious leaders have been doing sensibilisations on these themes in mosques.

Members of AJDE with Mrs. Ouratou Sow, who is responsible for CPN- pre and post natal consultations in Koumbia. We are working together on education campaigns against female genital cutting, early marriage, and unwanted pregnancy and giving sexual and reproductive health lessons in schools. 
TECHNOLOGY ROOM 
This Spring, AJDE worked with generous partners to fundraise and install the first computers ever in Koumbia, building a technology training center with 2 solar panels, 10 laptops, 2 desktops, and a printer. In the first year, AJDE will provide training for 120 students (at least 50% girls) who most represent AJDEs values (promoting equality, supporting the vulnerable, pro-actively engaging to make the world better, respecting others, transparency/honesty, and innovation).
Members of AJDE with solar panels before they were installed on the roof. 
Up to now, Mr. Baldé and I have been training the students in physics, history computers, public speaking, theatre, and ethical leadership, for free. As more students joined and I left the village for graduate school, aiming to gain new skills to further this work, AJDE identified 3 other teachers (Mr. Sow, Mr. Keita, & Mr. Benjamin, fantastic teachers with whom Lisa worked) to train this next generation of changemakers in Guinea. Teachers in Guinea are paid very little, and sometimes not at all. A mere $33/month would assure each of these highly qualified, dedicated teachers of a livelihood so they can spend 10-20 hrs per week running technology and leadership training programs in addition to their regular teaching load.  
Many of the girls who benefit from AJDE's work are 17, the same age I was when dad died. Dad empowered me, and taught me to appreciate the value of great teachers, not only through his own inspiring teaching techniques, but also through his unabashed passion for the incredible public-school teachers he discovered to educate us. He ensured that we received a great education and was particularly passionate about encouraging me as a women in STEM. I would deeply appreciate it if you support these inspiring students and teachers in his honor.
*I recognize that 330*4 =1320 not 1310, but have donated the first 10$ so that the numbers match the mileage of the race.
Organizer