Circle of Joy -School Supply Drive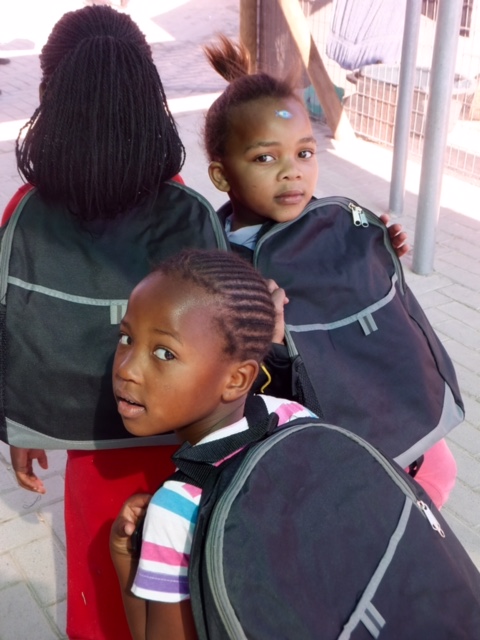 Dear Friends,
I hope you are doing wonderfully well. I am writing to enlist your support in my 3rd Annual Backpack/School Supply drive for children in South Africa. You have no doubt heard me speak about my passion for international travel, intrigue with inter-country adoption and involvement in third-world microfinance (2013 Acumen Fellow Finalist). In 2015, I participated in a two-week volunteer trip focused on funding a reliable water source at Lily of the Valley Children's Village. After meeting the children, I was inspired to encourage their scholastic pursuits by sending supplies. Each year, I team up with a Mission team from Redeemer Church, select a school and start fund raising. It's been a very gratifying journey. Helping these children delights my heart and I would love for you to share in this joy.
2015:
66 backpacks for the High School-age children of:
Lily of the Valley, which provides holistic care for orphaned children, many of whom have been infected or affected by HIV/AIDS   (www.lov.org.za)
2016:
100 backpacks for the children of:
Nceduluntu Sanctuary (Cape Town), an orphanage which provides provides full-time care to children who are abandoned, abused or orphaned due to HIV and AIDS.
Somlandela Pre-School. Located in the Asanda Village in Nomzamo township (@Somlandela Pre-School)
Can you help with this year's challenge? 
2017:
340 school supply packs for the children of:
Nokuphila School, a non-profit Love Trust Association with Christ Church Midrand located in Tembisa Township (www.nokuphila.co.za). The children will get the supplies on July 28th.
126 packs for children ages 3-6 consisting of: twist-crayons, glue sticks, scissors, workbooks, notebooks
87 packs for children ages 6-8 consisting of: wax-crayons, pencils, sharpeners, erasers, notebooks
125 packs for children ages 8-12 consisting of: pencil-crayons, pens, highlighters, sharpeners, erasers, notebooks.
While I have not yet formed a not-for-profit organization for  this annual endeavor, I have secured an excellent wholesale rate for the supplies. My total fundraise for this year is $2,000. Please consider giving what you can.
The easiest way to donate is by using this GoFundMe page.
Sincere thanks,
Joy
Organizer