Buddy Witcher's Cancer Warchest
On September 11, 2018, my uncle, Buddy Witcher, had surgery to remove a brain tumor that had been causing problems with his speech, was initially misdiagnosed as a stroke, and has caused him to be in and out of the hospital for two months now. On September 13, the pathology report confirmed everyone's worst fear that this was cancer - Glioblastoma to be exact. For those that are not familiar with this form of cancer, it is the most aggressive form of brain cancer and is ultimately incurable. The average survival rate is 12-14 months with aggressive treatment and is the same cancer that recently took John McCain's life after just over a yearlong battle.
Buddy and Dee are going to fight this with everything they have with the goal of giving Buddy as much time as possible to enjoy his family - especially his grandchildren that he adores. I want to make sure worrying about expenses that accumulate during this fight (which are already piling up) do not interfere with that in any way. To do that, they are going to need our support. Buddy and Dee have touched my life and the lives of my family in very special ways and I know if you are reading this, they have touched yours as well. Let us do what we can to support them through this most difficult time.

The Backstory
To say the last two months have been agonizing for Buddy and Dee and their family is an understatement. Here is a summary of the events leading up to this devastating diagnosis.
On Friday, July 20th, Buddy and Dee were FaceTiming their daughter and granddaughter. Toward the end of the call, Buddy suddenly could not form his words correctly. Dee took him to the emergency room in Brownwood and we all assumed he had a stroke. While sitting in the ER and having numerous tests run, he had a seizure. He was immediately intubated and care flighted to Texas Health Harris Methodist in Fort Worth where he was initially admitted to the neuro intensive care unit and remained sedated and intubated for a couple of days.  At this time, the diagnosis was he had had a stroke, but since he was currently being sedated and not yet responsive, his doctors were unsure of the severity.
Once the intubation tube came out, Buddy was experiencing a bad cough and labored breathing. The family asked if he could have acquired pneumonia during the intubation which is not uncommon. The doctors didn't think it was that, but really did not have a clear diagnosis what was causing those issues. But the good news was his recovery from all stroke-related symptoms was remarkable, ultimately causing the doctors to diagnose him with Transient Ischemic Attack (TIA, also called a 'mini stroke'). A TIA is when the flow of blood to part of your brain gets cut off for a short time and is not near as damaging as a full-blown stroke - so this was a great relief to the family.
On Monday, July 23, he was moved to a private room. He had an X-ray that showed no apparent signs of pneumonia. The bad cough and labored breathing persisted, but with no apparent pneumonia showing up on X-ray, and almost all serious stroke-related symptoms greatly improved, they discharged him the following day. Upon being discharged, rather than traveling back to Brownwood to only turn around in a few days to come back to Fort Worth for a follow-up visit, Buddy and Dee went to stay at their daughter's house just outside Fort Worth.
The next morning, Wednesday, July 25, Buddy woke up complaining that he was out of breath and feeling terrible. His labored breathing had taken an observable turn for the worse and a mere 18 hours after being discharged, he went into cardiac arrest at his daughter's home. 911 was called immediately, and upon arrival, EMT's were able to get his pulse back after several minutes of CPR. They then rushed him to Baylor Hospital in Grapevine where he was ultimately admitted to the intensive care unit.
The doctor's at Baylor immediately began aggressive treatment for pneumonia which we had suspected during his stay at Harris Methodist. The doctor's explained that the pneumonia blocked his airways causing his CO2 level to rise which lead to the cardiac arrest. Basically, as we understand it, his heart was not getting enough oxygen. During this stay, he had many more tests run including an angiogram, which showed completely clear arteries and finally an MRI. That MRI only showed what they thought were remnants from the mini stroke from 9 days ago. After a lengthy stay in the ICU, his infection finally subsided, and he was moved to a private room where he stayed for several more days of rehab. He was finally discharged on Thursday, August 9. In total, he had spent 20 days in the hospital – much of that time under intensive care.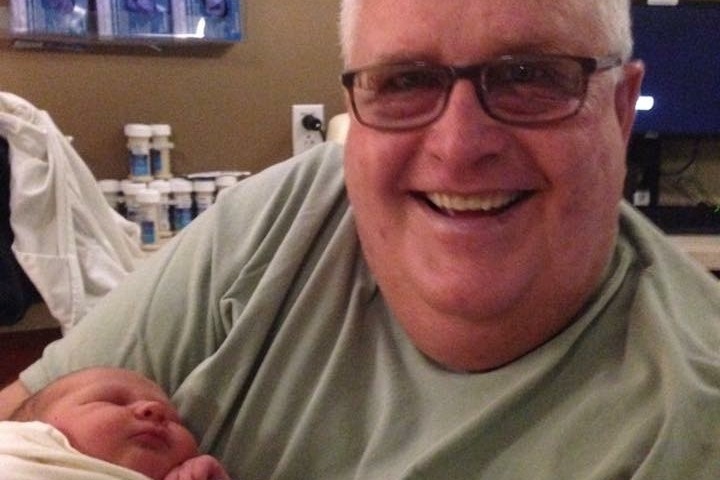 Upon returning home to Brownwood, Buddy continued to have difficulties with his speech – some days much worse than others. We all just thought it was residual effects from the stroke. But while receiving physical therapy at home on Monday, August 27, his speech was so impaired that the physical therapist was concerned enough to strongly urge Dee to take him to the emergency room. She did, and they ran more CT scans which showed a mass in his brain. On Tuesday he had another MRI and on Wednesday, his neurologist in Brownwood confirmed his suspicions that the mass was indeed a brain tumor on the left parietal lobe measuring 4cm by 2.5cm by 2.7cm. In one month, this tumor had just erupted in his head causing speech problems and some weakness in his right hand. It became immediately apparent that he had likely been misdiagnosed this whole time.
He was told he needed to see a surgeon as soon as possible and through a recommendation we found one. His appointment with her was on Wednesday, September 5 and she had him admitted into the hospital to get him prepped and ready for surgery as soon as possible. Unfortunately, Buddy was on a blood thinner due to a blood clot that formed after a major bowel reconstruction surgery in September 2017. Therefore, the surgery had to be delayed for several days while they waited for the blood thinner to clear his system.
They were finally able to perform the surgery on Tuesday, September 11 and the tumor was removed leaving him with aphasia (speech disorder). Two days later, pathology results confirmed it was glioblastoma, leaving everyone devastated.
The Goal and Call to Action
At this point, it appears that future treatment will be received in Fort Worth rather than Brownwood. Unfortunately, this means that in addition to all the medical expenses resulting from the care received to date and the future treatment to be received over the upcoming months, there will be many indirectly related expenses (travel, room and board, etc.) that will be incurred as well. I can only imagine the additional stress that would cause during an already extremely difficult time – all the new expenses piling up while simultaneously experiencing a significant reduction in income.
My hope is that you will join me to do whatever we can to eliminate the financial burden from all this. Right now, we have no idea what the total expense will be but based on past campaigns by others in the same situation, we suspect that it will be substantial when it is all said and done. Therefore, we are initially going to set a goal of $100,000. Any help that you can provide in reaching that goal is greatly appreciated, even if that is to just help us reach as many people as possible. 
Buddy and Dee have impacted so many people through Buddy's 35+ years working at Texas Department of Transportation in Littlefield and Brownwood, Dee's many years of babysitting in Brownwood, church, volunteering with church camp, band boosters, crafts and craft shows, and so much more. So just know that your donation will help two wonderful people endure the most difficult time anyone could ever face – and for that kindness I want to personally thank you in advance!

Organizer and beneficiary
#1 fundraising platform

More people start fundraisers on GoFundMe than on any other platform. Learn more

GoFundMe Guarantee

In the rare case something isn't right, we will work with you to determine if misuse occurred. Learn more

Expert advice, 24/7

Contact us with your questions and we'll answer, day or night. Learn more