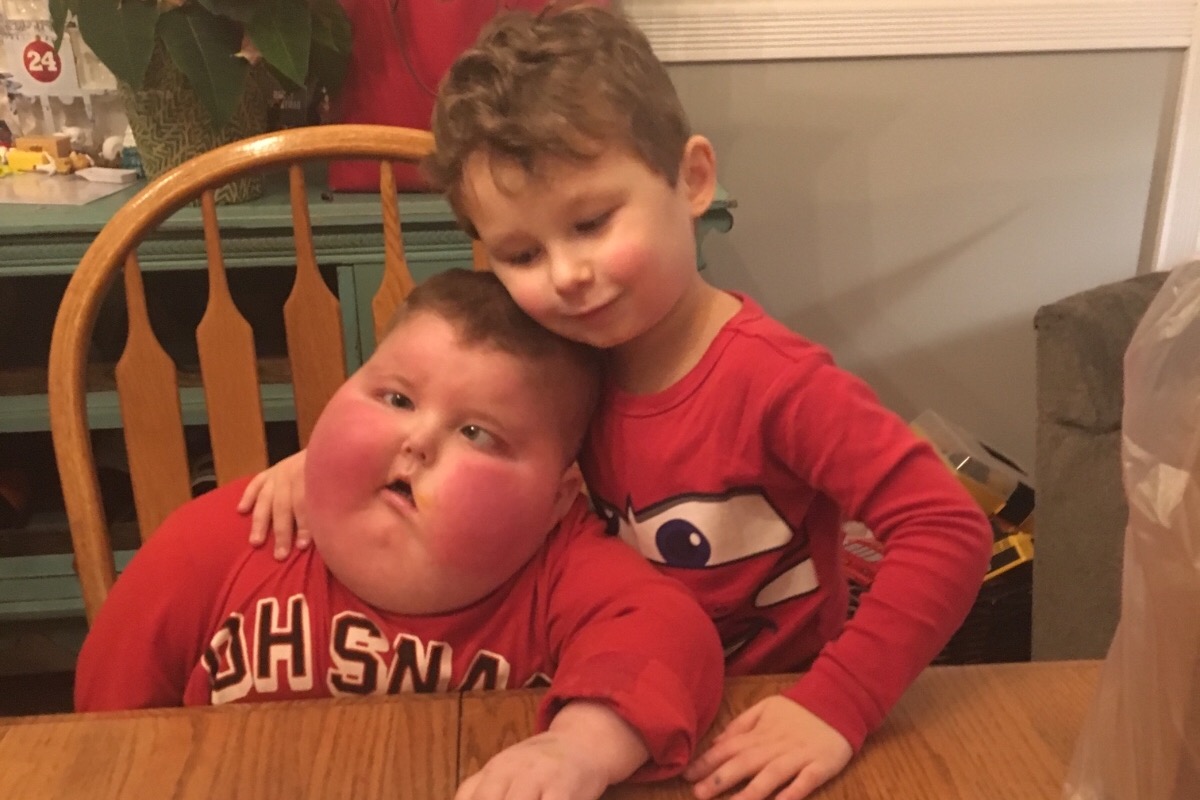 Sharing this update publicly is a difficult choice my husband and I decided was necessary.
As many may already know, my son, Brayden, has been fighting a battle with DIPG, a rare form of childhood brain cancer, for the past year and half. He was diagnosed at 2 1/2 yrs old, he and his twin brother recently celebrated their 4th birthday this past December- a birthday we were told last year that he probably wouldn't be here for. His health has slowly been declining over the past few months as his last MRI showed the tumor has grown 20-30%. He can no longer speak or make his needs known, he has become increasingly weak and has little to no use of his extremities, his swallowing reflex is gone and he has extreme difficulty managing his oral secretions which has recently resulted in him having to get a feeding tube put in place in order for him to get his necessary medicine and nutrition. His breathing is also being effected and he now requires a machine to help force air in his lungs to fully expand them and assist him with taking deep breaths. 
Brayden was recently admitted to Memorial Sloan Kettering, the day after starting his first re-radiation session. He was due to start 10 days of radiation, but that has been stopped. The doctors don't believe at this point it will be any beneficial for him. Instead, my husband and I had to make the decision to bring Brayden home on hospice. 
My husband has been working part time to help make ends meet since Brayden was diagnosed in July 2016, where then I quit working to stay home and care for Brayden full time. We have made the decision for Mike to stop working for the time being and for us to spend as much time together with Brayden and his twin brother Landon.  Our goal is to try to raise enough money to cover living expenses and medical costs for a while as we are unsure of what the near future holds and when we will be able and capable of returning to work. 
Our goal at this point is to get Brayden home and keep him as comfortable as possible in the environment he is most happy in and surround him with the people and things he loves the most. 
Mike and I can't express our gratitude and appreciation enough to everyone who has been there for us, Brayden and Landon over the past year and half. Thank you for all the continued love and support, now and always. We truly have an amazing support system. 
Please share Brayden's story in hopes that we can offset expenses and be able to spend quality time with him and his brother without the worry of great financial burdens.

Organizer
Michelle Ackermann
Organizer
Middletown, NY