On August 30, 2018 our sweet friend Kaitlyn Zonfrelli found out that she has Stage 3 Breast Cancer. 

While there are still lots of unknowns, we're sure that she will receive chemotherapy, radiation and a double mastectomy.

Given the urgency of the diagnosis, Kait has already been forced to leave work. It's predicted that this whole process start to finish will take about a year meaning she will be without an income for quite some time. With medical expenses, rent, gas to Boston for treatments, and so on, bills are already starting to pile up. Alleviating some of Kait's monetary concerns as she begins this journey would be a huge relief for her.  

Any donation helps! Kait is so grateful for the outpouring of support shown so far.

SHARE THIS PAGE!

Please feel free to share the link to this page far and wide if you'd like! (I don't have Facebook so I hope you might post it there!) <3

SEND KAIT MAIL!

Do you want to send Kait a postcard, a cute knit hat perhaps? Please contact Emily by email at [email redacted] or contact her directly if you have her phone number already. 

UPDATES: 

June 19, 2019 --

The worst happens. On the way to her radiation planning appointment, Kait and a friend were grabbing coffee to kill time when a truck hit them in a head-on collision. Unfortunately she wound up at CC Hospital in the ER instead of at that radiation appointment. Kait's car was totaled but miraculously she and her friend are OK. 

As you can imagine, this was a devastating and extremely scary experience -- one step forward, ten steps back. Now Kait is out of work again because she injured her ankle in the crash (among other things) and cannot stand.


Kait making her way around the grocery store, unable to walk.


Eventually Kait did make it to that radiation planning appointment and the plan is radiation daily beginning June 26 through August.

This accident happened less than a week ago so it's all still very fresh -- more doctors plus the added stress of having to find a new car, not be able to work, and so on. 


Kait has to use a cane to get around now - a very fashionable cane, but a cane nonetheless. 


May 2019 --

She's done with chemo!!!!!! Kait had her last round of Taxol at the end of May! Surrounded by friends, doctors, nurses, aids, and lots of other lovely people, Kait was able to finally ring the bell announcing the completion of her chemotherapy treatments!


Kait ringing the bell to celebrate the completion of chemo.



Kait and me (Emily) in the lobby after the final chemo - can you tell we're excited?


As much as she is SO. EXCITED. to be done with chemo, there is still a long journey ahead. After a few weeks of recovery, Kait will begin months of daily radiation and continued antibody treatments. 


April 2019 --

Happy Birthday to Kait! She turned 28 at the beginning of April, celebrating with close friends and a night out. Special shout out to Kender & Sisters for the delicious ricotta cake!!!!!!


Kait and friends celebrating her bithday.


After much deliberation and research, Kait finally decided to get a port this month. Moving forward, she would receive her treatments (chemo + antibodies) via the port. A port is a small device placed under her collarbone with a catheter weaved through a vein in her neck that leads to her heart. This also meant easier access for blood draws, etc. 


Kait recovering in the hospital after her port placement.


Being that Kait had more energy with this treatment, she felt comfortable to go back to work part-time - woo! 


March 2019 --

Mid-March was the start of Kait's third type of chemo treatment, 12 weeks of Taxol. Overall, Kait's body seemed to agree with this treatment more than others (as much as can be with chemo). Mostly, she was far less nauseous. She also found out that her cancer is HER2 positive, meaning that she required antibody drugs in conjunction with chemo. Even though she only needs 12 weeks of Taxol, she must take these antibody drugs for one year, until March 2020. The antibodies should decrease her chances of recurrence by 60%. 


Kait with her friend Jazi at the first round of Taxol. 


February 2019 --

Kait had her double mastectomy February 12th - how romantic, Happy Valentine's Day! After a couple days in the hospital, she spent the majority of the month recovering at home. 


Post-surgery at Brigham & Women's.


January 2019 --

In January, Kait successfully continued her AC treatments at CC Hospital. Not having to drive up to Boston every week was an improvement - yay! She was even able to take a trip to FL to visit family. Even though she wound up in the hospital there because she was neutropenic, it was a much needed moment away. 


More chemo at CC Hospital.


Kait and fam on the beach in FL. 


December 19, 2018 --

It has been a whirlwind the past three months, so we apologize for the lack of updates until now but we thank you from the bottom of our hearts for the support shown thus far! Please see below for a summary of what has been going on with Kait the last few months! Thank you again. 


Kait sporting a potential new hat right after receiving her second AC treatment before the side effects kicked in.


December 2018 -- 

On December 7, Kait attempted to have her first treatment at Cape Cod Hospital but was unable to do so because of a low white blood cell count. Fortunately it was high enough one week later and she successfully received her second round of AC chemo. This pushes back her surgery date to likely the beginning of February. 

After receiving two rounds of AC, Kait feels like this treatment is less intense than Cisplatin, but still "tough." (Editor's note: it's still awful and she has been a champ.) Nausea is more manageable during this treatment but that's because of nausea meds that make her extremely lethargic, requiring lots of naps.

This new treatment also resulted in hair loss. Kait decided it was time to Bic her hair down to nothing when the hair loss came on suddenly.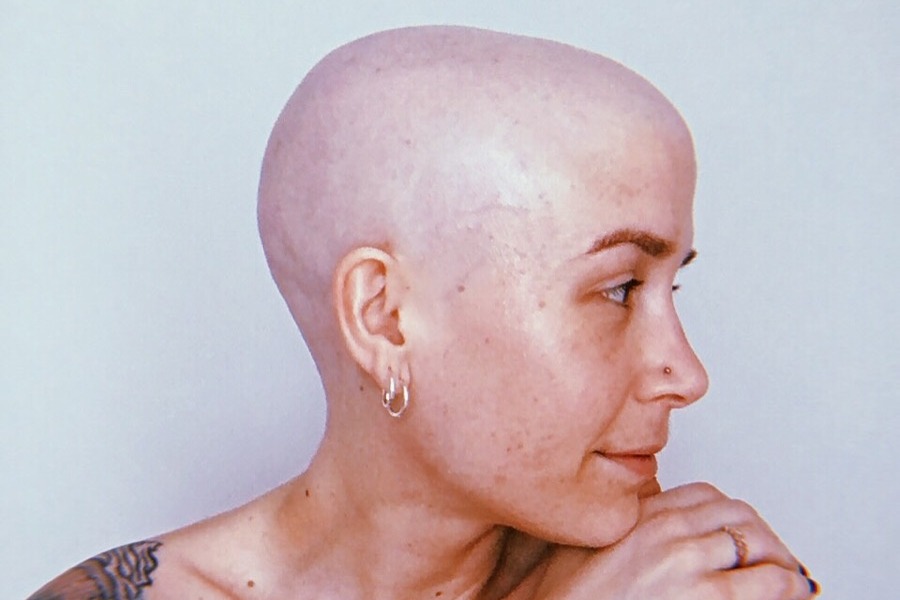 Kait the morning after shaving her head.


November 2018 --

November began with a generous donation from Kait's friend John, the founder of the brand Bros of Our Lives. Unbeknownst to Kait, John had been selling breast cancer merchandise to ultimately donate sales to Kait. Thank you, John! 

We would like to also say a huge thank you to Mat and Elise for their generous hospitality hosting myself and Kait at their home in Somerville. It made treatment trips to Boston so much easier. The cheese platters were a huge bonus too. Thank you, Mat and Elise!

After working a couple days here and there in October and November, Kait decided it was too much to take on and will no longer be working. 

The day after Thanksgiving, November 23, Kait went to Dana Farber to receive her fourth and final round of Cisplatin chemo but there was a change of plans. After an exam with her oncologist and an extensive discussion, they decided instead to move forward with a new drug, AC. AC is a combination of two chemotherapy drugs. It takes its name from the initials of these drugs: doxorubicin (also known as Adriamycin) and cyclophosphamide. The plan is to receive four rounds of AC every other week for eight weeks leading up to surgery at the end of January.

On the last day of November, Kait decided it was time to finally buzz her hair after slowly cutting it shorter and shorter the last few months. To Kait, the moment of finally buzzing her head was a moment of renewal. She felt a renewed sense of control over beating her cancer. She also felt like she looked like a badass G.I. Jane -- everyone agreed. It is also a very cute look at the same time, how does she do it?  


Kait the day her hair was buzzed, right before getting a new piercing to celebrate.


October 2018 -- 

Kait continued her chemotherapy at Dana Farber in Boston. She is now partaking in a clinical trial using the drug Cisplatin. Cisplatin is a cancer drug typically used when treating various other kinds of cancer, but not breast cancer. Doctors suspect that there is a potential link between the BRCA2 genetic mutation that she possesses and the effectiveness of Cisplatin for treating breast cancer. BRCA2 is a gene that is normally in the cells of breast and other tissue to help repair damaged DNA or destroy cells if DNA cannot be repaired. If there is a BRCA mutation, damaged DNA is not repaired properly, and this increases the risk for breast cancer.

After a couple rounds of Cisplatin and gaining a handle on the symptoms, Kait went back to work super part time, working about 10 hours per week. 


Kait waiting to meet with the plastic surgeon who will perform her reconstructive breast surgery. P.S. This surgeon is named DR. BARBIE. For reals.


Kait hooked up and receiving Cisplatin chemo.


Kait before receiving any chemotherapy treatment.


September 19, 2018 --

Kait has been working with great doctors at Dana Farber in Boston. She begins chemo this Friday, September 21. She has chosen to partake in a clinical trial that will hopefully be more effective than traditional chemo. She will receive chemo treatments every 2 or 3 weeks for 20 to 24 weeks. 

After 4 treatments of chemotherapy, Kait will then receive a bilateral mastectomy followed by a full reconstructive surgery. More chemo will follow the reconstructive surgery along with radiation.  

We will continue updating this page as treatments progress!
Organizer and beneficiary
EMILY BOLEY 
Organizer
Yarmouth Port, MA