Baby Bo Hardin's Medical Fund
Aug 24, 2017
My nephew, Bo, is still in the hospital recovering from his last surgery. He will have another surgery by the end of the year. As you can imagine, 24 hr Care in the NICU at Lurie's Children's Hospital can be quite expensive. The expenses will be far more than Ty & Betsy's insurance will cover. To help alleviate these costs, I've set up this fund. All money raised will be given to Ty & Betsy to help their family face the bills that come with Bo's medical care. Amidst the stress of Bo's health, I pray they won't have to worry about the money.
From the bottom of my heart, I sincerely thank you for every dollar you are able to give. Every little bit helps and we are immensely grateful! ❤️
To read Bo's whole story visit the link or read below 
From
Ty
&
Betsy's
blog
https://www.caringbridge.org/visit/babyhardin
"We welcomed "Bo" - Vincent Bryant Hardin into the world at midnight on July 26th at a weight of 5lbs 7oz and a length of 19in. He was met immediately by a group of neonatal and respiratory specialists as a precaution and needed intermediate suction placed down his incomplete esophagus to prevent pooling of fluids.
Around 8am the pediatric surgeon called to say that they had completed several scans and believed they would be able to reattach the esophagus immediately as opposed to waiting months as prior thought. They planned to do surgery as soon as possible. Ty went over to meet with the pediatric surgeons and spend time with Bo. Unfortunately Betsy had to stay in bed for 12 hours before she could be cleared to travel between hospital buildings. It was an emotional morning as Betsy had not been able to hold Bo due to the csection and would not be able to see him until after surgery.
God saw this pain and intervened. The surgery was bumped to Thursday and after being cleared by doctors Betsy was able to join Ty in the NICU Wednesday evening and be together as a family for the first time since his birth. 
Thursday morning Ty and Betsy woke up early to go to the NICU for some family time and to meet with the surgeons and anesthesiologists. Bo's surgery was scheduled for noon. Around 6pm they received and phone call saying surgery was complete. They went over to the NICU, were reunited with Bo and met with surgeons regarding the procedure.
Surgery was an overwhelming success. They were able to free the stomach's portion of the esophagus from the trachea and reattach it to the proximal end of itself to complete the tract from the mouth to the stomach. Colostomy was unnecessary. 
Aug
6
,
2017
When we found out Bo had an esophageal atresia before birth doctors were preparing us to be in the NICU for months. Their past cases had remained in the hospital anywhere from 2 to 6 months. Usually surgery was delayed, other complications faced and babies often developed an oral aversion from the feeding tube and ongoing suctioning of fluid.
We also found out that Bo has what is called VACTERL association. This explains many of his anomalies. So far in his case the Tracheo-esophageal fistula (TEF) has been the most threatening. The rest of his anomalies are minor and most likely will not cause issues in his development and quality of life. We are very blessed to have such a strong baby.
It's a miracle that our son's surgery was able to be completed in the first 48 hours. It was an answered prayer that the air pocket in his lung absorbed itself and his feeding tube was removed this past Thursday after having it in for only a little more than a week.
Our tough boy started bottle feeding Thursday evening at 5ml every 3 hours. In case you didn't know 5ml is literally the equivalent of pretty much a teaspoon of milk. For most babies this is nothing, but for us it was a celebration. They put him on an accelerated feeding program and this morning he drank a whopping 35ml. He is learning to pace himself, but also learning that it's hard work. Occasionally he needs a little nap about halfway through a feed . In order to be at full feeds he has to be drinking 55ml.
We do not have a discharge date, but as long as he continues to tolerate the increases in milk we should be at full feeds by the end of the week. We are preparing for life outside of the NICU. We've been watching the Lurie newborn documentaries, Betsy is taking a CPR class on Tuesday, and we are continuing to learn more about the type of care we will need to give him at home.
Children with TEF struggle with reflux issues throughout their lives. Bo is currently taking medication for this and will need to continue doing so. We know that his first year and toddler years will be the most difficult in feeding challenges as you can't explain to a baby that they need to eat slowly. We will also be seeing a variety of specialists for follow-ups and on-going management once we are discharged from the hospital.
Aug
23
,
2017
Last Thursday Bo had a rough day after doing well in feeds for several days. He became sick to his stomach so Pediatricians ordered an X-ray of his stomach and chest. The X-ray showed that his colon was dilated. Surgery requested a contrast enema of his colon and large intestine to check for narrowing or obstruction. The enema came back clear. Surgery then completed a renal biopsy to rule out Hirschsprung's Disease. In this condition nerve cells are missing from a portion of the bowel and therefore stool is unable to be passed through that area.
Surgeons confirmed that Bo does have Hirschsprung this morning. In his case only a small portion of the bowel is affected. In order to get the bowel moving he will need another surgery to remove the section of inactive nerve cells. This surgery requires him to be at a higher weight, so once he is at full feeds we will take him home until he weighs enough to complete surgery later this year. We are learning how to handle his care at home until surgery is able to be completed.
In good news Bo passed his hearing test, continues to be more alert every day, and his biggest complaint is having his blood pressure taken. He's improving on feeding every day and enjoys flirting with the nurses.
We ask for continued prayers for increased feeds and prayers as we begin the next phase in his healing. We are very thankful that going home is not dependent on the second surgery. Our little guy continues to amaze us with his resilience and we are so blessed to be his parents. "
                Ty & Betsy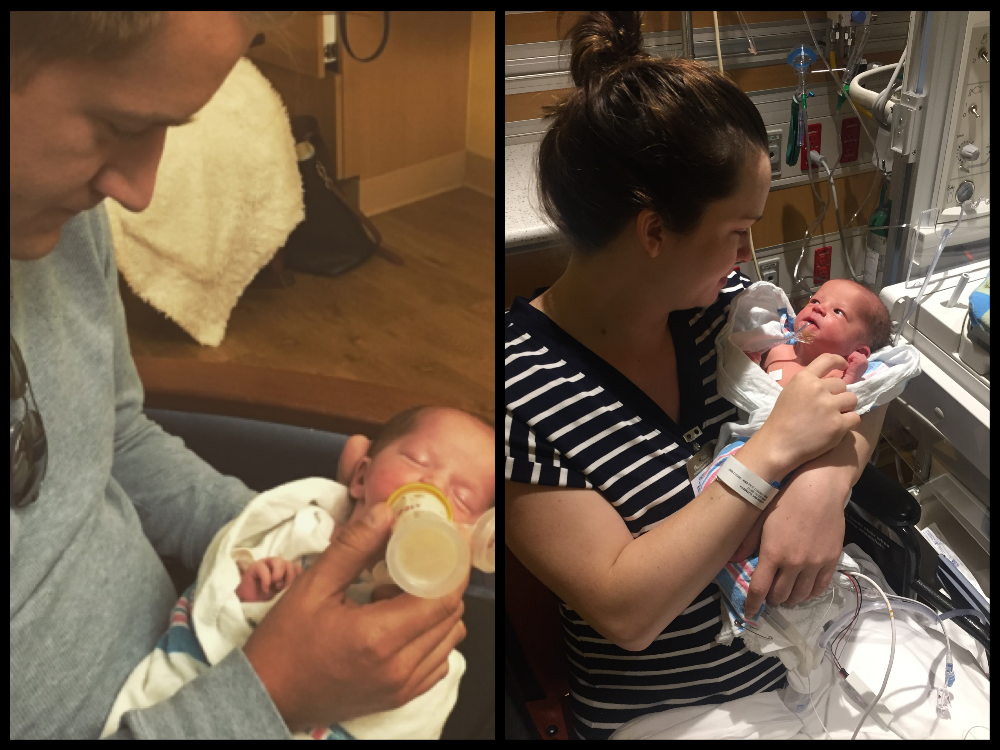 Organizer and beneficiary