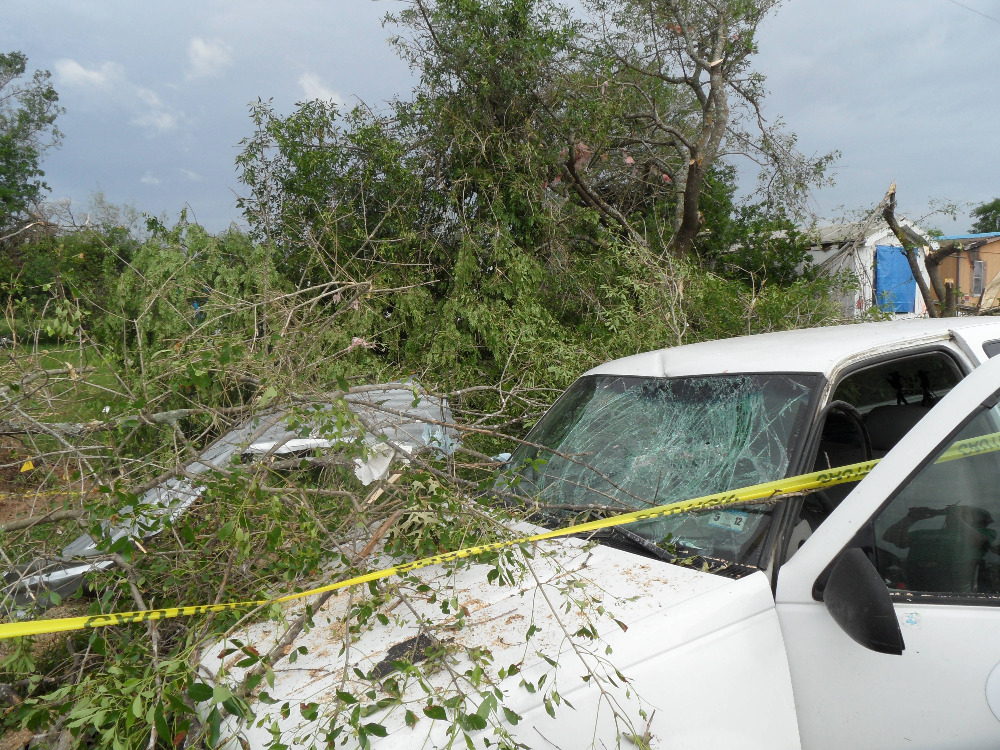 Van, TX Tornado Relief Donations for 2 Bishop Families. 
Chris and Melissa Bishop and Jeremiah Bishop and Fiancée Ashli Chadis.
This Mother's Day, the mothers in Van, Texas found themselves in the midst of excitement they didn't expect.  At 8:14 pm – 9:02 pm the first tornado, cat. 3.5, touched down for 16 minutes, it was 700 yards wide at base and carried winds of 140 mph.  (10PM Channel 7 News)
Our daughter Melissa, her husband Chris Bishop, her daughter Ashli Chadis, and his son Jeremiah Bishop, were hit by two of the 3 tornadoes in Van, Texas on May 10th 2015.  Many of our family and friends have been asking how they can help or where to donate, and we thank you so much for your compassion and love.  We have created this site to assist you in your efforts to assist.  They only had liability insurance on their truck and no renters insurance on their home.
Until we hear the news on assistance for relocation, there is nowhere to store furniture, household goods or other items needed for the home itself and there is no money for storage at this time.  Clothes, food, money and a vehicle are the first and main things needed to help get them back on their feet.  Then both families will be starting from scratch as soon as housing is available.
Harry and I pray that each and every one of you, are blessed 100 fold for your generosity, as we are able to provide a temporary roof over their heads, but that's about it.  And we are so very grateful that we are blessed to be able to do that!  Even more, we give Praise to the Good Lord, for sparing their lives, so that we DO have them here!
Here is Melissa's own words she posted on Facebook:
Melissa Bishop
Yesterday at 9:31am · 5-11-2015
Being carried up and slammed back down in our truck in that tornado; Chris and I said our final goodbyes and I love yous. The worst part for me wasn't the injuries or the fear of losing my life it was NOT knowing if I'd ever see my daughter Ashli again. Not knowing if she was safe. Her being so alone and frightened and not knowing if her fiancé Jeremiah was alive or not. When Chris was finally able to pull us out of the debris and out of the crushed cab of the truck we crawled through power lines and trees to what's left of our home about 300 yards away. Once inside we found the only safe place in a bedroom hall and braced for the next storm. In that closet I Gave my soul to God. I asked Chris to pray with me and give my Life back to God. 3 hours later Jeremiah found us and told us he had rescued Ashli and she was safe at a friends home. Jeremiah was also picked up in his truck and slammed into a ditch. Ashli never waivered. Through her tears and fear she worked 19 hours straight and helped keep all her patients safe. 16 hours after the storm hit I finally was reunited with my daughter at the Red Cross Triage Center. I couldn't hold her bc we were in neck braces, slings and taken on ambulance. Chris and I were released from the hospital with only contusions, back injuries and in an arm sling and it's a miracle. We are all at my parent's home until we can figure out what to do next. I want to thank everyone for your prayers and support. We can't get back to what's left until today to pick through the rubble for belongings. Thank you everyone for your prayers. A special thank you to Carla Johnston Waller for coming to the hospital and staying with Momma, Chris and I. Thank you to my mother and father Harry Liversage and Toni Liversage for pushing though the chaos and getting to the evacuation center and working relentlessly to get us help and to the ER and for taking us in. I can't imagine the fear you must have had not knowing if we were all alive or dead. You are both my Angels. Ashli Chadis I love you with all my heart and soul. I don't have the words to tell you how proud I am of you. Jeremiah Bishop you are so strong and fearless. You rescued my daughter and didn't stop until we were all safe. Chris, you're my rock and saved my life. You are my love and soul. You kept calm and kept me safe and alive. I owe you everything. I love you all.