Eight years ago Billy was in a severe snowmobiling accident that changed his life forever. After several months in the hospital fighting for his life, Billy was finally sent home only to realize his life would never be the same. Billy is a C1-C2 Quadriplegic, ventilator dependent, who has been in a wheelchair since the accident and has been struggling and working hard to live a full life again. Billy has been progressing slowly over the years. Billy has the opportunity to receive hyperbaric oxygen therapy (HBOT) in Florida, this December, which would greatly speed up his recovery. However, HBOT is extremely costly and is not covered by insurance. Billy is currently on a ventilator and cannot use HBOT unless he travels across the country to go to a specific clinic. Billy has the chance to go this December, so with the help, love, and support of friends, family and others, Billy will walk his way toward success.
What is HBOT?
Hyperbaric oxygen therapy (HBOT) is a medical treatment which enhances the body's natural healing process by inhalation of 100% oxygen in a total body chamber, where atmospheric pressure is increased and controlled. It is used for a wide variety of treatments usually as a part of an overall medical care plan. Under normal circumstances, oxygen is transported throughout the body only by red blood cells. With HBOT, oxygen is dissolved into all of the body's fluids, the plasma, the central nervous system fluids, the lymph, and the bone and can be carried to areas where circulation is diminished or blocked. In this way, extra oxygen can reach all of the damaged tissues and the body can support its own healing process. The increased oxygen greatly enhances the ability of white blood cells to kill bacteria, reduces swelling and allows new blood vessels to grow more rapidly into the affected areas. It is a simple, non-invasive and painless treatment.
What are the benefits of HBOT?
It has long been known that healing many areas of the body cannot take place without appropriate oxygen levels in the tissue. Most illnesses and injuries occur, and often linger, at the cellular or tissue level. In many cases, such as: circulatory problems; nonhealing wounds; and strokes, adequate oxygen cannot reach the damaged area and the body's natural healing ability is unable to function properly. Hyperbaric oxygen therapy provides this extra oxygen naturally and with minimal side effects. Hyperbaric oxygen therapy improves the quality of life of the patient in many areas when standard medicine is not working. Many conditions such as stroke, cerebral palsy, head injuries, and chronic fatigue have responded favorably to HBOT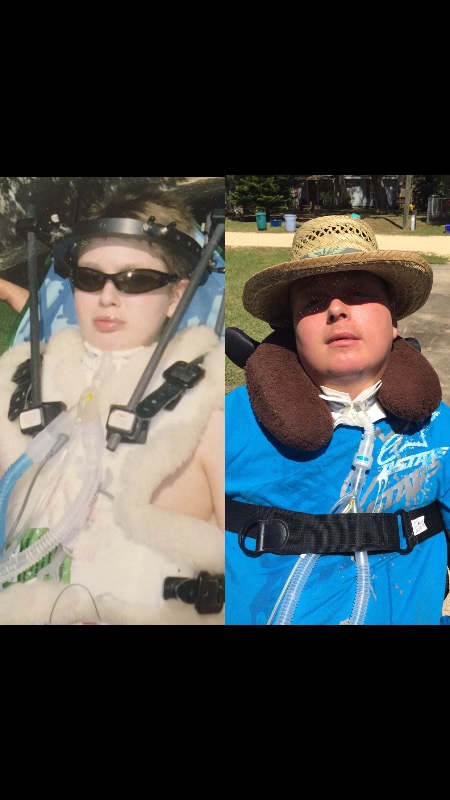 Here's a photo of Billy's progress. The left photo is him at age 14 at children's hospital. The photo on the right shows him at age 22 (now 23) down in the sunshine state of Florida. Slowly every day Billy makes pregress on moving again.
*Update of Billy holding up his head *
*Update Billy moving more*