BernieOrVest Yellow Vest Intervention On The DNC !
Hello Somebody!!
My name is Eric Kestner and I'm from Issaquah Washington. I created  #BernieOrVest back in October of last year. Our Facebook group of 12,000 souls is finally holding our event's GoFundme campaign! Some of our members have been requesting to help, and we now need it.  We're about to hit the road and now's the time to help fund supplies for our Yellow Vest Intervention, in Milwaukee, against the DNC's attempted nomination of a the racist crook Joe Biden.
If you're not a BOV member, please join us at #BernieOrVest on Facebook. Then, if you'd like, sign up at BernieOrVest.com. All that remains would be that trip to Milwaukee!  Make sure you bring a friend or twelve for the Political Revolution! Mark those calendars for Sunday, August 16th at noon, the day before the FRAUDULENT Democratic National Convention starts! We will be having a noon ramp up party at Washington Park, in Milwaukee.  Also we will have stencils and will be bringing spray paint for us to add some flair to all those vests!  So people will be able to tell,at a glance, what side of history we're on!!  All of those who oppose the DNC are welcome! We'll also be holding a meeting at the outdoor amphitheater there, and conducting some safety training and first aid instructional demonstrations that afternoon. And don't forget those masks! In a few months, even if we are all in a lot better place with the virus, we will want to make sure we represent responsibly there. "To err on the side of caution" comes to mind. 
If anyone needs a free vest in Milwaukee, look for me! I'm the dork in the old Volvo station wagon with the yellow hi-beam headlights. Affectionately, I call the car my Revolution Hotel, a.k.a. the BernieOrVest Mobile Tactical Command Center.  Anywho,  this wonder of technology is back on the road again, after a bad Brake Master Cylinder had recently sidelined us. But now we're ready to head east to Wisconsin.
After the Seattle protests, I feel more ready than ever.  And to quote Bernie, we're getting ready to "exert significant influence" in Milwaukee. My son Riley Kestner and I are leaving for Milwaukee on Sunday June 7th on his dime, so we need to start collecting funding now. I'm thousands into the project so far and the well has gone dry. It doesn't help that tens of thousands of the recently unemployed's accounts, including my own, were frozen. We all had to provide two pieces of ID to verify we aren't fraudsters, and now we're all waiting for that check. Myself, for a month now. My better half, bless her heart, loaned me the dough to get the Mobile Command Center's brake system fixed! Thank you Dani!
So we're all loaded up and ready for broke.  Milwaukee or bust! Besides the 500 yellow vests on top of the car, we have a good bit of revolution cargo purchased and stowed. We already have mobile and handheld police scanners, a set of 9 high power Samcom walkie talkies with a nice "group talk button" function, we have a basic first aid kit and a farm first aid kit for more serious lacerations and such. We have an 8 bottle eye wash station with a gallon of saline for refills, bullhorns, 5 gallon water jug pumps, 10 shout horns, 50 vuvuzela stadium horns, other noise makers, 100 yellow smoke bombs, 250 sets of quality ear protection, for anti facial recognition some pads of yellow make up, a 36x48 inch laminated map of Milwaukee, protest sign making materials, and more. Here, I can't get into all the additional "tools of revolution" that are packed away.  But I will say they were a thousand bucks by themselves!  However, we still need one very important and expensive tool that cost's nearly 3K by itself.  Don't worry, no weapons on board. That's not what I mean by "tools". We will leave that kind of stuff at home to protect the homestead.
Our early recon mission here to Milwaukee is to get a lay of the land. Leading us forward, I don't want to be in unfamiliar territory. There is so much work now in this phase of the fight.  We will need a storage facility in the city to offload all our gear, then come back in August with more. We will also need to set up group march routes. Also, I have some leads on some large privately owned properties that could function as camp space for the influx of people in August. Also need to meet with other area groups that would march with us or lend support. BLM, the Teamsters, anyone who will lend an ear, who would march  with us. We will be looking so set up a home base, in addition to our now road worthy, high tech mobile command center base, lol. March Permits can be applied for and purchased after the Secret Service establishes the inner security perimeter around Fiserv Forum, hopefully in the near future.  We'll need money for that as well.  Food and Water services and organization will be needed. I want to invite all the area food trucks to our event, too. By the way, If you live near Milwaukee, we are recruiting  volunteer activists to help do safety training and participate with local phone and ground work.
I can't tell you how much I'm looking forward to meeting many of you, and I can't wait to hand it to the DNC with all y'all in Milwaukee. Or if they switch it to virtual, we'll see you in DC. Either way the DNC is going out of business, DC is just a longer drive.  And if enough people #showup to our still scheduled Milwaukee event, assuming it's safe to go out, we can TAKE the convention!! We'll breach the fences and peacefully walk right into Fiserv Forum, in masse. We'll flood the Forum and displace the Joebots off the Forum floor. We will fill the upper level and all the aisle ways inside. There we will park ourselves and establish a gridlock situation in and around Fiserv. Nobody leaves until we have what we worked so hard for. The place will be surrounded with activists so until we get Bernie's entire platform, we won't budge. We've all come too far, worked too long and fought too hard to not INSIST on the platform we deserve.  We won't take "No" for an answer. And if we are rejected we will Bern down their rigged infomercial, fake nomination show, and chase those DNC bastards out of town. They'll go home without a nominee if it's not Bernie's entire platform that's decided on. That's where negotiations start and stop. We want the whole McGillicutty. Because that's OUR platform up there on the chopping block and it's our job to fight for it.
THE FOLLOWING IS OUR OUTLINE OF NEW POLICY DEMANDS
Our Manifesto for a New Era of Peace, Equity, Health and Prosperity
1) The Freedom Through Peace Support Act. (No More War)
Demilitarization is the only hope for a peaceful global community. The USA must take the lead, as the first step, to a lasting peace around the world. The components of this bill are:
A. End Imperialistic regime change wars for profit.
B. Redistribution of military budget surplus money and troop labor to rebuild our crumbling American infrastructure. Bring our troops home to good safe jobs to repair our country brick by brick.
C. Expansive retraining programs for troops coming home, to accomplish the massive proposed infrastructure revitalization, along with retraining for displaced workers resulting from Covid-19.
D. An economic divorce from Israel where we can still be an ally to both countries and support a "two-state solution" between Israel and Palestine. without the massive dollar giveaway to Israel every year.
2) The Fairness and Education Repairs Act. (Social and Economic Justice)
All our people should be treated equitably, with love, fairness and respect from our government. All people, regardless of their income should be able to complete their schooling, if so desired. A content people who are loved should not be lied to, or abused by their government. Systems that ensure truth in journalism must be in place. As well as new systems to root out and eliminate corruption and systemic racism in law enforcement. So all our people can finally live without fear, hate and oppression. The components of this bill are:
A. Free K-16 public education available to all citizens.
B. Student Loan/Debt Forgiveness.
C. Prison for Profit System reform. Eliminating for profit prisons, releasing currently incarcerated individuals who are being held on non-violent drug charges, and ensuring programs for a path back into society. Substance abuse issues are no longer treated as a criminal problem but rather a health problem, in so doing cutting our prison populations in half.
D. Border Reform. Ending the separation of families at the border. Offering a path for people's fleeing their countries seeking political asylum.
E. Police Reform and Demilitarization. New standards for police accountability and new programs training law enforcement officers to respect the general public, regardless of skin color. And establishing new methods of officer vetting, to insure that those who are predisposed to violence and those who burn crosses do not work on our forces.
F. Election Reform. Overturning Citizens United Legislation to end corporate money in politics. Outlawing lobbyists and creating term limits for our congressional and senatorial leaders. Automatic voter registration and rank choice voting with mail-in ballots for every state in the Union. The removal of all red-lining and gerrymandering. And complete removal of the Electoral College and Superdelegate systems, to bring America into a new era of voting. Where "One person equals one Vote"
G. Media reform & the return of journalistic credibility. An end to the Mainstream Media's full spectrum fake news and an end to the ruling class owned Network Media, whose primary directive is the manufacturing of consent.
3)  The Prosperity Through Clean Living Act.  (Healthcare and Prosperity)
Our Nation's people can only be truly prosperous and happy, as a whole, if all our people have the opportunity to be healthy and strong. Our food and water and air will be free of poisonous chemicals, pesticides and toxic heavy metals. And just like the citizens of other modern countries around the world, American citizens should not have to ever face economic disaster if one becomes sick, gets injured or loses their employment. The components of this bill are:
A. Medicare For All, Single Payer Health Care Coverage for every American Citizen
B. Medical Debt Forgiveness for all American Citizens.
C. New clean living standards, through clean water, clean air and clean food.
D. A $20.00 an hour minimum wage.
E. A federal jobs guarantee program, focused on the rapid reduction of our dependence on fossil fuels for energy and the creation of clean and renewable alternative energy programs.
F. Federally legalize marijuana.
G. Establishing a basic UBI system, $1000.00 per month, ages 18 - 65. 
End
An extensive list and big goals for 2020 is necessary.  We aim high because In the richest country in the history of the world Americans deserve so so much better than the crumbs they throw us.  Our representatives, Republican and Democrat alike are approving Trillions for wars, billions for oligarchs and mega corporations and not a whole lot for the people. It's time for a change and a complete paradigm shift from where we are at. It's so important we leverage our will to get what we want. To do that we need immense pressure. We need hundreds of thousands of people in Milwaukee to fight the evil DNC.
I'll be checking in, posting, streaming and documenting my trip to Wisconsin on Facebook, so check back in on my son and I and join #BernieOrVest to follow our adventure! Milwaukee, here we come. I wish all of you safe travels if we will be seeing you in a couple months.  Together we will rise. Solidarity my friends. Thank you for what you can give the Yellow Vest Movement. ❤️
#SeeYouInMilwaukee #RevolutionReconWagon #UpToUs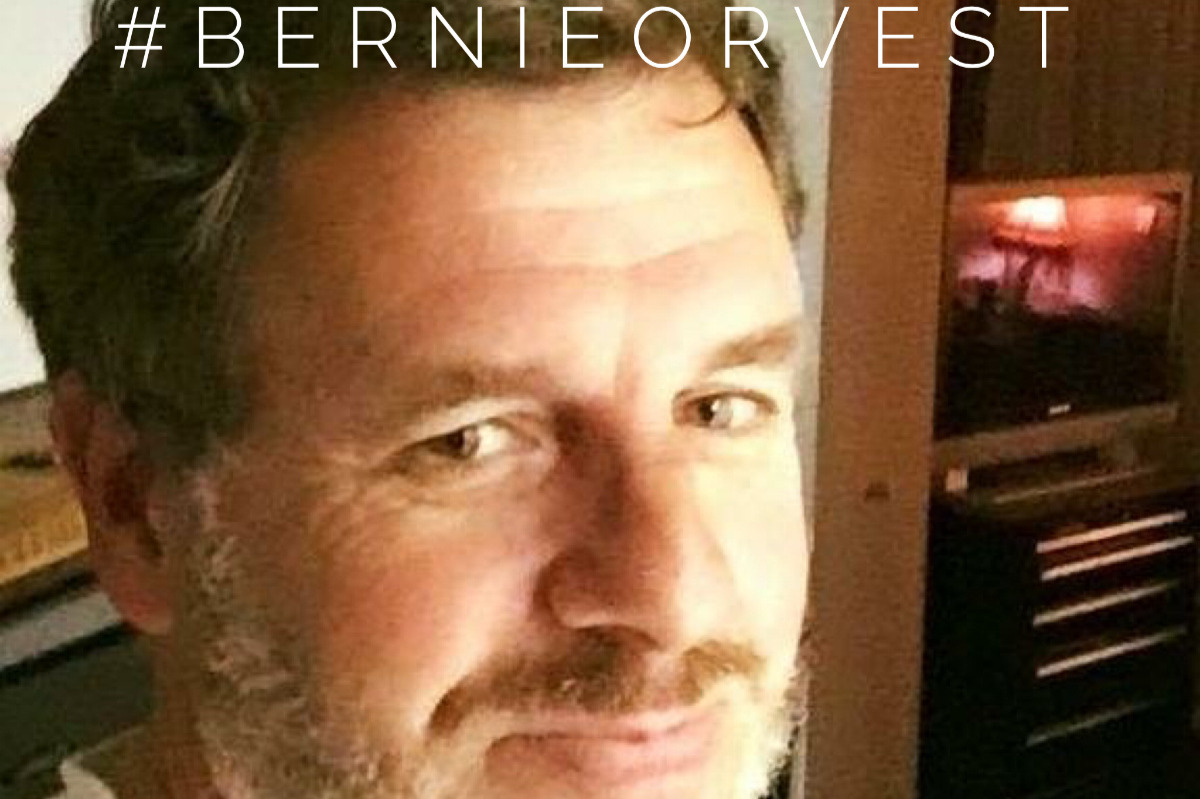 Donations

Organizer
Eric Kestner 
Organizer
Port Townsend, WA
#1 fundraising platform

People have raised more money on GoFundMe than anywhere else. Learn more

GoFundMe Guarantee

In the rare case that something isn't right, we will refund your donation. Learn more

Expert advice, 24/7

Contact us with your questions and we'll answer, day or night. Learn more