98 days until "The Big Day"! I can not believe we have been going through this treatment since February of 2013. It is amazing to think of the amazing progress made in a year and a half! Now, we have to get through the last step! It's so close, I can see the end! My surgery is scheduled for Jan 26 2015.
This procedure will move segments of my jaw, both the upper portion and lower portion so that my teeth touch. The fancy name for this surgery is called "Le Forte".
Doesn't that sounds so much better and more sophisticated than what it actually entails??
As you can see from my picture, my teeth only make contact in the front left. This makes it incredibly hard to bite into and chew food.  
Also, teeth have something called proprioceptors. When your teeth touch, it tells your body that your mouth is closed and relaxed.... well, my teeth do not touch, so I clench and clench trying to make my mind think my mouth is relaxed.  It is very exhausting to clench all day and all night. 
As you can see, I currently have braces (Justin and I lovingly refer to my braces as "my grill"--like I'm a rapper) . I got this set of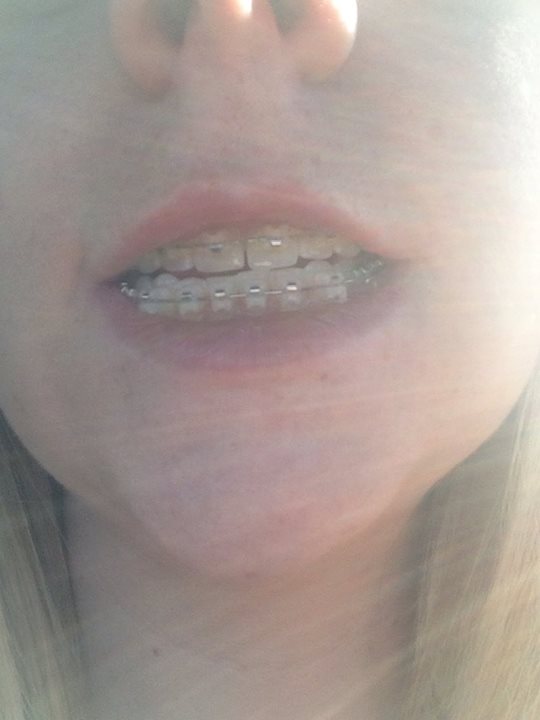 braces Jan 25 2014 and the purpose of them is to line my teeth up with the bone. When the surgeon moves the bone, the teeth will be in the right spot because of all this planning.  
This is my third set of braces--- no fun. But, I know the doctors in charge of my care have done this before and are doing it right.
On a side note, the technology of braces has come a long way in 15 years!
My insurance company has denied my requests for this surgery, as well as my jaw joint replacement surgery in June 2014, and my braces. 
I never thought I would be in this situation. Never did I imagine going down this road and ending up having face surgery. It still seems unreal, but it is what it is.  Justin married me knowing the craziness that was ahead of us. He has been
and is 100% supportive in every aspect. We both work full time and have been pinching pennies, but it just doesn't seem to be quite enough. 
I hate to admit that I need help paying for this surgery. I HATE to take anyone's money, but I have found that sometimes it's best to admit when I help. Justin and I know that nobody has extra money laying around, everyone goes to work, has bills to pay, and dreams of things we want if we had extra money. I humbly ask for your help.
We have thought of so many crazy options to pay for this. First, I was convinced we could open a credit card, like the one you get pre-approved in the mail. Zero interest for a year! Well, not many credit cards will open your card with a $48,000 limit. Then, do the math- 48,000/ 12 months= $4,000 a month! Let me say, if we had an extra 4K a month we wouldn't be in this position!
Then there is a medical credit card. They give you a huge line of credit at a 17% interest rate. Suddenly that makes this surgery more money than I can calculate...
There are a number of options, but non are great. My hope is to raise enough money to reduce the cost of this surgery so that it is something we can reasonable finance and pay over time.
Kerri, Ryan, Grayson Jones 
Organizer
#1 fundraising platform

More people start fundraisers on GoFundMe than on any other platform. Learn more

GoFundMe Guarantee

In the rare case something isn't right, we will work with you to determine if misuse occurred. Learn more

Expert advice, 24/7

Contact us with your questions and we'll answer, day or night. Learn more