HELP FUND A SEARCH & RESCUE MISSION AGAINST COLON CANCER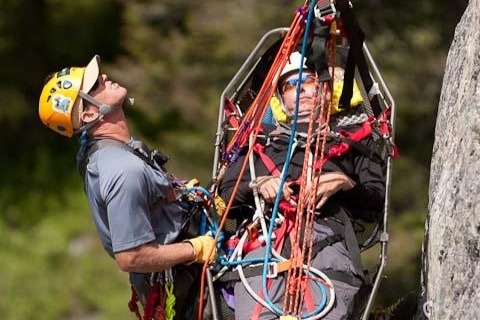 (Brian on a SARS Training Exercise)

On May 24th, 2016, Teton County Search & Rescue First Responder and my brother-in-law Brian McDonnell was ordering gear for the upcoming summer season. A veteran of backcountry rescues, he had no idea that just hours later he would be in the hospital, in a fight for his own life.  
At 47, Brian was given a shocking diagnosis of Stage 3 colon cancer. For the past three and a half years the battle has raged—Brian and his family fought through seven major surgeries, radiation, and endless rounds of high-dose chemotherapy. He radically changed his diet and strictly followed the "standard of care" recommendations from his oncologists. I know Brian did everything humanly possible to fight this battle, all while his cancer metastasized from his colon to his liver to both lungs.
Today, Brian's cancer is Stage 4 and his situation is critical. Without immediate cutting-edge immunotherapy treatment, his liver will soon fail. That will be fatal.
Nobody has given up hope.
Brian still feels strong and healthy today. He is committed to raising his daughters Hailey (14) and Lily (10)—seeing them graduate from high school, walking them down the aisle. He is passionate about his wife Jen and the life and business they've built together in Jackson Hole. He still has mountains to climb.
Brian has been denied by the four clinical trials best matched to his genetic cancer profile. The immunotherapy treatment Brian will undergo this month is not available in the United States, but has proved successful in multiple cases. Unfortunately, the heavy cost is not covered by insurance. This is likely his final hope, and Brian and Jen need to raise $120,000. 
Please donate whatever you can to help with the cost of this life-saving treatment.
 Colon cancer is sharply on the rise for Americans under age 50. Nobody knows exactly why, and given the lack of screening and warning, it has tragic consequences. In Brian's case, it is destroying a life, a family, and a business.  
 To learn more about Brian and his battle with cancer, please watch the documentary "Mountain in the Hallway" and help him spread awareness about this epidemic. Finally, please share this message and the movie link via all social media.
Sincerely – Melissa Cocking (and the Family and Friends of Brian McDonnell)