Ayudemos al maestro Toñito! Hoy nos necesita!
Actualizado: 
 
Hemos avanzado gracias a la ayuda de todos, pudimos realizar  la biopsia y tenemos los resultados. Adjuntos están las fotos del resultado de la misma. Nuevamente gracias a todos por su apoyo ahora vamos atrás de la recaudación final que es la operación. Si se puede!!!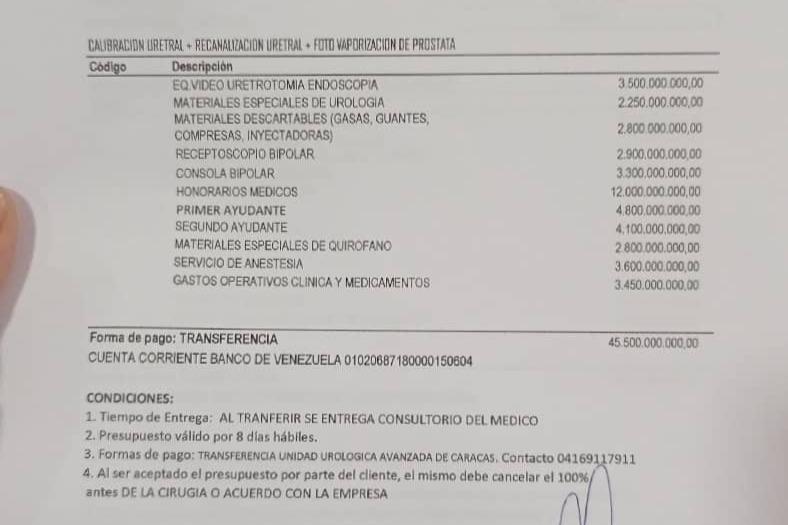 Hace unos meses el maestro Toñito (cómo le decimos cariñosamente) empezó con malestares asociados a su próstata, inició un tratamiento de antibióticos para mejorar lo que se pensó era una prostatitis, sin embargo ningún tratamiento mejoró la condición. Los médicos mandaron a realizar exámenes de rutina para monitorear (antígeno prostático) con una semana de diferencia, y con tratamiento el mismo antígeno estaba más alto. Lo que llevó a los médicos a realizar estudios más profundos, dónde detectaron 3 nódulos que están presionando su vejiga. Decisión inmediata es operar, pero antes de eso hay que realizar una biopsia.
Habíamos esperado pacientes y con mucha fe en que una intervención quirúrgica no se diera, sin embargo la presencia de estos 3
nódulos, más el malestar que presenta actualmente (no duerme, siente mucho dolor, ardor, todo según nos dicen está dentro de lo normal), nos obliga a avanzar muy rápido para restablecer su salud... En estos momentos y producto de un coágulo en la vía urinaria que impedía aún más el paso de fluidos, hubo que sondearlo de emergencia.
Les pedimos de corazón nos apoyen, por encima de todo está el vivir bien, y esto es salud, no tener dolor. Él está aferrado como siempre a su flauta, y aún en la adversidad ésta lo llena de luz y fuerza para seguir adelante. Adjunto los informes que hasta ahora tenemos. Y lo que falta por hacer es BIOPSIA Y
OPERACIÓN! Por esta razón requerimos recaudar los fondos para poder costear los gastos que todo este proceso generará... Y que ya está generando!
Sencillamente GRACIAS de antemano y que Dios les bendiga!
 



Few months ago, Master Toñito (how we affectionately call him) began with discomforts associated with his prostate. He began a treatment with antibiotics to improve what was thought to be prostatitis. However, no treatment improved the condition. Then, doctors ordered a routine test to monitor his prostate antigen, and the results were too high, and led the doctors to carry out more in-depth studies. They detected 3 nodules that are pressing on his bladder. The immediate decision is to operate, but before that surgery, a biopsy must be done. At this time, and because of a clot in the urinary tract, that is blocking the flow of fluids, he is in emergency care. He isn't sleeping, feels a lot of pain and burning. We ask you from the bottom of our hearts to support us. As always, he is tied to his flute, looking for some kind of support under this difficult circumstances because it fills him with light and strength to keep going. I enclose the reports that we have so far. As you may see, what remains to be done is BIOPSY AND SURGERY! For this reason we need to raise the funds to be able to pay the expenses that this entire process is generating. Simply THANK YOU in advance and God bless you!
Fundraising team (2)
Loreant Naranjo
Organizer
Raised $270 from 5 donations
Sarasota, FL
Lizette Toledo
Team member
Raised $50 from 1 donation