Bolat Atabayev needs help
Bolat Atabayev needs help

Famous Kazakhstani film director and public figure Bolat Atabayev is in serious condition at a clinic in Munich. For many years, Bolat Atabayev has been suffering from diabetes, and his kidney failure has worsened recently. Last week, the director went through several expensive surgeries. His condition is still severe and financial support is required to cover expensive treatment and rehabilitation.

Bolat Atabayev is one of the most outstanding public figures of modern Kazakhstan. In 2011, the director publicly supported the protesters in Zhanaozen. For this, the Kazakh authorities accused him of inciting discord and placed him in a pre-trial detention centre, where his health was significantly undermined. Atabayev was released thanks to pressure from the international community. After that, the director was forced to leave Kazakhstan and move to Germany.

In 2012, Bolat Atabayev was awarded the Goethe Medal for his services in developing relations between the theatres of Kazakhstan and Germany.

In an interview in 2014, Bolat Atabayev said:

— Our people are silent because they're afraid. I myself was shackled by fear for a long time, sitting in front of the TV and screaming at it. And then I got tired of it, so I started speaking publicly. The truth needs a person who will speak for it — otherwise it dies. I volunteered to be this dissatisfied, angry and inconvenient person. I'm already at an age when I can't be afraid — I feel fulfilled as a person and as a director. If I have to die — I'll die. What difference does it make where I will live — on this side or the other.

We invite everyone to join the fundraiser for Bolat Atabayev's treatment.
---
Bolat Atabajew braucht Hilfe.

Der berühmte kasachische Regisseur und Person des öffentlichen Lebens, Bolat Atabajew, befindet sich in der Münchner Klinik in einem ernsten Zustand. Bolat Atabajew leidet seit vielen Jahren an Diabetes, und das Nierenversagen hat sich in letzter Zeit verschlimmert. In der vergangenen Woche hat sich der Regisseur mehreren teuren Operationen unterzogen. Sein Zustand ist nach wie vor ernst, und er braucht finanzielle Unterstützung, um die teure Behandlung und Rehabilitation zu bezahlen.

Bolat Atabajew ist eine der prominentesten Personen des öffentlichen Lebens im modernen Kasachstan. Im Jahr 2011 unterstützte Atabajew öffentlich die Demonstranten in Schanaoszen. Die kasachischen Behörden beschuldigten den Regisseur der Anstiftung zum Hass und schickten ihn in eine Haftanstalt, wo seine Gesundheit stark beeinträchtigt wurde. Dank des Drucks der internationalen Gemeinschaft wurde Atabajew freigelassen. Später war er gezwungen, Kasachstan zu verlassen und sich nach Deutschland umzuziehen.

Im Jahr 2012 wurde Bolat Atabajew mit der Goethe-Medaille für seine Verdienste um die Entwicklung der Beziehungen zwischen Kasachstan und Deutschland ausgezeichnet.

In einem Interview im Jahr 2014 sagte Bolat Atabajew:

- Unser Volk schweigt, weil es Angst hat. Ich selber war lange Zeit von Angst gefesselt: ich saß vor dem Fernseher und knurrte. Und dann war ich vollkommen satt geworden. Ich begann, öffentlich zu sprechen. Die Wahrheit braucht den Menschen, der sie sagt, sonst stirbt sie. Ich habe freiwillig die Rolle des Unzufriedenen, Ekelhaften, Unbequemen übernommen. Ich bin schon in einem Alter, in dem man keine Angst haben darf. Wenn ich sterbe, sterbe ich. Es ist mir egal, ob ich dort oder hier wohne.

Wir laden alle ein, sich an der Spendensammlung für die Behandlung von Bolat Atabajew zu beteiligen.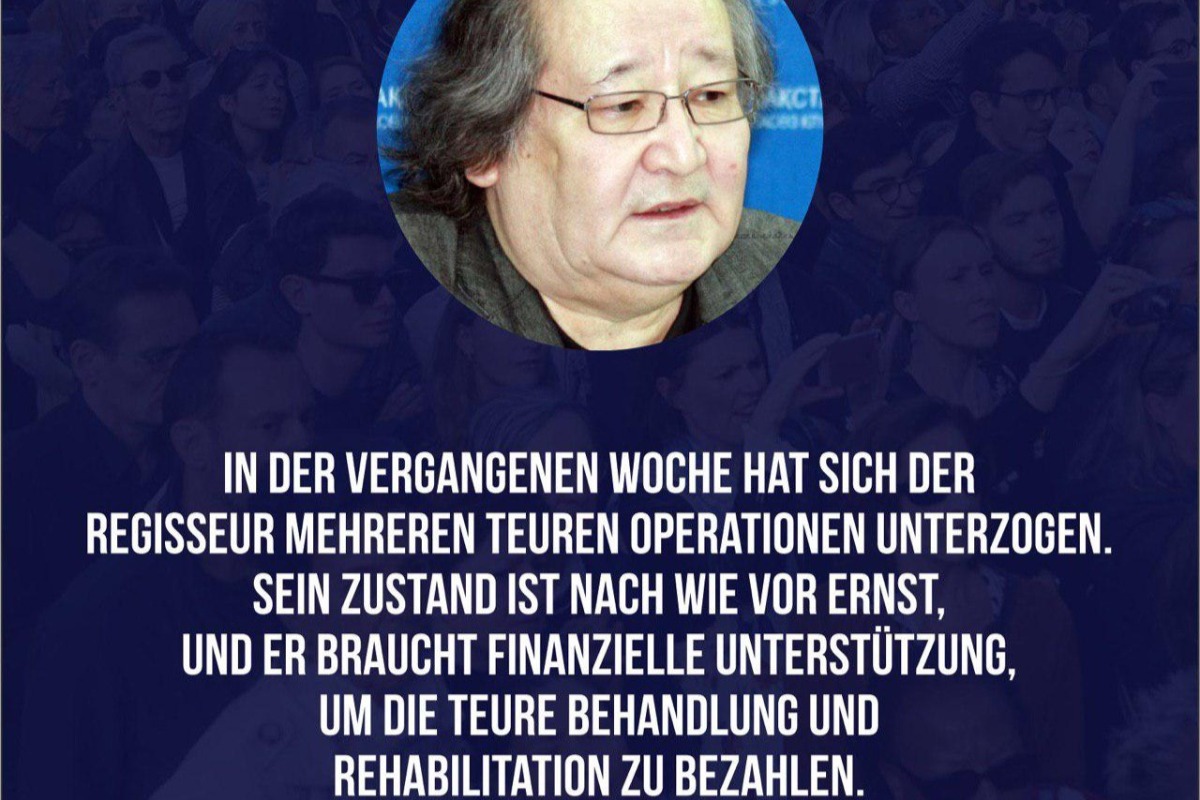 ---
Болат Атабаев нуждается в помощи

Известный казахстанский режиссер и общественный деятель Болат Атабаев пребывает в тяжелом состоянии в клинике Мюнхена. Болат Атабаев на протяжении многих лет страдает от сахарного диабета, в последние время обострилась почечная недостаточность. На прошлой неделе режиссер пережил несколько дорогостоящих операций. Его состояние по прежнему тяжелое и требуется финансовая поддержка для оплаты дорогостоящего лечения и реабилитации.

Болат Атабаев является одним из выдающихся общественных деятелей современного Казахстана. В 2011 году Атабаев публично поддержал протестующих в Жанаозене. За это власти Казахстана обвинили режиссера в разжигании розни и отправили его в СИЗО, где его здоровье было существенно подорвано. Тогда благодаря давлению международного сообщества, Атабаева удалось освободить. Позже режиссер был вынужден покинуть Казахстан и переехать в Германию.

В 2012 году за заслуги в развитии отношений между театрами Казахстана и Германии Болат Атабаев был награжден Медалью Гёте.

В одном из интервью в 2014 году Болат Атабаев сказал:

— Наши люди молчат, потому что боятся. Сам был долго скован страхом: сидел и харкался в телевизор. А потом надоело, начал публично выступать. Правда нуждается в человеке, который ее будет говорить, иначе она погибает. Добровольно взял на себя роль недовольного, противного, неудобного. Я уже в том возрасте, когда можно не бояться — я состоялся как человек, как режиссер. Надо умереть — умру. Какая мне разница, где жить — там или здесь.

Приглашаем всех присоединиться к сбору средств на лечение Болата Атабаева.
Donations


Fundraising team: Open Dialogue Foundation (3)
Martin Mycielski 
Organizer
Bruxelles, BRU, Belgium
Maksym Sytnikov 
Team member
Raised €5 from 1 donation
#1 fundraising platform

People have raised more money on GoFundMe than anywhere else. Learn more

GoFundMe Guarantee

In the rare case that something isn't right, we will refund your donation. Learn more

Expert advice, 24/7

Contact us with your questions and we'll answer, day or night. Learn more