Archie's Bone Marrow Transplant
Archie's Story
Hi, this is Archie's Dad. I would just like to post a little message and briefly explain our campaign behind Archie's Bone Marrow Transplant. This message is straight from the heart, gut wrenching at times but paints a picture of Archie's illness.
Archie has what is known as Congenital Sideroblastic Anaemia. Sideroblastic anaemia is a form of anaemia in which the bone marrow produces ringed sideroblasts rather than healthy red blood cells. In sideroblastic anaemia, the body has iron available but cannot incorporate it into haemoglobin, which red blood cells need in order to transport oxygen efficiently.
In short, this is an extremely rare bone marrow disorder present in only a handful of people worldwide.
For many years, Archie has battled this illness, an illness where my only wish would be to fix every part of him. The truth is, this is not possible, instead we've all stood by and cared for Archie when he's not well. When I say not well, I really want to clarify what this means, as we are all unwell from time to time. We all get a cold and flu, and occasionally we end up trotting up and down the stairs, and yes it can sometimes make us feel pathetic and want for some attention. But we get over this quickly.
Now in the context of Archie, a simple cold and flu virus has pretty much the same effect. However, he also suffers with aching joints, severe headaches, sickness and irregular bowel movement. He has a needle into his stomach every day for 10 hours. He has blood transfusions every other week, occasionally every 4 weeks. That very same blood keeping him alive is also slowly killing him. His organs are now riddled with iron overload, which is putting him at high risk of cardiac arrest. The only option for Bone Marrow Transplant is also at risk, as he has stage 4 liver fibrosis. We have no other option moving forward!
Archie has a portacath implant within his body. This enables the doctors to access his bloods easier. However, this is a huge risk as it also becomes a high-risk infection zone. Archie is now on his second portacath as the first became infected, at which point he became very ill very quickly. I've never seen so many doctors and nurses around a bed. He was in so much pain! And as parents, we couldn't do anything other than watch it all unfold. For me, it all happened in slow motion as I turned and watched his brother put his head between his knees to hide. A scene I never wanted to witness, let alone his brother. He was rushed from one hospital to another, it happened all so quick. You don't get time to think, that comes later.
I've never asked his brother to attend hospital since!
I failed to mention Archie's second portacath had to be surgically removed and re-implanted, as Archie's heart suddenly started to skip a beat, several times an hour. The tube into his heart was too deep, therefore causing interference with the frequency of the heartbeat. When Archie first described this feeling, I wasn't quite sure what he meant, nor could I visualise the feeling. Again, we find ourselves been rushed into Addenbrookes Hospital for surgery. Just when you think Archie has recovered from a life threating infection, you're gripping tight once more on this never-ending roller-coaster.
Archie has now received over 150 whole blood transfusions, approx. 50 litres of blood. He takes copious amounts of tablets every day to manage a multitude of side effects, all of which he hates. We don't even know if the Bone Marrow Transplant will work, but it's our only option.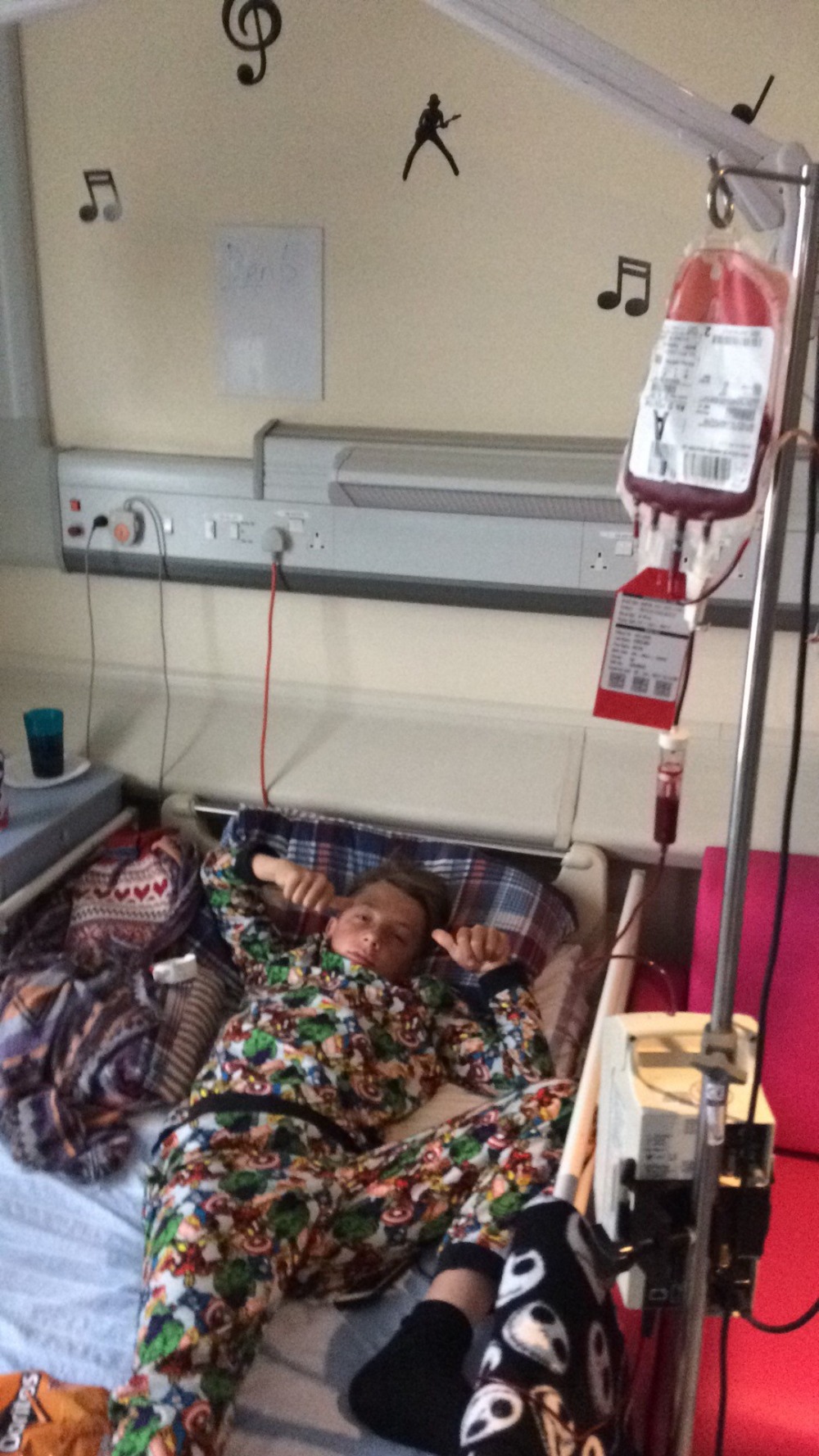 Archie receiving a blood transfusion
The blood transfusions have destroyed his spleen, which has now been removed. He takes antibiotics daily to fight infection. Through having blood transfusions he's contracted some blood and bone marrow viruses, such as Parvovirus and HVV6, and several years later we are still fighting to remove these viruses through immune therapy on a frequent basis. It's working slowly.
We've discussed the risks in London, Archie has accepted the risks, not a decision I would like at 14 years of age. He's tired, he's had enough, he loses appetite frequently and gives up. He loses weight, he loses concentration through being physically and mentally exhausted. Archie doesn't want any more Liver Biopsy's, Bone Marrow Aspiration's, Blood Transfusions and most of all he wants to be rid of the daily 10 hours of Iron Chelation Therapy to manage the iron overload from blood transfusions. He wants out!

Syringe Driver used for Iron Chelation Therapy 10 hours every day
Over recent months, he's started to build up a resistance to the blood transfusions themselves. I've always hoped this day would never come. Why? His life depends on blood transfusions, and we haven't brought him this far to give up, and so we'll keep going and we'll keep fighting until we can fight no more.
So when do you get time to think? The answer is you don't. The more you think the less you do. It's tough and it's been a hard few years for everyone.
The Bone Marrow Transplant is where we are heading, a journey where we have no idea what will be on the other side. The transplant itself will be ugly, Archie will lose his hair and spend most days in pain, uncomfortable, away from home, isolated and pretty fed up.
Why are we raising money?
Having sat down and looked at the sums, it will cost at least £8000 to fund travelling, parking, hotels, food, train journeys and much more. The transplant will take at least 6 months. The proposed duration of transplant is based on a text book operation and we know after 7 years of fighting hard for a cure, the text book doesn't apply. The after care will take much longer, therefore it is very much likely costs will increase up to around £10,000 or more.
During the transplant we are allowed a maximum of 3 carers, but only 1 carer is allowed to stay overnight at any point. Any other carers will have to stay nearby in a hotel/B&B or travel back and forth on the train. We will be living out of a suitcase for 3-6 months.
Archie's illness is extremely rare, so rare it doesn't appear on any funding stream for any of the reputable charities. We fall between the cracks and despite how much the Doctors may support us as a family, there is NO funding to support families such as ourselves through this journey.
It eats away at my pride to ask for help, but I'm asking as I want the best possible outcome with the least amount of worry over the next chapter.
Post-transplant, any donations remaining will be donated to a chosen charity of Archie's choice. All money will be managed jointly through a dedicated bank account via the HSBC.
Thank you
Craig, Theresa, Harry and Archie xx
Please help us on the campaign by sharing via Facebook and Twitter.
Follow us on Facebook
For more information about Archie, visit
www.archiesanaemia.org

Organizer
Craig Ramshaw 
Organizer
Swaffham, East of England, United Kingdom