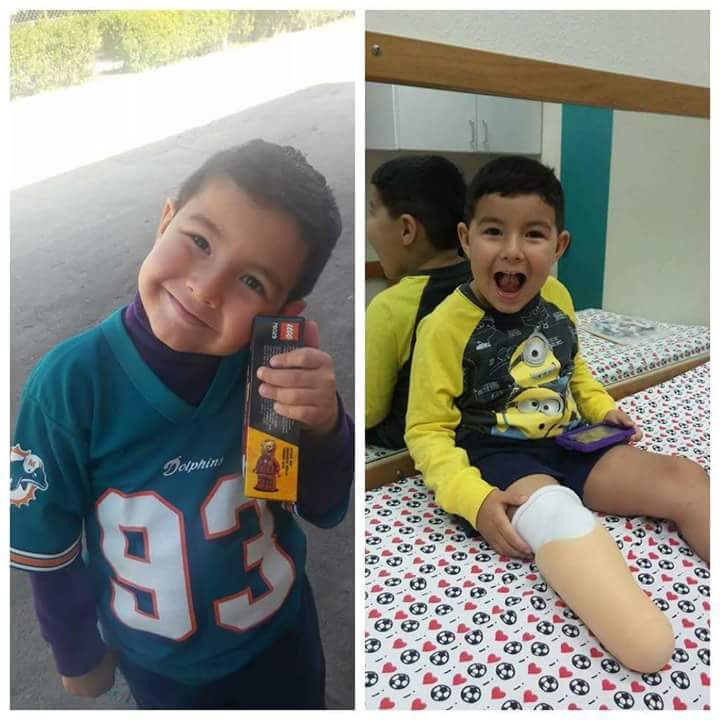 que tal amigos y conocidos les quiero pedir  su apoyo para este gran gerrero.
ISAIAS.
un ejemplo de valor para muchos de nosotros!! A su corta edad lleva 3 cirugías. Su último diagnóstico médico es Pseudoartrosis Congénita, al principio no sabían bien que tenía por ser una rara enfermedad, (1 en 250,000 )creían que era cáncer o huesos de cristal. A sus 3 años le amputaron su pierna derecha y hace unos meses le hicieron una pequeña cirugía en su hueso. Requiere atención médica especializada...por tal razón dos de los mejores hospitales lo están viendo, uno en la ciudad de México cada 6 meses y otro en Dallas Texas conforme lo require. Por tal motivo comparto ésta historia que ojalá toque el corazón de alguien y pueda ayudarnos...cada vez se vuelve más difícil los gastos para transladar a Isaías. Agradezco la atención!! Gracias de todo corazón!!
EL dinero se ocuparia para solventar los gastos de transporte y estancia en la ciudad de dallas texas y la ciudad de mexico.
friends and acquaintances that may want to ask your support for this great warrior.
ISAIAS.
 an example of courage for many of us !! At his young age it takes 3 surgeries. His last medical diagnosis is Congenital Pseudarthrosis at first did not know well it had to be a rare disease (1 in 250,000) believed it was cancer or brittle bone. In his three years they amputated his right leg and a few months ago he had a little surgery on his bone. It requires specialized medical care ... for this reason two of the best hospitals are seeing, one in Mexico City every 6 months and another in Dallas Texas as it requires. For this reason I share this story that hopefully touch someone's heart and can help us ... every time the expenses becomes more difficult for the transportation of  Isaiah. I appreciate the attention !! Thanks with all my heart!!
The money would take care to cover the costs of transportation and stay in the city of dallas texas and mexico city.