Aleta's Dream Traveling Art & Craft Mobile
Starting Over After Fifty - Creating My Home Business on Wheels

I feel like a kid again. Like my 18 year old son. Starting out. Starting fresh. Starting with nothing but my energy and my talents.
This fundraiser is to help me get a fresh start and to create the business I have been dreaming of for a very long time. 
I believe this idea is fairly unique and fits both me and my natural talents as well as today's burgeoning gig economy.
The BUSINESS -
Aleta's Dream - Arts & Crafts Mobile
Painting . Collage . Crafting . Think book mobile for crafty types.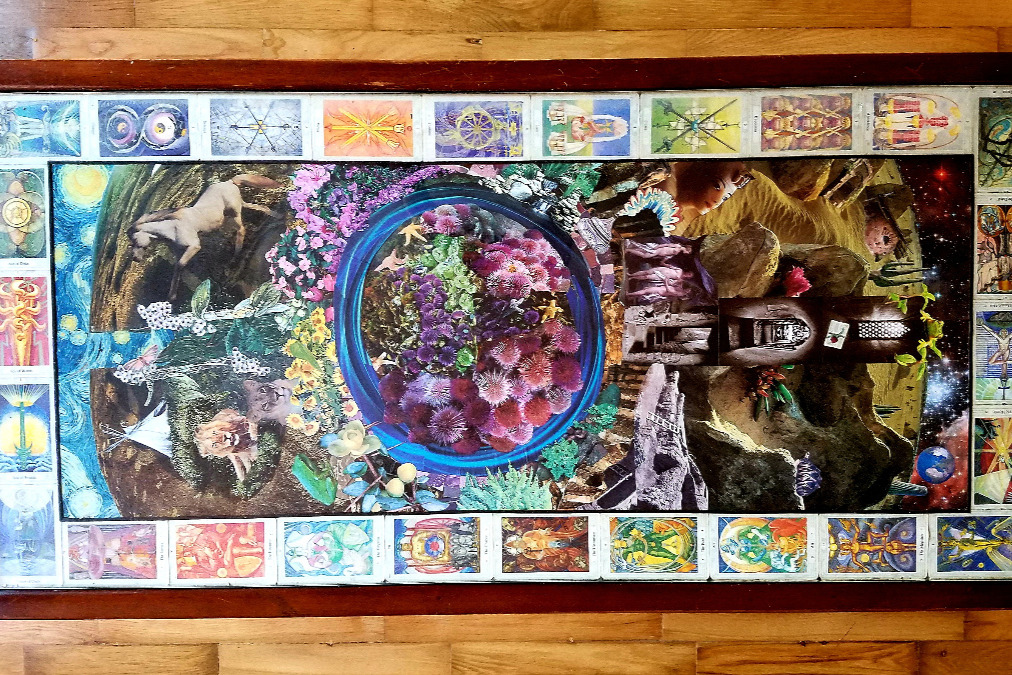 ---- "Systems" original collage on vintage table by Aleta ----
I will purchase and renovate a bus or van to accommodate both my small living space and an arts and crafts workspace that offers classes to the paying public.
I already own many of the tools and materials needed to stock and start such a business. I will need to supplement that inventory with some new supplies.
Target clients would be, but not limited to:
- Scheduled Group Parties | bring the ART to your party, fully stocked van, you and your friends use the materials and the space, I clean up.
- Small and Large Businesses | hire the van for the day and give your employees a fun opportunity to relax and re-calibrate. Art is good for everyone.
- Craft Fairs and other Outdoor Festivals | offer art & craft classes for attendees.
- Even pop-up Art and Craft opportunities with my fellow roadies, at campgrounds and other RV sites.
- I will share my adventures to connect and educate others, via YouTube, Patreon, and other appropriate on-line portals. This will help grow my community, my influence and my income.
- I will create a website to advertise and book events. I can do this myself.
Most if not all of the building materials, furniture, fixtures, etc can be found for free or very little on Craigslist and other forums. I keep checking and I am confident I can find what I need - inexpensively.
I will schedule other work to fill in and be complimented by the mobility of my traveling home business. For instance painting murals, and graphic design work for the great new clients I will meet on the road.  I am a prolific artist and crafter, and I will also be selling my own creations along the way.
I am an Etsy artist, a YouTube creator, and a print on demand shop keeper. I believe all of these efforts will increase in profitability when I am on the road and meeting more people. I am currently working on a business plan with qualified folks.
If you are not strapped for cash and would like to help an artist who has really paid her dues, get a new lease on life... Please consider donating. I would love to travel to meet you and thank you in person, in Aleta's Dream Arts & Crafts Mobile, of course.
If you'd like to support me in a different way, I also have a Patreon page. AletasDream. Currently offering coloring pages and unique gifts from my art shops to my patrons.
Here are a few links -- so you can get to know me better...



More videos are available on my YouTube channel, AletaDreams - Thanks for reading this far. You are already awesome! I hope to meet you soon.
Organizer
Aleta Hutchison
Organizer
West Linn, OR