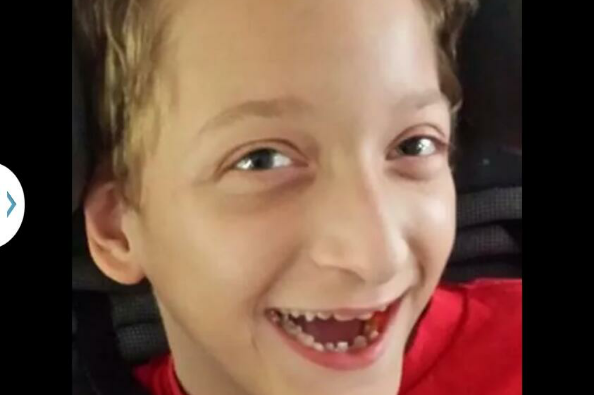 Wheels for Brayden
www.gofundme.com/ai2xpg
Brayden is my now thirteen year old grandson and a very special boy. He was born at 29 weeks weighing 2lbs.5ozs. He has Cerebral Palsy, is 100% disabled.
Brayden becoming a teenager this year was somewhat of a shock. It's hard to believe he's that old. He had an awesome time at Chuckie Cheese for his birthday.  He has packed a lot of life in already. He has gone through and overcome many challenges through his short little life.  Always the troper through it all, especially with that awesome smile. Brayden may not talk ,but when he smiles there's no need for words. He lights up the room with his priceless smile and laugh.
Brayden started middle school this year,that was another shock for us, a big change for sure. His favorite part is riding the bus.  The drivers have always said, he giggles most of the way. He enjoys seeing out the windows, hearing all the noises, along with the bumps. He loves being around other children, so school has been a joy to him.
As much as life has been a challenge for Brayden, they have also been challenging for his mom Jennifer. As Brayden continues to grow and thrive, it makes it more challenging for Jennefer to get him to and from appts. therapy and anywhere else they need to go. There aren't many extra outtings because of the challenges it brings. Brayden is now weighing 60+ lbs. Jennifer's vehicle is showing severe signs of wear,especially with 170,000 miles on it. The condition of the vehicle is a huge concern, but getting him in and out is the most challenging. Having to lift him, trying to get him up and in a regular car door, is a huge struggle now.  He's riding in  a car seat that is not comfortable or safe for him to ride in. They are in desparte need of a wheelchair accessible van for a safe and comfortable ride and able to see out the windows would be awesome for him.
Please consider donating to Brayden's campaing. Any amount is so appreciated. If you are unable to donate, please help us to share this in any way you can. Twitter, Facebook, word of mouth any kind of media you can. Please share. share and share again. Let's make this go viral.
Thank you so much for considering our campaing.

Organizer