A MIRACLE FOR MILLIE - THE SUICIDE DISEASE -CRPS
CRPS – DUBBED THE 'SUICIDE DISEASE' Because people with this condition want to end their lives due to the severe pain they suffer WHEN EVERY PART OF YOU FEELS LIKE IT'S ON FIRE AND YOU ARE BURNING ALIVE….THAT'S HOW MY DAUGHTER FEELS EVERY DAY! WHEN YOUR CHILD IS SCREAMING IN PAIN BEGGING YOU TO CUT HER FEET OFF AND TELLING YOU SHE WANTS TO DIE IS THE MOST HEART-WRENCHING THING AND SOMETHING THAT A PARENT SHOULD NEVER EVER HEAR….BUT UNFORTUNATELY, THAT IS OUR TRUTH…
MILLIE'S STORY
Millie is my daughter she is the kindest, most sensitive and most genuine soul. Her story is heartbreaking and for the last five and a half years we've watched her endure the relentless pain and intense suffering of a cruel neurological condition. In 2017 aged 17 she was living her best life, studying her last year of A-levels, having driving lessons and deciding on all the wonderful things that she wanted to accomplish in her life….But the only dream she has now is to not be in this debilitating pain.
THIS WAS MILLIE BEFORE THIS CRUEL DISEASE TOOK OVER HER LIFE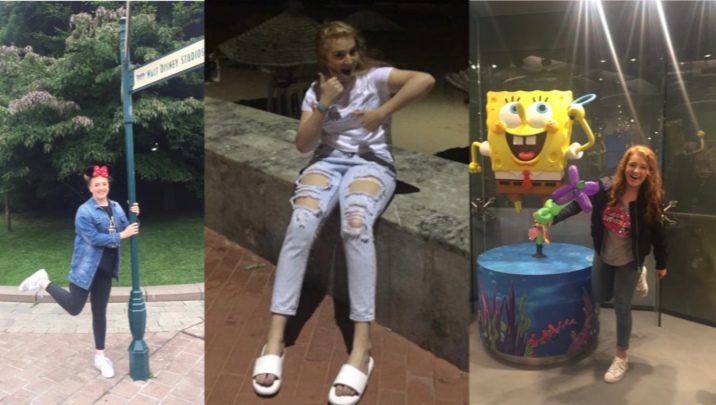 I want to share with you how it feels to be a mum with a child that lives in constant pain, how it feels to see black darkness that shadows your daughter every day, and how it feels to know that your child's heart is breaking into a thousand pieces and I can't repair it, but I won't let this horrendous condition take her life. The uncertainty is agonising but her strength, resilience and bravery give me the strength in continuing to fight with every part of me to make sure Millie gets her life back...the life that she deserves and so desperately wants!
A DESPERATE MUM
HOW DID IT COME TO THIS
On September 5th 2017our lives got turned upside down …COMPLEX REGIONAL PAIN SYNDROME CAME INTO OUR LIVES UNIVITED…WE DIDN'T WANT IT AND SHE DIDN'T DESERVE IT BUT YOU DON'T GET A CHOICE WITH CRPS IT CONSUMES EVERY PART OF YOU AND TAKES OVER YOUR LIFE. I remember that day so vividly the day that I felt like my heart had been ripped into a thousand pieces. Millie loved going to her nanas who lived opposite her school and every day she would go there to catch up with her before I collected her. On this particular day the 5th of September, I remember my mum ringing me telling me I needed to collect Millie urgently as she was screaming and in such distress. This was so out of character for Millie she never cried! When I got to my mum's Millie told me her two big toes were burning, I reasoned that it was probably her school shoes rubbing as they were new. Never in my wildest dreams did I imagine what was to come. That day changed our lives forever! By the time I got Millie home she was so distressed, I rang the out-of-hours doctor and got her an appointment he diagnosed an infection in both toes and told us to go for blood tests. We couldn't get an appointment for the blood tests until three days later by this time I didn't know what to do and felt out of my depth. Millie said her body felt like it was on fire she couldn't bare for me to touch her and was screaming in pain. I took her to A&E but they didn't know what was wrong with her the pain caused her to keep passing out at one stage we thought we had lost her as she stopped breathing. I just remember my mum crying we have lost her please get her breathing again. Within 24 hours her body had started to shut down and she lost the use of all four limbs her taste and her touch. She would scream in pain I couldn't even hold her and comfort her as she couldn't bare for any touch to her skin. She remained in the hospital for five weeks where they just kept pumping her full of opioids. The nurses were amazing but they didn't know what was wrong with her nobody had any explanation. I refused to leave the hospital and stayed with her. Those five weeks were horrendous I've never felt so lonely so afraid and so useless. My daughter was screaming in pain begging me to stop it and I couldn't do anything to console her or make it better. After five weeks I discharged her from the hospital she was becoming institutionalised. She was then transferred to The Evalina Childrens Hospital and was with them for two years. They diagnosed CRPS and ALLODYNIA.
HOSPITAL STAYS AND MILLIE'S MEDICATION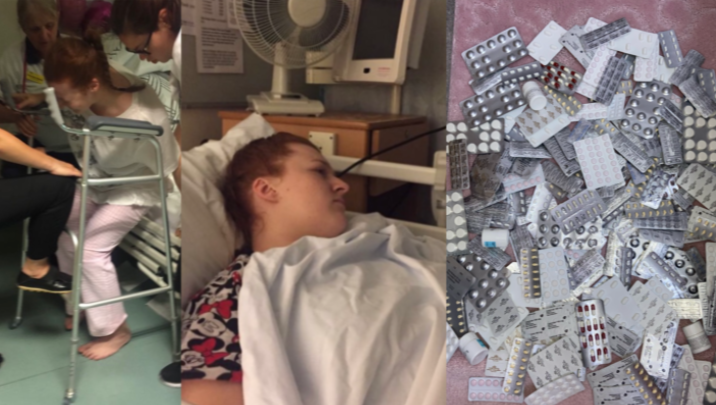 WHAT ARE CRPS AND ALLODYNIA AND HOW DOES IT AFFECT MILLIE?
CRPS is a poorly understood condition which is a progressive disease of the Autonomic Nervous System, more specifically, the Sympathetic Nervous System. The pain is characterised as constant, persistent severe, debilitating and extremely intense. CRPS causes nerves to misfire, sending constant pain signals to the brain. CRPS is difficult to diagnose, and there is no known cure. It is life-altering and negatively impacts daily living, it remains one of the most widely under-recognized and misdiagnosed chronic pain conditions. The pain is typically accompanied by swelling, skin changes and extreme sensitivity. It usually affects one or more of the four limbs but can occur in any part of the body, and in over 70% of victims, it spreads to additional areas. Millie's has spread full body the only area not affected is the right side of her face, it has taken over her body!
• She has muscle spasms, tremors and weakness in her limbs and this horrendous disease has robbed her of the ability to walk she can now only walk on her hands and knees she can no longer stand.
THE EFFECT OF WALKING ON HER KNEES AND THE DAMAGE IT DOES
• Her skin is so affected and highly sensitive that even the slightest touch or a temperature change will cause her extreme pain. Sometimes her skin will be hot dry and red whereas other times it will be cold blue and sweaty she cannot regulate her body temperature
HER FEET BURN
• Her limbs don't feel like they belong to the rest of her body she has continuous stabbing, burning and throbbing pains throughout the whole of her body
• She is so hypersensitive to light sound touch and temperature – something that feels tepid to us will feel like its burning to her, the clothes on her skin feel like a thousand wasps stings, and the light and noise give her head pain that feels so bad she describes it as fireworks going off in her head
WHEN WATER TOUCHES HER SKIN
IF MILLIE SWEATS - HER UNDERARMS
• She has joint stiffness and swelling in all of her limbs
• She doesn't sleep and has night terrors every night
HER BODY BRUISES
• She feels like her whole body is being burnt, she has stabbing pains throughout her body and feels electric shock symptoms continuously
SHE FEELS LIKE A THOUSAND ANTS ARE CRAWLING UNDER HER SKIN
CRPS IS CONFIRMED AS THE MOST PAINFUL DISEASE TO ALL HUMANITY THROUGH A TEST CREATED BY PAIN RESEARCHERS CALLED THE MCGILL PAIN INDEX. IT IS MORE PAINFUL THAN CHILDBIRTH OR LIMB AMPUTATION BUT CRPS DOESN'T COME AND GO LIKE THESE…IT STAYS AND CONTINUES TO AFFECT YOUR BODY EVERY SINGLE DAY. IMAGINE EXPERIENCING ONE OF THESE EVENTS JUST ONCE…NOW IMAGINE EXPERIENCING THIS LEVEL OF PAIN ALL DAY EVERY DAY WITH NO END IN SIGHT…THAT'S MILLIES REALITY AND THE WORLD SHE LIVES IN
We were faced with being told our daughter had CRPS but no one gave us any understanding of what this was, what was causing her symptoms and the physiological changes in her body why it had happened or how it would affect her, all we kept being told was THERES NO CURE!
The lack of awareness of this debilitating disease was real! We have met with untold amounts of specialists, consultants, and doctors and we have paid privately but to no avail, we are told continuously She is too complex. In 2020 Millie had a huge relapse and was taken to a local hospital. It took the paramedics 3 hours just to get her down the stairs as she was in so much pain. This was such an awful time and unfortunately, the doctors were not aware of her condition and discharged her as they didn't know what to do with her. They have since written her an apology letter as they FAILED HER! We even contacted our local MP as nobody was taking ownership of her, we were stuck in this dark world of not knowing where to go or what to do and feeling totally out of our depth. I prayed every minute of every day, please, please, please send someone that can help her. She was admitted to another local hospital which was fabulous but again they didn't know how to treat her and referred her to a professor in Oxford….He diagnosed her with SMALL FIBER NEUROPATHY.
WHAT IS SMALL FIBER NEUROPATHY? Small fiber neuropathy (SFN), is a nerve disorder and is marked by severe pain attacks. Millie's attacks began in the hands and the feet. She describes the pain as stabbing and burning and she experiences abnormal sensations in the skin, such as tingling or itchiness, which causes her to scratch her skin resulting in her bleeding. It now affects her whole body. Her pain is more severe when she is resting. Her feet are so tender that even bed sheets touching them seem like torture. She has to have silky or fluffy bedding. The condition also affects the body's peripheral nerves that primarily or exclusively affect the body's small nerve fibers, such as those in the skin and those that mediate pain and thermal sensation. These nerve fibers also help to regulate the body's largely unconscious functions, such as heart rate and digestion. Millie cannot feel the pain that is concentrated in a very small area, such as the prick of a pin. However, she has an increased sensitivity to pain in general (hyperalgesia) and experiences pain from stimulation that typically does not cause pain (allodynia). She has a reduced ability to differentiate between hot and cold. She has urinary and bowel problems, episodes of rapid heartbeat (palpitations), dry eyes and mouth and abnormal sweating, dizziness and blurred vision.
She has had every medical treatment from ketamine infusions, lidocaine infusions, every drug under the sun from morphine to tramadol, pregabalin, gabapentin, lamotrigine, tapentadol…and we are now paying privately for a cannabis trial the list is exhaustive, but nothing is working and these controlled drugs hurt her body and mind in so many other ways. This is a constant emotional roller-coaster of repeatedly holding out hope only to be disappointed again and again that nothing works Her pain has caused her to fear touch.
She has such extreme hypersensitivity to touch that even when she is crying in pain, not being able to hug your child and console them is the most difficult thing when you are a desperate mum trying to make your child feel better. We spent hours a day trying to desensitise her body, but even the non-painful stimuli such as air or water touching her skin would cause her to scream in pain. Bathing her is horrendous as she is allergic to water. Her skin peels and swells and due to the severe hypersensitivity she endures she has to sit and drip dry as she can't bare the feeling of having a towel touch her skin For five and a half years I have listened to her cry in pain, feeling useless and full of guilt that I can't stop my baby from hurting. But she is the strongest person I know. She has never asked why me. She has asked why this has happened but never why me. This horrendous disease has crushed her, she grieves for the person she once was but she still has spirit and the hope of remission. In the last five years Millie has lost interest in everything that excited her, she can longer do the things she loved to do. We knew that depression undoubtedly would be a definite possibility and why wouldn't it be someone who feels that their life has been taken away from them and is in constant pain, isn't the life anyone would want. Unfortunately, the reality of having to live the rest of her life in this constant pain is too much for her to bear and she tells me she doesn't want to wake up anymore. No mother should ever hear her child say those words.
Alongside the depression, she has a large number of "accompanying symptoms". these include severe anxiety disorders with panic attacks, chronic exhaustion, migraines, sleep disorders, lack of concentration, inner restlessness, sensitivity to stimuli, dizziness, nausea and so much more. She is grieving the loss of her old self. Millie is watching her life slowly disappear through chronic pain severe burning and loss of functionality and mobility.
Her whole life has been put on pause, she feels trapped in her own body with no escape. Since Millie's CRPS, ALLODYNIA AND SMALL FIBER NEUROPATHY diagnosis and she has also been diagnosed with
EHLERS DANLOS SYNDROME - Ehlers-Danlos syndrome (EDS) is a disease that weakens the connective tissues of your body. These are things like tendons and ligaments that hold parts of your body together. EDS can make your joints loose and your skin thin and easily bruised. It also can weaken blood vessels and organs.
FIBROMYALGIA - Fibromyalgia is a condition that causes widespread pain and extreme tiredness. The main symptom is pain all over your body.
AQUAGENIC PRURITIS - Considered to be an allergy to water! Aquagenic pruritus is a rare dermatological condition characterized by severe itching or a prickling sensation associated with water contact at any temperature. It is characterized by strong itching, stinging, tingling, or burning sensations following contact with water without visible changes on the skin. The symptoms may begin immediately after contact and can last for an hour or more. It can also exert a psychological effect to the extent of abandoning bathing or developing a phobia of bathing. Any contact with water whatsoever, even her sweat leaves Millie with a painful, swollen and intensely itchy rash which can last for days. She describes it as feeling like a thousand wasps stings or being put in a bush of stinging nettles. Even when Millie cries her face swells and blisters and her skin peels
MAST CELL ACTIVATION SYNDROME - is caused by abnormal mast cells or abnormal release of chemicals contained within them. It occurs when the body has a normal number of mast cells, but they don't function properly. The signs and symptoms of MCAS are likely caused by the chemicals released inappropriately when mast cells are stimulated. It was first recognised in 1991. Millie experiences Pain all over the body, Headache, Itching/Nettle rash, Tingling, Chills, Skin swelling, which moves around the body, Breathlessness, Excessively fast heart rate, Diarrhoea or Constipation, Abdominal cramps, Nausea, Inflammation, Chronic pain, Fatigue POST TRAUMATIC STRESS DISORDER– Millie has intense, disturbing thoughts and feelings related to the negative experience that she suffered in the hospital
SEVERE ANXIETY AND DEPRESSION – Millie has no zest for life anymore, she is anxious and scared about what the future holds
AGOROPHOBIA – Millie is practically housebound the only time she leaves the house is generally for appointments, she can't go anywhere without me and leaving the house leaves her feeling scared and vulnerable
WE HAVE AT LAST GOT HOPE AND THIS IS WHY DESPERATELY NEED YOUR HELP We have exhausted everything possible to get her the treatment she so desperately needs, but unfortunately, there are no specialised treatments or techniques offered to restore the balance of the nervous system in the UK, we have nowhere else to turn, but we have hope as we have found a Doctor in North Carolina. Millie needs specialised care. This doctor is the only one of its kind in the world that offers its unique neurologic rehabilitation program. He uses multiple tools and techniques that synergistically work to restore balance to the central nervous system, enabling the body to heal itself. The individual therapies on their own do not constitute success - the combination of their modalities working together allows them to achieve lasting results.
WE NEED TO RAISE MORE THAN 150K TO GIVE MILLIE THE CHANCE OF GETTING HER LIFE BACK AS SOON AS WE CAN!
This has consumed her and our family for five and a half years. I am just a desperate mum who wants her daughter to not be in this constant pain and be able to live the life she so desperately deserves. She has missed out on so much, she's a 23-year-old who lost her friends through this condition as she can no longer do the things that most 23-year-olds can do.
To see your daughter feeling so alone is just heartbreaking. She is being stronger than a person her age should ever have to be. BUT Dr Pascal helps those that have lost hope to reclaim their lives. This will undoubtedly be the hardest four months for Millie, The rehabilitation programme will be intensely gruelling but nothing in comparison to what she's had to suffer for the last five and a half years. It will be hard for us as a family as only one parent can accompany Millie but we are willing to do anything and everything to get Millie her life back.
Dum Spiro Spero means, "While I breathe, I hope" in Latin and that's all we have left now is hope.
If you have managed to get to this point of Millie's story then a massive thank you… This has not been an easy thing to ask outsiders for help we have opened ourselves up in an exposed and vulnerable way but we have no choice and we hope that when you read Millie's story you'll understand why we're reaching out for any donation, no matter how small you might be able to share to help us fund the treatment she so desperately needs and deserves to help her get her life back. We completely understand if you are not able to donate at this time and if this is the case we simply ask please please please share her story...
WHERE YOUR DONATIONS WILL GO Any gratefully received donations would help to cover Millie's treatments at the clinic in the US. It will also help with specialised accommodation and travel from The United Kingdom to The US. Cost can unfortunately increase depending on the complexity of the patient and the time Millie will need to stay in America. Until we get to US and Millie gets assessed, we are unable to give an accurate figure.
THE FIGURES ABOVE ARE THE MINIMUM WE WILL NEED, THIS DOES NOT INCLUDE FOOD PETROL PRESCRIPTIONS,TREATMENTS FROM OTHER SPECIALISTS ETC. IN SOME CASES PATIENTS WILL NEED TO STAY LONGER AT THE CLINIC AND ALSO ADDITIONAL TREATMENTS ARE NEEDED ADDITIONAL FUNDS WILL NEED TO BE FOUND. AS A FAMILY WE ARE ALSO PRIVATELY RAISING FUNDS AND DOING EVERYTHING WE CAN TO ENSURE MILLIE GETS TO AMERICA.
PLEASE NOTE: Donations will automatically have an optional "Gift" for GoFundMe added to their donation. This is 100% optional and can be removed manually. You can adjust the amount of your donation. This additional option gives funds to GOFUND it doesn't go to the fundraiser… So please be aware!