Donations for Kaidan and Family
(On behalf of Ben and Kari, I have created this donation page in hopes that our circle of friends and family can provide some support for the Johnson family, if possible. xoxo Emily)
Dear Friends,
On November 24, Kaidan, our 4 month old was diagnosed with Infant Botulism. Infant botulism is a bacteria that is found in dirt, dust, and honey. It is not fair to speculate where he came into contact with it because it very commonly found and naturally occurring. It is safe to say that it is just about everywhere and it is unavoidable. So to think that he got it in his own home or just around town is not unimaginable. In fact nearly all of us come into contact with it many times a day and never know it because our amazing bodies aren't affected by it at all.
Infant Botulism is an extremely rare reaction, nationally there are only 75-100 cases per year, you're actually ten times more likely to be struck by lightning. Furthermore, only babies younger than 11 months can harbor the botulism bacteria long enough to create the most deadly toxin known to man. It is thought that a significant number of Sudden Infant Death Syndromes are actually undiagnosed or misdiagnosed cases of infant botulism.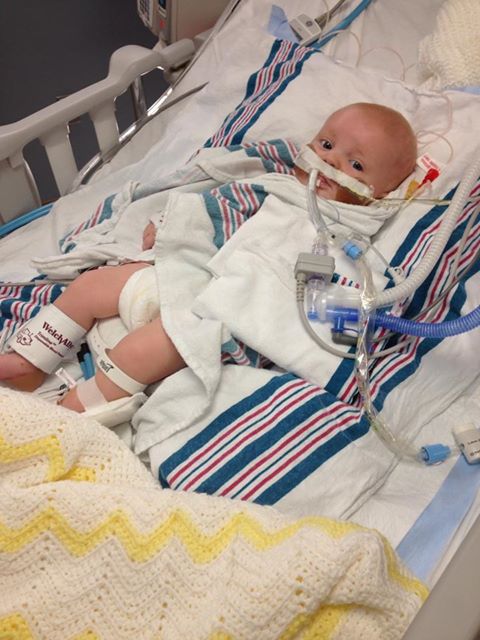 Thank God we had the intuition to take Kaidan to the hospital and the wherewithal to be insistent with the doctors who originally thought it was acid reflux or simple dehydration. Thank God also for the miracle of Kaidan having to be transferred to a Pediatric Intensive Care Unit where there was a doctor who had treated this before. We stayed night and day at the University of Maryland Medical Center for 16 days. Kaidan spent 11 days living only because he was attached to a ventilator. He spent all 16 days with a feeding tube. The quick treatment and diligence by my wife, myself, and the medical staff made all the difference in his recover as we left the hospital after only 16 days, which is 28 days shorter than the average stay for infant botulism. We are now receiving intensive outpatient care through John's Hopkins Home Health Care. Some effects of this bacteria may last the rest of his life but the next 6 months we will be able to see him regain his physical abilities to normal. His intestines and lungs may take much longer but do not require remediation.
Words can't express how grateful we are for all of the support, prayers and love our family has received over the past few weeks from our friends, family, colleagues and strangers! Thank you so much, you are making a huge difference in our lives!
It weights so heavy on our hearts asking for donations. We know that God will provide the resources for us to continue to care for Kaidan and get through this! God has already worked through so many people to bring miracles and blessings into our lives during this horrific time. We know that there are a lot of people out there who want to help us and want to show support for our family. We've made this funding site available for that purpose.
Currently, these are our financial needs:
- We need disposable diapers for up to the next 6 months. Previously we used cloth diapers and wipes because while they were more work they were also more responsible. Now we will have to change to disposables because his new diapers will contain not only the bacteria but also the toxin. Carelessness and improper containment poses a threat to the rest of our family as well as our pets.
- Kaidan is not strong enough to nurse sufficiently but thank God he can nurse at all. He is being supplemented with Kari's pumped breast milk. We all know that fresh breast milk is the best nutrition for a baby. The routine that Kari and Kaidan have to follow only gives Kari about an hour between pumping and then feeding. This is outrageously taxing on her body and is a testament to her desire to provide Kaidan with the best. His body weight is so important to monitor and we need a scale for our home so that we can make sure that he is gaining weight.
- We need to be able to stay home with Kaidan for a few more weeks to help with his recovery. Kari needs to be able to stay home to nurse otherwise she is going to not make enough milk to feed him. Kaidan is going to need occupational, physical and perhaps speech therapy. The evening and weekend appointments are limited so in turn if she has to work his recovery may be limited to when we can make appointments. As it stands right now we are going to be having 8 or more appointments per week. We both will run out of sick time before January. We are not sure if they are going to use sick time to pay for Thanksgiving and Christmas break but if they do we will not get a paycheck for the first period in the new year. We want to stay fiscally responsible but two teachers with a new baby and mounting medical bills leave us on a shoestring budget. We even have insurance so we will get unlimited sick time but it is only available for the employee's sickness not for a dependent's sickness. Only $160 would allow either of us to stay home for a day with Kaidan and ensure that he is getting the best care available. While I would like to stay home until the middle of January it is not essential, but it would allow me to make his appointments, and support Kari. Kari really needs to stay home till mid-February. By then he should be capable of communicating his needs/pains, be able to move functionally and be able to go to day care. The toxins will stay in his body for six months and his recovery might take up to a year or more but these things are dependent on how intensive we can make his recover in the beginning. However, him being able to stay home with his mother during his recover will provide a lifetime of results.
We are so appreciative of our friends, family, church family, colleagues, and others who have been with us every step of the way! We continue to be blessed beyond belief and daily we ask God to bless each of you.
Happy Holidays! Ben, Kari, Kamden, and especially Kaidan
Address for Holiday cards, Diapers (size 2, no brand preference), Checks, etc.The Johnson Family2041 Rushmore Ct.Bel Air, MD 21015
Celebrating Thanksgiving at the UMMC PICU!

Organizer
#1 fundraising platform

More people start fundraisers on GoFundMe than on any other platform. Learn more

GoFundMe Guarantee

In the rare case something isn't right, we will work with you to determine if misuse occurred. Learn more

Expert advice, 24/7

Contact us with your questions and we'll answer, day or night. Learn more