Stop the 2016 STAAR Results
I am one of you. One of the millions of parents, teachers, students and citizens fed up with the negative impacts of the State of Texas Assessment of Academic Readiness (STAAR) on our public school system, and I have good news.
We have a case.  We have a lawyer (Scott Placek). And we have a plan.We are going to sue the Texas Education Agency (TEA) to stop using the results of the STAAR until it complies with state law.We need to make an investment.
1,000 - $25 donations to get us to our first major outcome.
---
We have a case.
We did our job last year.
Citizens got the law changed.
We worked with our elected representatives to author common sense reforms to our education accountability system, and the 84th Legislature of the State of Texas passed
House Bill 743
. With an overwhelming majority in the Texas House of Representatives (143 to 1) and Governor Greg Abbott signing the bill on June 19, 2015, the new law went into immediate effect, and among other things, brought two major reforms to the standardized assessments given to Texas students.
1) Assessments given to students under the law have to be verified by an entity other than the TEA and the company creating the assessment.
No more free passes to the vendors that have been paid over
$500,000,000 in the last five years
 to create and administer these assessments.
This provision provides accountability to tax payers that   the STAAR does what is expected: measures student and school performance against state education standards.
2) Assessments given to students under the law have to be kept to a maximum time limit.
For grades 3 - 5, the assessment must be short enough that 85% of students can finish in 2 hours, and for grades 6 - 8, they must be short enough that 85% of students finish in 3 hours. This provision provides assurance that assessments that had become longer and longer over the years would be limited to a reasonable time frame and done so with student age considered.
Here's the law:
You can read the full text of the bill here.
It is with these two provisions that the Texas Education Agency has failed to comply this year.
First, even while students have already begun taking the STAAR, the TEA has not completed a third party validation on any of the assessments it is administering this year.  The TEA said its own validation was enough.
Secondly, TEA's own data shows that the STAAR in its various forms requires substantially longer than the new statutory time limits.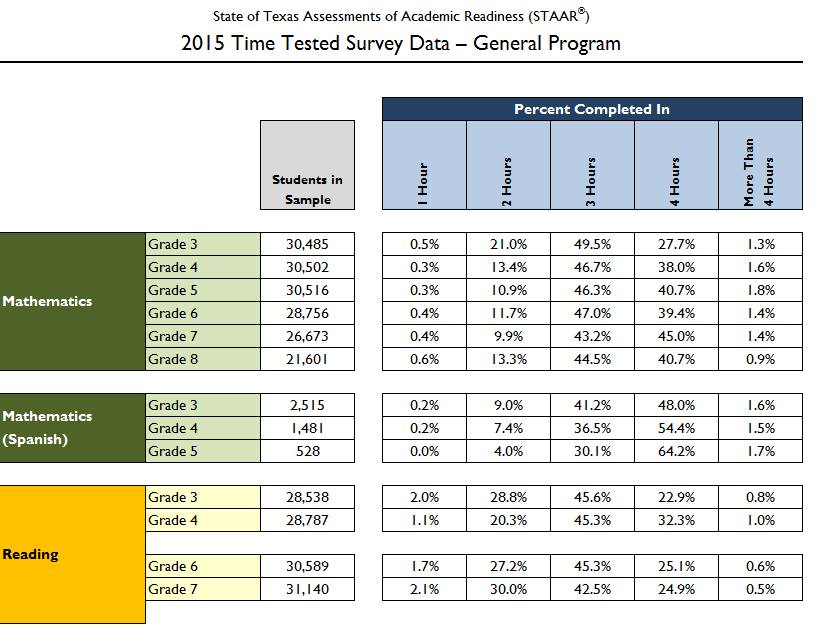 ---
We have a lawyer.
Scott Placek is a partner at
Arnold & Placek, P.C.
 in Austin, Texas. He graduated from from the University of Texas School of Law with honors in 1992. While in law school, Scott was a member of the Texas Law Review, Chancellors and Order of the Coif.
Scott is a member of the bars of the states of Texas and Arkansas, the Fifth Circuit Court of Appeals, and of the U.S. District Courts for the Northern, Southern and Western Districts of Texas. He and his firm have broad litigation practice across several industries, and he regularly represents clients in administrative proceedings before state agencies. He is AV-rated by Martindale Hubbell for ability and ethics.
Scott has several years experience in Texas education law specifically related to standardized assessments and opt out. He represented the Massey family in 2014 when they were one of the
first families to successfully opt a child out of the STAAR
 and has since been a resource to parents around the state through his website
txedrights.net
 and various online support groups that he administers.
Scott Placek and his firm have agreed to take on this case at a substantially discounted rate based on personal dedication to the cause and belief that this particular matter has legal merit.
---
We have a plan.
Step 1. Research
 pertinent administrative procedures and substantive legal issues related to complaints to or about the TEA. Determine the best legal parties, procedures and causes of action to advance the objective of stopping the TEA from using non-compliant assessments.
(April)
Step 2. File for Declaratory Judgment
 — This means to ask a court to conclusively rule on and affirm the rights, duties, or obligations of one or more parties. We will ask it to rule that TEA is not following the law and that this year's STAAR is void.  We will seek appropriate remedies for this failure. This may also require discovery of various documents and information pertaining to the STAAR and TEA's administration of it to find evidence for our case. 
(May)
Step 3. File for a Temporary Injunction
 — This means to ask the court to stop actions from happening while we wait the outcome of the suit. We want to keep the TEA from using or requiring school district's around the state to use the STAAR results while the suit is contested, because we believe harm will come to students and schools in the form of grade retention decisions and summer school requirements or sanctions against schools through state accountability requirements that cannot be reversed if our suit prevails. 
(June)
---
We need to make an investment.
Legal battles with experienced attorneys that can prevail over the state's Attorney General are not free.
The amount of attorney time and cost to take the case through the three steps outlined above: research, filings and hearings would normally cost between $30,000 and $50,000 over the course of 60 to 90 days.
Scott Placek and his firm have committed to seeing the case through these three steps and a hearing on a preliminary injunction for a retainer of $25,000.
What happens after. We don't know. It will be after this milestone in the case that a great deal more will be known about what the TEA has done and will do, and the represented parties, funding partners and attorneys can determine the appropriate next steps.
Also, as soon as we raise $15,000 on our way to the ultimate goal of $25,000, Scott has agreed to start work with the hope of getting a preliminary injunction hearing by June.
---
We're stronger together.
This is a particularly important moment in time when we have the agency responsible for regulating public education in our state not following the law. The TEA is not responding to the will of the people who elected the legislature which set the rules for it to operate. The TEA and its leaders have over-stepped their authority and are choosing convenience over the law.
We must stand up together and demand the TEA respect our children, respect our teachers, and respect our schools by following the law, and the way to accomplish this is by asking a judge to order it so.
The TEA's power must be checked, and no one parent, no one person is going to fund this on their own.
Thousands of students around Texas opted out of the STAAR test at the end of March, and there are hundreds of thousands of frustrated parents, family members and teachers out there supporting this movement.
Let's come together to demand the TEA listen.
Will you be one of 1,000 supporters to give $25 to make this happen? Or do you have the means to donate $100 or $500 to expedite our cause?Thank you for your concern. Thank you for your voice. Thank you for your support.
---
Note: The funds collected through this campaign will be used to support the litigation of to-be-determined plaintiffs represented by the firm Arnold & Placek, P.C. Any unused funds will be donated to a registered non-profit organization benefiting children. As the organizer of this campaign, I will withdraw donated funds from GoFundMe, consolidate them with donations made offline and then use the funds to pay Arnold & Placek, P.C. as the litigation proceeds. Joshua Tetens (Simer & Tetens) will serve as treasurer and provide independent verification of funds received and disbursed. If you have questions about options for making a large donation, please email me at [email redacted].

Organizer