Steve's Medical Treatment Fund
Relief for Steve's Medical Bills and Future Treatments
Steve is a Vietnam Veteran and a lifelong entrepreneur who has worked hard and always taken care of others whether providing jobs or building for Habitat For Humanity to delivering food. Right now the medical bills have been piling up and with no more savings or safety net so we are hoping the kindness he has showed others through the years will come back around now in his time of need. Every small bit helps,even to purchase supplements that help with his nerve pain not covered by any insurance. (Much more effective and cheaper than the $1500 Lyrica that his docs prescribed) We want Steve to be able to focus on healing right now.
This ordeal started in July when a diabetic ulcer took a turn for the worst. Steve had to have a two operations and a partial amputation of his left foot. He was lucky to save his entire foot. It was a close call and his entire body was septic and beginning to shut down. After a touch and go month with an IV pic feeding strong antibiotics directly into his heart he was released to rehab. 
There his foot began to heal but his Blood Pressure was out of control and he was having wicked headaches and severe nerve pain.... and if you know him, you know how he hated the food. Doctors took a month of changing meds to find a combination that seemed to bring down his blood pressure and handle nerve pain. Steve began Hyperbaric Therapy HBOT which we were excited for as is great for vascular issues and wound healing.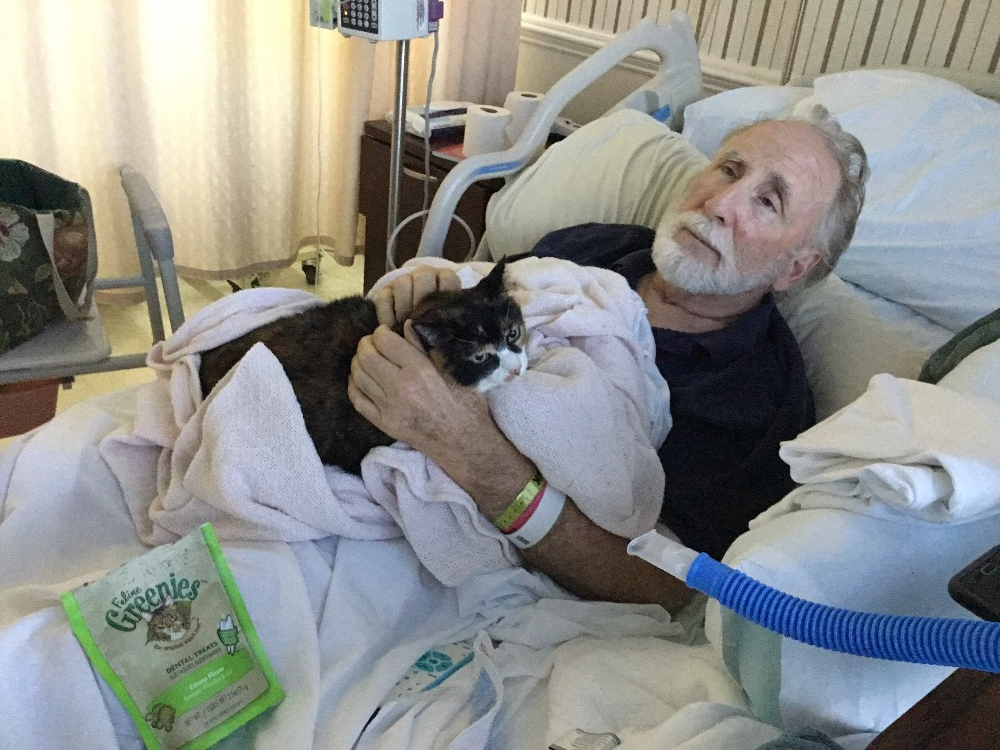 ❤️
Feline therapy seemed to help Boood Pressure
❤️
The first day of HBOT treatment Steve had his first seizure when coming out of the hospital. This went on for two weeks and docs just thought was weakness from being in bed and wheelchair bound for so long.  It continued to happen more frequently and we knew it was something more. Eventually he was having up to 4 seizures a day and ended up unconscious in the ER having a full blown stroke.
From there he began to go down hill, losing 40 lbs, having three strokes, many smaller TIA's, finding 70% blockage in the main veins to his left and right frontal lobes, a 4.6 mm aneurism and now a strange type of seizure almost daily. He would feel fine then just start with legs and arms jerking and convulsing. I (his daughter and caregiver since July) could not tell what was another stroke and what was a seizure so we ended up too many times in the ER or on the floor, the ground or even in the butter section of the supermarket one night when he felt he could walk with walker instead of using wheel chair. Steve could not seem to go one day without an episode.
After many tests, CT scans, MRI, MRA, EKG, EEG and every other three letter test you can think of.... nothing except the obvious damage from the three strokes and a scary aneurism which makes some treatment options not viable.
Steve was scheduled for a surgery for blockages in his brain but his neurovascular surgeon cancelled when he saw his seizures. He thought the surgery was too dangerous and did not think it would stop these seizure episodes so he recommended a week at the Epilepsy Clinic at UVA..... more tests and more questions but not a lot of answers later, here we are.  After ruling out scary conditions like Parkinson's and ALS, they think is a rare neurological movement disorder.
Steve is currently on an experimental drug therapy that is making him loopy, almost drunk and want to sleep all day.... but we had not had an episode ...until today. So we go back to the drawing board. Meanwhile the medical bills are pouring in and there is no income and no foreseeable income in the near future to cover these.
Now that we have given traditional medicine months without much progress, we would like to take Steve to two world renowned holistic doctors, one in Boston and the other in Asheville, NC. Neither of these take insurance so the financial burden would be on him. The supplements that do seem to help also are not covered and add up to about $260/mo. There is a lot of research also on how acupuncture can help regenerate nervous system disorders. The visits are $100/ea and also not covered by his insurance. We believe if he could even do one per week he would see some relief.
Thank you for taking the time to read his story and help even if just by sharing. We will get to the bottom of this and have him healthy again!
Much Gratitude!

Organizer
#1 fundraising platform

More people start fundraisers on GoFundMe than on any other platform. Learn more

GoFundMe Guarantee

In the rare case something isn't right, we will work with you to determine if misuse occurred. Learn more

Expert advice, 24/7

Contact us with your questions and we'll answer, day or night. Learn more