Allow me introduce you to a man who has touched numerous lives, including mine. His name is Matthew Welch. He is a loyal husband of 35 years, a loving father to 10 children, a proud grandfather of 7 grandchildren, a faithful missionary to Romania and Bulgaria for 26 years, and hard working carpenter for over 37 years. With his own hands, he has built multiple churches, homes, and feeding centers for the ministry.  He speaks to everyone with respect and care. He's a selfless man with a compassionate heart, kind spirit, and forgiving demeanor. I'm blessed beyond measure to call this man, "Daddy".

[The whole family together for the first time in 5 years]

[My parents during their first years of missionary work]
[35 years together!!!]
[Proud dad with his 5 sons]
[Birthday kisses from his grandsons, Carrick & Christian]
[Easter Egg hunting with his granddaughter, Dixie Joy]
[Surrounded by his granddaughters, Ariana, Adelaide, & Dixie Joy]
[Sledding at his home in Dabravino, Bulgaria]
[My dad teaching his oldest daughter Grace about his beloved bees]
[4th of July party at their home in Bulgaria]
Back Story
:  I've seen him experience many trials in life, but the hardest one for me to watch him endure has been his own health issues. When he was 48 years old, he began noticing tremors in his right hand.  He would dismiss it as "no big deal". But, shortly after that, he was diagnosed with Parkinson's disease. As the disease progressed, his struggles intensified with this incurable disease.  Although Parkinson's disease can be debilitating, for ten years my dad has continued to build, minister, and above all care for his family.
[Hospital stay for Parkinson's Disease]
About 4 years ago he started having pain accompanied by decreasing mobility in his right shoulder. The right shoulder is the same side he used to swing his hammer for the past 40 years of carpentry. About a year and a half ago, he had shoulder surgery in Bulgaria. A few months later, the pain resurfaced and the mobility continued to decline. Anyone in his presence could see and sense the unbearable pain that was now a part of his daily life: sleepless nights as he struggled to find a position to alleviate pain, groaning as he completed any task that required the use of his right arm, and his dismay as he watched the muscles in his right shoulder and arm continue to atrophy… and yet, he continued to soldier through, not allowing any responsibilities to slip.
[Delivering flour to poor people during the holidays]
In 2018, my dad returned to the United States on furlough. He drove over 40,000 miles to visit many of his supporting churches. While here, he had the opportunity to be seen by Dr. Brothers, an orthopedic surgeon. Dr. Brothers diagnosed him with terrible arthritis and informed him that his right shoulder was bone on bone. He also recommended a total shoulder replacement. Unfortunately, my dad did not have the time or funds to receive the surgery. Once again, he was placing the ministry above himself.
[My family attending the church my dad built]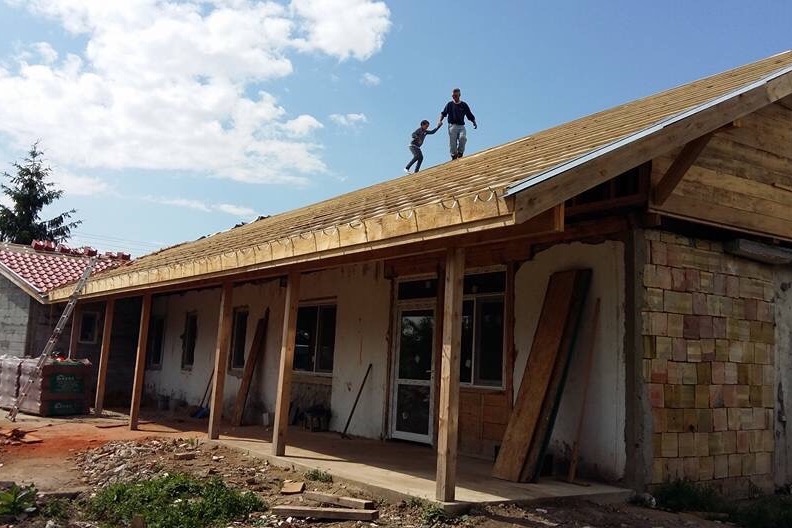 [Dad showing his youngest daughter, Charity, a church roof he was building]
Although my dad has continued to work and function as the pain allows, he has reached his breaking point. The Parkinson's shakes continue to worsen and exacerbate this excruciating pain that he has finally acknowledged he can no longer endure. Unable to find even one moment's rest, pain is now his constant daily battle. 
[The pain he endures daily]
The Plan
: The surgery is scheduled for September 4th. Dr Brothers and Andrews Institute in Gulf Breeze, FL have been working with us for the past couple months. With the knowledge of my dad's situation, they have offered us the generous price of $22,000 for the total shoulder replacement surgery. This is a glimmer of hope for my dad and family.                                                                                           
The Cost
: we need to raise the following funds: $22,000 for the surgery expenses, $1500 for plane tickets (for a round trip ticket between the United States and Bulgaria: the location of his beloved ministry and where his family resides), $1500 for living expenses while he resides here for 8 weeks, and $5000 for rehabilitation (which will play a fundamental role in his recovery process).  We are confident that $30,000 will sufficiently fund all expenses that he will incur throughout the surgery process.
I know I'm asking you to reach into your own funds for someone you've possibly never met. I want to say thank you for taking the time to read this and thank you for any financial support you are able to give.  "Little is much when God is in it," and I believe with all my heart that God is in this. Thank You!
[The whole gang! Mom & Dad with their 10 children: Grace, Hannah, Matthew, Mark, Rebecca, Sarah, Luke, James, John & Charity]
Also, please feel free to send cash or check donations to this mailing address:
Matthew Welch
c/oRebecca Welch
P.O. Box 1616
Destin, FL 32540