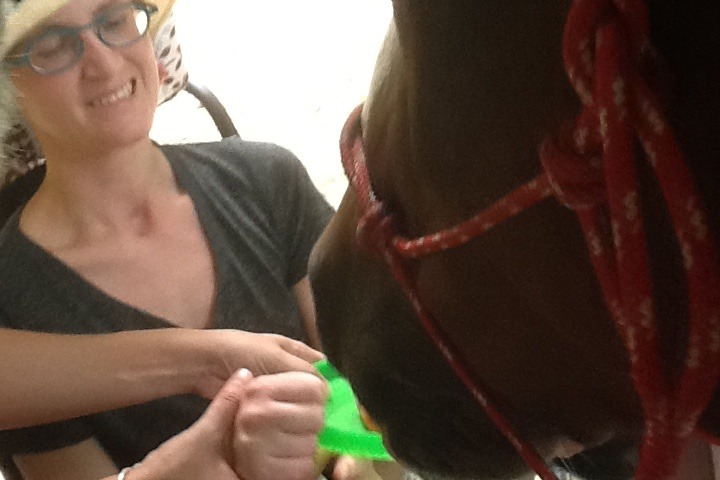 My name is Marie, I am  28 years old and was professional rider.  As we say, when you fall off a horse, you need to get back on immediately. Well, it took me two years to be back in the saddle.
I started riding horses as a little girl, I quickly became passionate and started competitions at the age of 8! I was performing in Three Day Eventing, winning many awards, every week end on shows. I became the  French gold medalist Grand Prix in 2008, later was part of french team in European championship
Today, for me,  this is hard to believe. 
After my graduation, I joined the renowned French National Riding School in Saumur, where I completed my studies as a Bachelor in business & management, I also became a certified riding trainer and instructor and continued competing, while spending lots of internships with international riders in Germany and France. 
In 2013 I was hired as a pro rider in Lexington Kentucky, and later moved to Wellington Florida to work for an international show jumping rider! I felt fortunate to put my experience at work.
Until that tragic fall on  February 20th 2015 
I suffered  severe traumatic brain injuries which left me in an induced coma for 8 weeks at St Mary s Hospital West Palm Beach, and 8 months on life support at the Shepherd Center in Atlanta GA . Every day my beloved family wondered if I would live or die.
Despite doctors diagnosis :   "She will never speak, hear or walk",  I am now able to fight for my future again! Four years went by as I endured multiple brain, eye and ear surgeries, intensive speech, physical, occupational therapies, struggling back on horse again during Therapeutic Riding sessions. Today, I can walk with assistance and express myself, but I have memory loss, balance issues, right side weakness, difficulties to speak and to coordinate gestures, my brain and body have slowed down.
I know I will never compete as a world-class cross-country champion again. This dream is gone forever, but my life has to go on, I have to hope for new horizons and goals.
I know I am strong enough to be a Paralympic rider, and ride towards the 2024 Paralympics in Paris.  Isn't this truly exciting!?  My determination, motivation,  hard-training on my new horse will lead me,  but this project implies even more commitments and financial sacrifices from my entourage.
You are part of this adventure and I thank you from all my heart. 
Marie


Fundraising team (12)
Cecile VdHeyden 
Organizer
Raised $6,729 from 42 donations
Wellington, FL
Nicolas Vonderheyden 
Team member
Raised $5,280 from 21 donations
Rebecca Galicier 
Team member
Raised $880 from 6 donations
Alix Vonderheyden 
Team member
Raised $120 from 2 donations
See all