Joseph Hu. Friend, Brother, Family. He's been there for us; now let's be there for him.

Currently we find ourselves in the month of July 2017. Unfortunately, this story begins January 3rd, 2015-- the day Joseph Hu broke his leg.

Since then, Joseph has endured many challenges all while showing the world that he could handle his affairs with strength and dignity, heal up and bounce back into the day-to-day of his and our lives.
This has not been the case.
Since then, because of his being underinsured (like many Americans), he was at the mercy of a broken system. Joseph ended up drifting from one doctor to another, making call after unanswered call to insurance companies and hospitals, and being put on multiple waiting lists before finally making it to his first appointment at a hospital that would take his condition without the repercussion of financial ruin.
By the time he had finally gotten in to see this doctor, however, it was already
too late.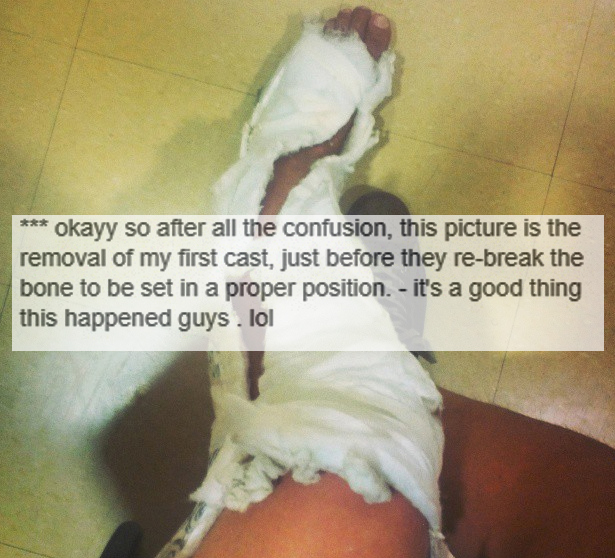 His body had already started repairing itself without the proper bone-setting procedure done; muscles and tendons had started to atrophy, and so he was steered towards an alternative surgery that would potentially fix the situation — although recovery time would be much longer because they would need to reset the partially healed bones and attempt surgery to help place the damaged bones.
After going through this procedure and beginning to heal from his surgery, Joseph fell victim to an allergic reaction to the hardware that was placed in his leg, causing him to gain an infection that prevented his wound from healing properly— even after
months of antibiotics and topical treatments that he had to dress and undress daily, showing only marginal improvement.

And all the while, Joseph was still putting on his makeup for the latest GMCLA performance, showing up to do the flowers for a charitable event, and otherwise being there for others.

Fast forward to today. By now, Joseph will have had multiple follow-up doctor appointments (including one surgery attempt at grafting bone to replace some of the hardware), multiple irrigation treatments, and his most recent surgery to remove as much of the hardware possible. At this time, they were able to successfully remove all items but a single screw. During these multiple procedures, Joseph had also been on multiple antibiotic and topical treatments, none of which improved his situation.
Recently, Joseph was admitted to the ER due to a negative reaction to surgery,
whereupon doctors realized that the infection was bone-deep, prompting them to admit him and monitor him under bedrest, determining that his only viable solution would be to administer a PICC line (a catheter that is placed intravenously close to the heart!), so that he may self-administer antibiotics to try and kick the infection.

Despite of all his efforts, J
oseph has been unable to make ends meet, between bouts of restricted mobility that preclude his ability to obtain consistent work, and a car that has broken down
, making it difficult even to get to his numerous weekly medical appointments. Furthermore, he is supposed to stay on
bed rest
in order to heal as quickly and as best as possible,
making it near impossible to find any sort of viable income that would assist him in being able to pay his rent and bills.

Most recently, Joseph reached out to members of his family who could help him in his current situation— after trying for so long to handle all this on his own — and was told that he had chosen his path and that they would not help him because of the lifestyle he had chosen to live.

At this moment,
Joseph is back in the hospital.
His treatment is not going as planned and
his immune system is greatly compromised to the point of him needing to be sequestered in a sterile environment.
Joseph needs our help. He needs to not worry about day-to-day challenges and focus on getting better. In order for him to do this, he needs financial help.
This GoFundMe account has been setup to gather funds anyone can spare in order to help Joseph get back on his feet again,
This is not a fund to go towards his piling medical bills, this fund is a
Survival fund for Joseph —
we are only asking for enough to cover 6 months  worth of rent, general living expenses
(for someone who can't drive and is disabled)
, some very much needed Physical Therapy, and most of all peace of mind.
The thought of waking up daily, distressed over bills, rent, work is enough stress to give someone a heart attack; imagine 2 years of this, PLUS a broken leg, living by yourself, fearing for your life, with no means to help yourself.  This is his reality, but it doesn't have to be.
We thank you for taking the time, please spread the word and donate what you can.
He Aint Heavy, he's your brother.

Organizer and beneficiary
Javier Alexander Descalzo
Organizer
Los Angeles, CA