Medical costs and on going missions
For those of you who do and don't know JT King he was attacked last night . 
Per his wife, Ashley Laverty King, "He was out with friends and co-workers celebrating his place of works big win at corporate league sports day this afternoon. They were at a restaurant in town. Jt left to drop one of his friends off at home. As he was heading home he heard a noise coming from the bottom of his car. He stopped, got out to check, and was immediately attacked by 2 men with metal bars. They went right for his head. He was screaming at them to get off before they kill him. The one man got his trunk open, but JT's adrenaline kicked in and he jumped in the car and sped back to the restaurant where his other friends were. His friends immediately rushed him to the hospital. The doctors stitched 3 separate gashes up, hooked him up to an iv, and started pumping him full of drugs.
He will be having an X-ray and possible ct scan in the morning.
It is a miracle that he survived. That he didn't faint and bleed out. He has to remain in the hospital for at least 48 hours.
Please pray that his brain does not swell and that there will be no cracks in his skull."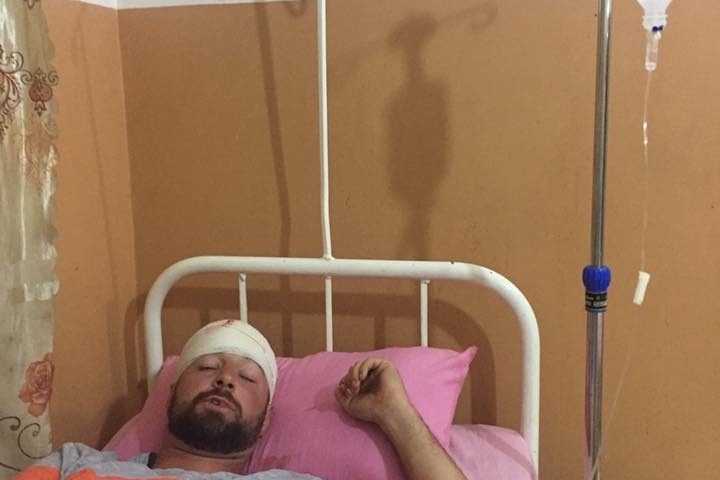 As you can see from the photos it is a miracle he survived and I am asking if you have the ability to donate even if it's $5 please do.  I've known JT for a long time and their family has been family friends for decades.  He's an amazing example of human being and I am priviledged to call him a friend.  As his wife provides updates via Facebook I will add them to this page.
The money will go directly to JT and Ashley to cover any medical costs incurred and anything we raise above and beyond that they can use in their missions work.  Thank you and please keep JT, Ashley, and the King family in your prayers and thoughts.

Organizer and beneficiary