ACTUALIZACION
--------------------------------------------------------------------------------------------------------------------------------------------
Version española :

HEMOS ALCANZADO EL OBJETIVO PREVISTO INICIALMENTE DE 2100 EUROS, QUE NOS PERMITE CONTRATAR A UN PROFESOR DURANTE DOS AÑOS Y CUBRIR EL GASTO MATERIAL DEL COLEGIO. 
DADO QUE A DIA DE HOY HEMOS RECAUDADO 2870 EUROS , SE HA ALARGADO LA SOSTENIBILIDAD DEL PROFESOR ENCARGADO A 2 AÑOS Y 9 MESES APROXIMADAMENTE.
DADO QUE SEGUIMOS RECIBIENDO DONACIONES HEMOS AUMENTADO EL OBJETIVO A 4000 EUROS.  A CONTINUACION SE DESGLOSA EL PRESUPUESTO:
-Como se describe mas abajo, el profesor en el horario establecido supone un gasto de aproximadamente 80 euros mensuales, esto quiere decir que se puede alargar la sostenibilidad del profesor o contratar una segunda persona que se haga cargo de otras asignaturas que se demanden como necesarias. 
-Otro de los gastos posibles es incorporar desayunos con un buen valor nutricional para los estudiantes.  Teniendo en cuenta que un desayuno basico de platano y te,  conllevaria un gasto aproximado de 2.5 euros diarios , el gasto anual correspondiente seria de aproximadamente 600 euros.
OS AGRADECEMOS ETERNAMENTE VUESTROS DONATIVOS. FORMAIS PARTE DEL PROYECTO Y UTILIZAREMOS LA PLATAFORMA DE GOFUNDME PARA INFORMAROS DE LOS LOGROS Y METAS ALCANZADAS.
`
English version:

WE HAVE REACHED THE INITIALLY INTENDED GOAL OF 2100 EUROS, WHICH ALLOWS US TO HIRE A TEACHER FOR TWO YEARS AND COVER THE MATERIAL EXPENSE OF THE SCHOOL.
GIVEN THAT TODAY WE HAVE RAISED 2870 EUROS, THE SUSTAINABILITY OF THE  TEACHER IS NOW  2 YEARS AND 9 MONTHS APPROXIMATELY.
Given that we continue to receive donations, we have increased our goal to 4000 euros. THE BUDGET IS EXPLAINED BELOW:
-As described below, the teacher at the established time is an expense of approximately 80 euros per month, it means that we can extend the sustainability of the teacher or hire a second person to teach other subjects that are demanded as necessary .
-Another of the possible expenses, is to incorporate breakfasts with a good nutritional value for the students. Taking into account that a basic breakfast of banana and tea, would cost  2.5 euros per day, the corresponding annual cost would be approximately 600 euros.
WE THANK YOU ETERNALLY FOR YOUR DONATIONS. YOU ARE PART OF THE PROJECT AND WE WILL USE THE GOFUNDME PLATFORM TO INFORM YOU OF THE ACHIEVEMENTS AND GOALS ACHIEVED.
---------------------------------------------------------------------------------------------------------------------------------------------

PROJECTEnglish version
(* version española mas abajo)
:
My name is Maria and I am from Spain. Last year I felt grateful to have been able to get to know this wonderful place on earth called Calcutta. I volunteered a couple of months and I came across a local NGO that had a large number of initiatives and ideas for new projects. I decided to join them for the rest of my time in Calcutta as a volunteer and now, this year, we are starting a new challenge, to open a "camp school" in Hasting, one of the poorest slums in Calcutta.
This slum is located under the road flyovers that connect different areas of the city. The families that live there use the pillars as household walls, and the flyover as a roof, the flooring is a dirt track that converts to mud pools in monsoon season. The children of this area don't go to school, in addition slum kids usually don't know how to read and write and their parents don't either. The sanitation and health conditions of the families are very poor: illnesses, malformations, malnutrition… there are no public toilets in the area and the clothes they wear are torn and they don't even wear shoes because they can't afford them.
Our project:
We are establishing a "camp school" there, with the main goal to alphabetise as many kids as possible, because we believe that investing in education is investing in change, investing in the possibility of finding a job and hopefully these kids don't have to re-live the difficult life their parents have lived.  We hope that the children can be educated and empowered and they can have an opportunity to develop themselves in the future.
This project has been planned together with Ritesh Masih and Gourab Nathan,  they are from Calcutta and they have been working for a long time in this field. They are running the "MISSION A to Z" NGO, which has good expertise in projects of this kind, and they know well the needs and problems that slum communities have.
Having worked with them in the past and working hand by hand with them in the present, guarantees that this Project has been thought from a point of view that will satisfy the needs that they demand, which means that this Project will be sustainable in time.
The experience last year changed my life so much that now in mid-July I have returned to Calcutta to start this project and try to maximize its impact.
What we need:
- Funds that enables us to employ a teacher:
We have started the schooling project but we need a local teacher to take charge of the classes. If we only depend on volunteers, it wouldn't become a strong project and it wouldn't be effective in the long run. We consider that hiring a local teacher is the best option, because we consider that only a local teacher will know how to teach according to the Indian education system.
The average salary of a teacher in India, that would give lessons  4 hours in the morning from Monday to Friday, is around 80 euros per month. Thefore, a yearly amount of 950 euros.  We need funds for at least two years wages in order to guarantee a minimal stability for the children.
-Supplies
Basic materials such as notebooks, paper sheets, pencils and pens, rulers, scissors and glue to proceed with the classes. The amount that we considered to make it real is 200 euros.
Thanks to all the people who have participated and collaborated in this project. We are very excited that this project will go ahead.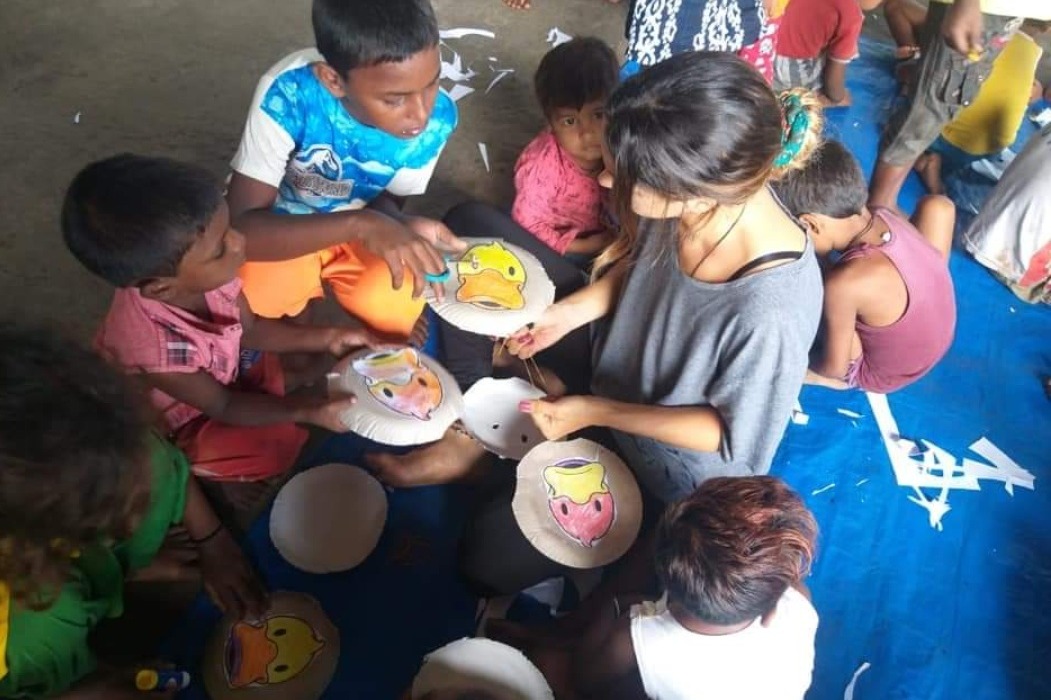 Version española:
Me llamo María y soy española. El año pasado tuve la tremenda suerte de conocer este maravilloso lugar en la tierra llamado Calcuta. Estuve voluntariando un par de meses y me cruce con una pequeña ONG local que tiene un gran número de iniciativas e ideas para proyectos de desarrollo. Decidí que me unía a ellos como voluntaria durante el resto de mi estancia en Calcuta y este año comenzamos un nuevo reto, un colegio no formal en Hasting, uno de los slums más vulnerables de Calcuta.
El slum está situado debajo de un puente, en un cruce de carreteras que conectan varias zonas de la ciudad. Las familias que habitan este área utilizan las vigas del puente como paredes para construir las chabolas. El suelo es tierra que se encharca durante la época monzónica y hay una inmensidad de basura. Los niños del slum en su mayoría no van a colegio, y la mayoría no saben ni leer ni escribir, situación que también se observa en sus padres. La condiciones sanitarias y de salud son casi inexistentes. Se observan enfermedades, malformaciones y malnutrición…No existen baños y la ropa que visten está en mal estado, los niños en su mayoría por ejemplo  no llevan zapatos. 
Nuestro proyecto:
Estamos estableciendo un colegio no formal donde el objetivo es alfabetizar tantos niños como sea posible, porque creemos que invertir en educación es la clave del cambio, es invertir en la posibilidad de encontrar un trabajo que les saque del bucle de pobreza y dotarles de herramientas para que ellos mismos puedan generar cambios en su comunidad y con suerte estos niños no tendrán que volver a vivir las dificultades que sus padres han vivido.  La educación es la clave del empoderamiento y pueden tener a través de ella, la oportunidad de desarrollarse ellos mismos.
El proyecto ha sido organizado junto a Ritesh Masih y  Goruab Nathan, los cuales llevan trabajado en este terreno bastante tiempo. Gestionan la ONG "Mission A To Z" la cual conoce de primera mano las problemáticas de las comunidades en los slums.
Haber trabajado con ellos anteriormente y trabajar a dia de hoy mano a mano, garantiza que el proyecto tiene un enfoque que satisfará las necesidades que la comunidad demanda, lo cual implica que el proyecto será sostenible en el tiempo.
La experiencia del año pasado cambio tanto mi vida, que ahora desde mediados de julio he vuelto a Calcuta para comenzar este proyecto y maximizar su impacto. 
Lo que necesitamos:
- Fondos que nos permitan emplear a un profesor:
Hemos comenzado el proyecto de escolarización pero necesitamos un profesor que se haga cargo de las clases. Depender solo de voluntarios, genera que el proyecto no sea sólido y no sería efectivo a largo plazo. Consideramos que contratar a un profesor local es la mejor opción, teniendo en cuenta además que un profesor local tendrá un mayor conocimiento del sistema indio de educación.
El salario medio de un profesor en la India, con una jornada de 4 horas de Lunes a Viernes, es cerca de los 80 euros al mes. Por tanto la cantidad anual solicitada es de 950 euros.  Buscamos al menos dos años de salario para garantizar un mínimo de estabilidad para los niños de Hastings. 
-Material
Material básico para poder llevar acabo las clases: cuadernos, folios, lápices, bolígrafos, tijeras y pegamento. La cantidad que consideramos necesaria para hacerlo realidad es de 200 euros anuales.
Gracias a todas aquellas personas que han participado en el proyecto de una forma u otra. Tenemos mucha ilusión en que este proyecto salga adelante.