First, what do we need this money for?


The programs you'll be reading about now are covering
 part of the expenses we need in order for us to attend them. But we still need to pay for:
1- Our travel tickets to the USA (round trip)
2- Visa Fees
3- Transportations to Jersualem for our Visa inveriew (round trip)
4- Transportations to get to Jordan (round trip)
5- Food expenses for Basel (45 days)
6- Transportations inside the USA


Don't forget to check the perks ;)Hi!
I'm Heba, and I'm going to introduce my friend Basel to you as we share this campaign together. Basel is majoring Business Administration in AlAzhar University. He's one of the greatest and most intelligent people I've ever met and I'm very delighted to tell you more about this friendship which turned into a great success story for both of us!
Basel travelled to the US couple years ago as an exchange student in Harrisburg High School, OR, where he got the chance to take a 10 months debate training and participate in many debates there. Basel is an active community member, he participated in many local campaigns and he's a co-founder of IHSAN, one of the biggest charity campaigns in Gaza. He is also the Spokesperson & Outreach Volunteer for Gaza Sky Geeks. And now he is working as the PR of Baskaleet Company. Basel is one of the organizers of the first Ted event in Gaza Strip, named TedxShujaiya. He also worked to organize a Hosting Davos event named: Silicon Strip in Gaza, and did a tremendous effort to enhance the art of debate in the region. Basel was and still one of greatest inspirations in my life!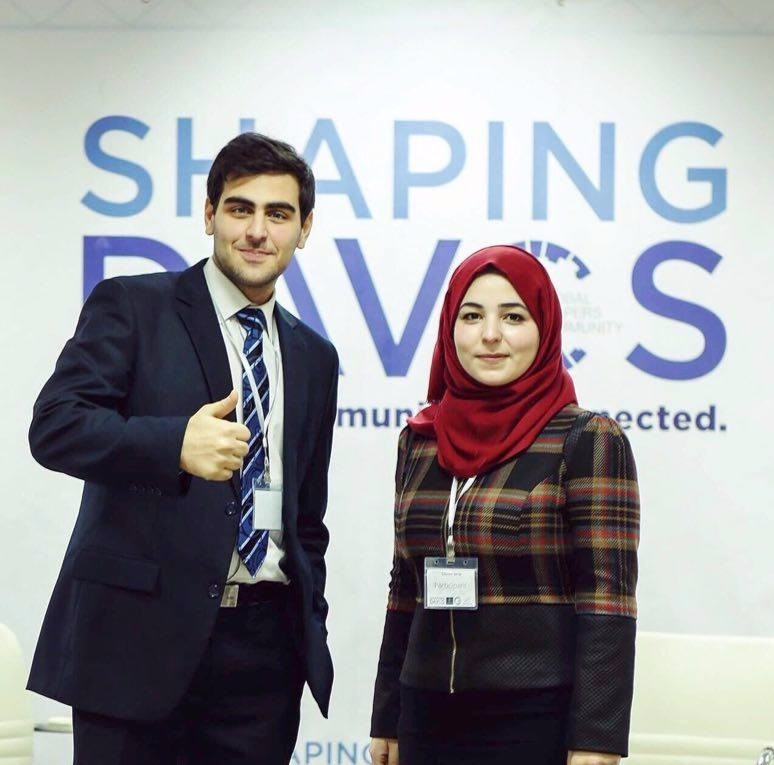 I'm Basel, and I'm going to introduce my friend Heba to you. Heba is an English literature student, a committed hard worker and the co-founder of the first debate club in Gaza Strip. She has been active in community work since she was 12 and has been selected to participate in many projects aimed at the creative development of children and youth. She has two years of working experience while being a college student "a nerdy one", and now she's a mentor in Technovation project in Gaza Sky Geeks. In the summer of 2015, Heba got the chance to visit Oxford, OH for a 6 weeks course on civic engagement funded by the Department of State, culminating in an academic research on education in Palestine. Ever since, Heba has been developing another action plan to support the culture of dialogue and debate in the region. She also got chosen to attend one of the most selective programs in the United States, called AMENDS in Stanford University, CA, due to her hard work in spreading the values of tolerance, freedom of expression and respecting each other. I once told her she's a catalyst for change, and I still believe so!
We are Heba and Basel,


Best friends and founders of the first debate club in Gaza. Three years ago, we decided to join Diwan Ghazza reading club where we were inspired to start a debate training there. In one of the post-reading activities, we introduced this art to our friends by performing a debate between us. For us, freedom of expression holds particular significance in the establishment and development of our society, so we worked continuously without any logistic or financial support to create a team which is able to debate both in Arabic and English.  Since then, many public and private debates were held on many pressing issues around the world. We were both elected to travel to Qatar and attend the National Debating Competition, but we couldn't make it due to the borders closure. We worked together on many things but never stopped counting; TedxShujaiya event was one of them. We also joined Gaza Sky Geeks family in different roles, and recently volunteered to organize and moderate a debate in Hosting Davos event in Gaza. We are dreamers, reading addicts and music geeks, and we love what we are doing. One of the greatest things we share is our belief that things in life are never black or white, neither ying or yang. The truth is, there are many great possibilities and colours in life when you have the right vision!
______________________________________
How attending these programs will help us improving our work?
For the past 3 years, debate club has been engaged in many interesting and important events in Gaza strip. Three of its members were nominated to travel to the international debate tournament in Qatar 2015 as the best examples to represent their language and country regionally. Yet, we have an excellent English debate team that is unable to communicate with the outside world. This chance will bring us:
1- A huge push in connections and opportunities for the team.
2- International recognition for the Debate club.
3- In both Heba & Basel's travels, they will be able to run an outreach sessions, get to know international debate teams and finally, be able to represent Palestinians in such huge events.
We are planning to optimally utilize this opportunity to empower both the culture of debate inside Gaza, and participate in different international events!
Also, for the Global Village community, Basel will be taking an in-depth business course which is also a huge add to any business student in Palestine. Basel is planning to move the things he's going to learn to the Palestinians in Gaza by conducting sessions and build an action plan to engage business students more in such life changing experiences.
What are we adding to the world, and Gaza?
What we are doing is a way to be existing in this spot of the world that we belong to. This spot that might be too small to be noticed, yet, too loud to be heard by the creative ideas and voices it has rather than the sounds of bombs. After surviving three wars and many hard nights, Gaza is still experiencing after-shock and entire areas are still completely destroyed with many dreams and stories of the people who used to have a life in the same exact areas. There's so much building to be done, homes, streets, infrastructure..etc.                                                                                                                                                                   We believe that creativity is a type of building and debate is a type of building. Having a place to express yourself freely and openly with some great minds who are always ready to hear and respect the differences is the environment we are trying to encourage in our debating sessions hoping to move it to the community itself one day. We worked with people between 12 and 30 and we still find it more interesting everyday.
They all, including ourselves, do not have the bricks that might build our country, but we have the chance to rebuild the people who've been left to fight another day.
Help us improving our work by supporting us covering our final expenses for Heba to attend AMENDS conference in Stanford University, CA as a representative of the debate club and for Basel to attend the Global Village program in Lehigh University, PA.
Any kind of help is a great push forward and a generous call from you for us to keep it up!
----------------------------------------------------------------------
The Perks! Woho!10$
-- We will send you our monthly newsletter and mention your name in a video in Arabic and English.
25$
-- We will send you a postcard when we arrive to the USA with your name written in Arabic.
50$
-- We will record an individual video to thank you for your contribution both in Arabic and English.
100$
-- We will write your name in Arabic calligraphy and ship it to you when we arrive to the USA
150$
-- We will send you a T-Shirt from Gaza with your name written on (Arabic and English) "From Gaza with Love!"
250$
-- We offer you online debate sessions (3 sessions, 2 hours each) and we will have your name listed as a notable supporter of the debate club in Gaza.
350$
--  We will send you a scarf with the Palestinian embroidery.
500$
-- In case you live in Jordan, California, DC or around, we will cook you a Palestinian meal for 5 people! Otherwise, we offer you 2 of the mentioned perks.
1000$
-- We offer you a skype tour in a Palestinian gift shop or 3 of the mentioned perks.
2000$
-- All the above mentioned perks are yours!
Thank you!