Danny's Fight to Beat Cancer
Today is Tuesday, September 17, 2013 and it has been almost 2 months since the word cancer took on a whole new meaning for our family. It has been quite the roller coaster ride to say the least! One minute Danny and I are on vacation relaxing in the hill country with our family while Austin and Courtney are having fun at camp and the next thing you know we are in the midst of processing through the news that cancer has been wreaking havoc in my husband's body unbeknownst to us.
On July 25th at 8:39 a.m., I drove Danny to the ER at Baylor Regional Medical Center at Plano to help him obtain relief from excruciating pain he had been suffering from for 10 days. After numerous x-rays and cat scans, the conclusion was that he had a blockage in his colon which needed to be removed as soon as possible.
At 1:49 p.m. Danny was admitted to the hospital and at 5:01 p.m. we were informed that he would be undergoing emergency surgery. The surgery involved removal of Danny's rectum, a tumor, his sigmoid colon and 13 lymph nodes.
On July 29th we received the results of the pathology report. The diagnosis was that the tumor and 1 of the 13 lymph nodes were malignant and Danny had stage 3b colorectal cancer.
On August 2nd, 2 days after Danny's birthday, he was released from the hospital and came home to recover from not only the physical trauma of the surgery but also the emotional shock of a cancer diagnosis. The treatment recommendation given by the surgeon, the internal medicine doctor and the oncologist were all consistent...chemotherapy should and must be his next course of action.
Danny, however, with the support of his family has chosen to take the road less traveled and has elected not to pursue that toxic approach. Instead he has decided to follow a very successful cancer treatment protocol developed by Dr. H K Lin in Oklahoma City that involves taking an enriched formula of Young Living sacred frankincense internally. Numerous case studies have been published confirming that this treatment is very successful in killing cancer while building up the immune system in the process.
In addition to taking the sacred frankincense, Danny has chosen to radically change his diet in order to build up his immune system and create an environment where the cancer will be starved rather than fed. He has also started a therapy treatment program to provide support for his lymphatic system, liver and kidneys by moving out the dead cancer cells and clearing out the toxins in his body and medications that he took while in the hospital.
Now that we have an action plan in place for killing the cancer and building up Danny's immune system, we are taking the next step which is to implement a financial plan! We have faith that God will provide for our monetary needs because he says in his word that he will. We also have peace in knowing that he will not give us more than we can bare.
My devotional today in Jesus Calling by Sarah Young was so encouraging...
You will not find my peace by engaging in excessive planning, attempting to control what will happen to you in the future. When your mind spins with multiple plans, Peace may sometimes seem to be within your grasp; yet it always eludes you. Just when you think you have prepared for all possibilities, something unexpected pops up and throws things into confusion.
I did not design the human mind to figure out the future. That is beyond your capability. I crafted your mind for continual communication with Me. Bring Me all your needs, your hopes and fears. Commit everything into My care. Turn from the path of planning to the path of Peace.
1 Peter 5:6-7
6 Humble yourselves, therefore, under God's mighty hand, that he may lift you up in due time. 7 Cast all your anxiety on him because he cares for you.
Proverbs 16:9
9 In their hearts humans plan their course, but the Lord establishes their steps.
Psalm 37:5
5 Commit your way to the Lord; trust in him and he will do this:
I find it hard to express to you with words how God has been blessing us ever since the day Danny was admitted to the hospital but I will give it a go! We have felt His presence and His love in so many different ways.
Family and friends have dropped everything they had going on to be by our side and console us. We have cried together, prayed together and even laughed together in the midst of being faced with such shocking news.
Our family has spent a considerable amount of time researching this disease, seeking the best options for treatment and making recommendations of what will help heal Danny's body. My Dad helped us with our business when we were too tired or motivated to give it a second thought. Friends delivered meals to the hospital and our home when food was the last thing on our mind. Pastors we know and didn't know visited the hospital and prayed over my husband. One friend visited Danny in the hospital and gave him a stack of Cd's of sermons that the pastor of his church preached on healing. He also anointed Danny with essential oils while praying over him. Friends and neighbors transported our kids to and from their activities and invited them into their homes so they could just get away for a little while and have some sense of normalcy even if it was just for a few hours. We have received flowers, cards, emails, and texts that have been a wonderful source of encouragement for us!
Financial support has been provided by not only family and friends but by complete strangers and some that live in other states. Many people have felt led to donate sacred frankincense oil, orange oil and NingXia Red to Danny. We have received gift cards to stores that offer organic produce so that Danny could feed his body with healthy foods!
We know in our hearts that God is in control of our lives and that he has a plan for good with all that has transpired. The biggest concern we have now is how we will pay for all this! The out of pocket medical bills alone from the surgery are $7,500.00. Then the sacred frankincense and orange oil along with the nutritional supplements (Power Meal, NingXia Red, digestive enzymes, probiotics, green drinks, etc.) he is taking to help strengthen his immune system are at least $10,000.00 for a 30 day supply. Also, the therapy treatments cost $750.00/week for 5-2 hour sessions and that is at a discounted rate!
We would appreciate your continued prayers for our family. If you feel led to donate Young Living products including Sacred Frankincense oil, Orange oil, NingXia Red, Power Meal and Life 5 that would be a huge help! Any monetary contributions to help pay for the medical bills and therapy treatments would be a blessing as well.
We appreciate your consideration and are thankful for your investment of your time and resources in our family.
Serving Him and Trusting in His Provision!
Michelle Spencer
"This is how I fight cancer. " Danny Spencer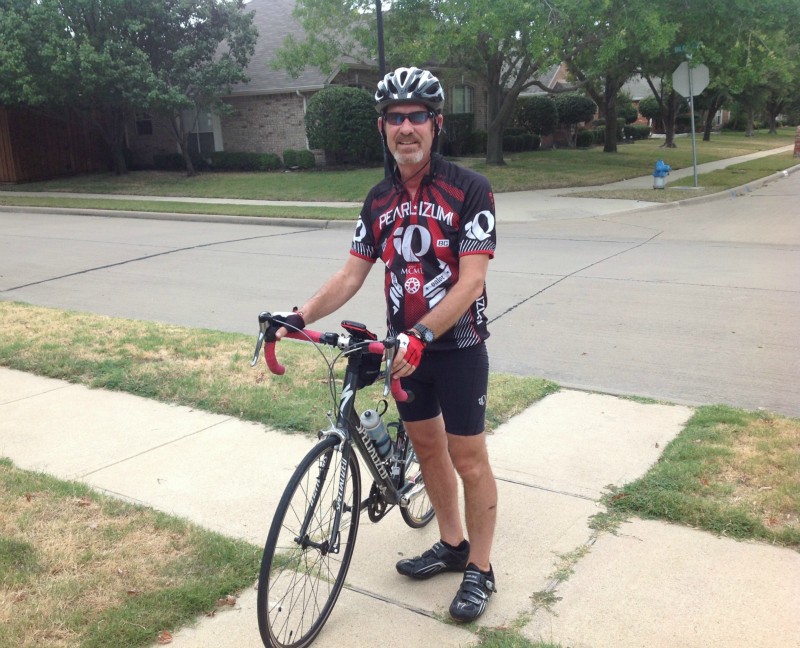 Organizer
#1 fundraising platform

More people start fundraisers on GoFundMe than on any other platform. Learn more

GoFundMe Guarantee

In the rare case something isn't right, we will work with you to determine if misuse occurred. Learn more

Expert advice, 24/7

Contact us with your questions and we'll answer, day or night. Learn more