Cedar to Ghana with Farafina Kan
.::: THE LAST STRETCH.
It has been a difficult summer/fall for seventh-grader
Cedar De Silva Stanley
. Through some life altering changes, Cedar has maintained his work ethic as a performer with the
Farafina Kan
troupe of drummers and dancers. He has grown into his role as an ensemble percussionist and he put in a slamming performance as a principal dununba player in Farafina Kan's annual
Birthright
anniversary concert (August, 2018). Cedar's fundraising efforts, however, ground to a halt while the adults in his life tried to figure things out. Now, he has
just a couple of weeks left
to raise the funds needed for his visa to be purchased with his group so that he can join an incredible team of youth drummers and their teachers for
a February 2019 performance tour of Ghana, Africa
:::.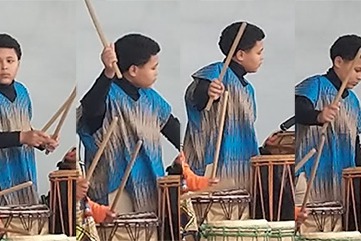 .::: CEDAR'S PARENTS HAVE RAISED ABOUT A THIRD OF WHAT IS NEEDED (BY 11/30 ) TO SECURE HIS SEAT FOR THE FEB TRIP. PLEASE, IF EVERYBODY GIVES A SMALL SOMETHING, HE'LL BE ABLE TO JOIN HIS COMRADES IN AFRICA FOR THIS RARE OPPORTUNITY :::.
Farafina Kan means Sound of Africa and is an intergenerational professional West African drum and dance company rehearsing out of the Adinkra Cultural Arts Studio (ACAS) in Mt. Rainier, Maryland. Farafina Kan was founded in 2004. Cedar began studying djembe with master percussionist and Farafina Kan musical director Mahiri Keita in 2010. Cedar is now in the Farafina Kan Youth Ensemble and has drummed with this group at schools, churches, festivals, and community centers throughout the Washington, DC area and at the Odunde Festival in Philadelphia. Under the tutelage of Baba Mahiri and ACAS founder/CEO Diallo Sumbry, Cedar has learned about African culture, language, values, cosmology, and, of course, music. He has also learned about manhood in the company of other boys and young men in a sheltered, collaborative environment.
Please help us continue this work! and send him on this journey Back2Africa. We can't imagine a better opportunity for our aspiring young artist to learn invaluable lessons about his heritage or a more appropriate environment for expanding what he knows about himself.
Cedar in the Farafina Kan 
2018 Birthright Performance

Organizer