Azaguno! Arts & Outreach in Ghana
WHO ARE WE?
Azaguno Directors: Paschal & Zelma


Azaguno is a vibrant multi-ethnic international touring group, which focuses on research, preservation, education and performance of traditional African, African American, Caribbean and Latin American music and dance. The ensemble also creates contemporary intercultural works in new theatrical contexts that fuse the artistic and aesthetic cultural values and resources representative of African experiences. The group, directed by Paschal Yao Younge as Executive /Music Director) and Zelma Badu-Younge, (Dance Director and Choreographer) have been invited to conduct educational programs both nationally and internationally.
Azaguno in Hong Kong
Azaguno has performed at regional, national and international festivals and conferences in  Canada, India, Mainland China, Ghana, Ireland, France, Italy, Spain, Germany, Mexico, South Korea, Hong Kong, Taiwan, Australia, and the United States. Some of the festivals include: Seoul International Drum Festival, Taiwan International Percussion Festival, Sacheon International Percussion Festival, Taiwan International Dance Festival, The International Association of Blacks in Dance, Dance Immersion, The Congress on Research in Dance (CORD), Lotus World Music and Arts Festival, Hsin Chu Folk Drum International Festival and the Percussive Arts Society International Convention. The group also represented the US at the FIFA World Cup Opening Ceremony and Games in Seoul, Korea in 2002.
www.Azaguno.com


Azaguno in Taiwan
Azaguno in Ohio
Azaguno is happy to collaborate and participate in the international symposia and concerts, AGORO at the National Theatre of Ghana from June 25- July 1, 2018 in celebration of the 25th Anniversary of the National Theatre of Ghana.
Azaguno &
National Dance Company Members in Ghana
AGORO, a festival of New Music and Dance from Ghana, Africa and the African Diaspora will be an educational and transformational cultural experience for all. Apart from several new  Music, Dance, and Theatrical Works created by Paschal Yao Younge, Composer and Zelma Badu–Younge, Choreographer and others, the celebration will bring back excerpts from Diema 2015 and Aza 2016 concerts  to be performed by The National Dance Company, National Symphony Orchestra, National Drama Company, International Artists representing the United States, Canada (Azerbaijani) in addition to several of Ghana's own nationally and internationally recognized groups. AGORO, will mark the third collaboration of its kind organized by the National Theatre of Ghana, Ohio University and Azaguno, Inc. from the United States.
DIEMA 2015Azaguno on Tour
A Three – Day Symposia, Clinics and Workshops focused on the theme: "ARTS, HEALTH, and WELLNESS" will also be organized and create opportunities for the intellectual exchange of ideas, concepts, and recommendations to aid artists, students, sports enthusiasts, arts teachers, educators, health workers, policy makers in the various ministries, in the development and cultural education with regards to Arts, Health and Wellness in contemporary Ghana and beyond. 
Symposia Sessions: 
§  Injury Care for Traumatic Art and Sport Injuries
§  Injury Care for Overuse Art and Sport Injuries
§ Preserve Ghanaian Music Events
§ 
Games to Keep Children Active
§  Incorporate Physical Activity to Encourage a Nation
§  The Importance of Posture in Performing Arts
§  The Role of Physical Activity in Wellness
§  Integrating the Dimensions of Whole-person Wellness
§  Patient Satisfaction and Outcomes for Effective Healthcare
§  Providing Compassionate Patient Care in Healthcare
§ FREE Health screenings (blood pressure, weight, height, body mass index, etc.)OUTREACH GOALS
Symposium Lecture with Director Paschal Yao Younge  @  National Theatre of Ghana 2016
Symposium Workshop - International Guest Artist Sashar Zarif @ National Theatre of Ghana 2016
§ Provide free performances,  lectures and workshops for the youth
§  Donate educational pamphlets  for young professionals 2016
§ Donate educational  books for elementary, middle and secondary school students 2015
§ Donate musical instruments, and sound systems for both music and dance  groups 2015
§ To provide live performances at local Ghanaian Hospitals
The Directors of AGORO 2018 are also devoted to exploring the increasing links in the interdisciplinary global arts, sciences, media, and technology and business.
Funds
Funds raised will be used to support the purchase  and or distribution of musical instruments, books, pamphlets and other educational materials to Ghanaian youth and  the disadvantaged; for free health and wellness services at symposia and support for the Agoro  production.
Our deadline for funds: June 25, 2018.Why this means so much to us?

Arts, Health and Wellness are an integral part of every society and all levels education. The above listed  artistic  experiences introduce different ways of conceptualizing the arts and potentially open up new avenues of creativity, expression, and aesthetic appreciation for the youth, emerging artists and professionals. Symposium and other  outreach activities will introduce not only greater artistic expressions from all over the world but help participants understand  the importance of Health and Wellness  and connections with the Arts. 
The series of workshops, lectures, demonstrations and concerts are therefore aimed at creating a new appreciation for the arts in Ghana. Most importantly, we hope to expose participants to
The Power and Transformative Nature of The Arts.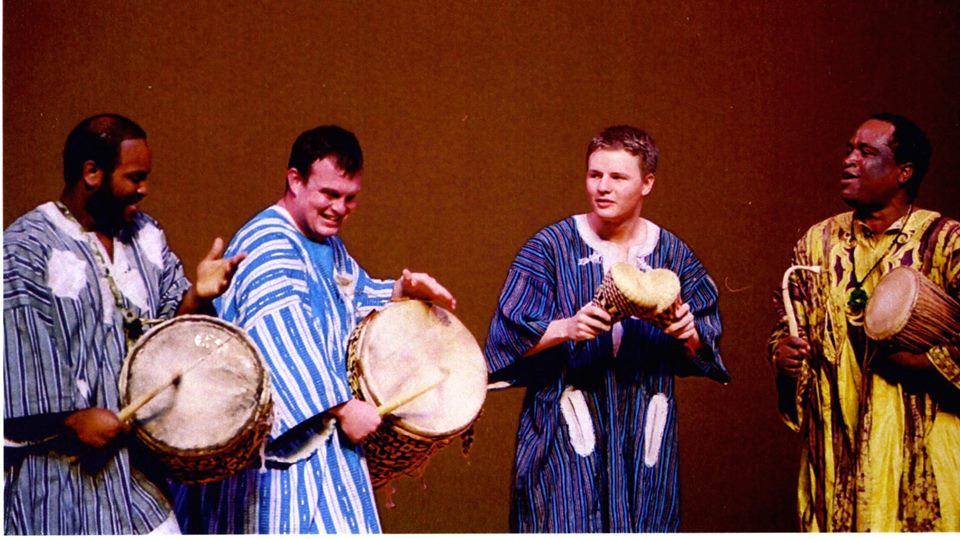 Azaguno in Taiwan

Azaguno in Taiwan
Azaguno in Canada
Azaguno & the Prestigious National Dance Company of Ghana 

Full Cast of AZA! @ National Theatre of Ghana


ARTICLES


DIEMA 2015



DIEMA 2015



AZA! 2016



AZA 2016



AZA 2016




OUR MISSION
* To learn and perform African musical arts and dance as they occur in their authentic settings.
* To create new forms of African and African derived presentations in a new theatrical context
* To create new curricula initiatives for the teaching and learning of African and African derived musical arts and dance.
* To create opportunities for people all over the world to experience the musical arts and dance of the African Diaspora
* To promote international programs of study in Africa, Caribbean and Latin America

Azaguno Thanks You Very Much for Your Support. We are Very Grateful!


Organizer
Registered nonprofit
Donations are typically 100% tax deductible in the US.