Alphabet Theatre's First Season
We believe in changing the world - one letter at a time.
Alphabet Theatre is an independent ministry that uses the transformative power of theatre arts to teach world building skills to kids in grades 6 to 12. These skills include confidence, leadership, team building, and a respect for others who may be different.
Alphabet Theatre is named in honor of all of us, as we are all defined by a set of letters. Letters like ADD, ADHD, AU, BD, CD, CP, DD, DS, ED, FAS, GT, HI, LD, LBGTQ, OCD, ODD, OHI, OI, PDD, TBI, VI: these letters shouldn't be our limit - they should be our starting point.  
When we put letters together they become  words and ideas. They help us to build a more creative, more diverse, more welcoming, more caring community.  When we come together we teach kids that they can change the world, one letter, one action, one person at a time.  
Alphabet Theatre – is a new start for an old troupe. After 11 seasons and 28 productions, the founders of what was formally know as Mayfield Youth Theatre have decided  to grow this mission into a community outreach and incorporate officially as a non-profit.
There are several reasons why - 
Being an outreach ministry of a single denomination gives the impression that only those believers are welcome. The founders of Alphabet Theatre believe strongly that all children are a gift from God regardless of race, gender, orientation, or social class. All are, and have always been, welcome at Alphabet Theatre.  
Being an independent organization also opens up new funding opportunities. As soon as we are officially recognized as a 501c3 we can start applying for grants.  We will also be able to participate in matching funds from many businesses that will not support groups with religious affiliations.
Finally, being a stand alone community organization allows us to become a bigger presence in the community and create more opportunities for our youth to connect with a larger area.
How are we different from other theatres?
Alphabet Theatre is a calling. We have found a need in our community and we are called to fill it. We are a no-cut organization - everyone who auditions will find a place in our casts.  Yes - everyone.  Differently abled or able bodied.  All races, genders, economic classes, religious beliefs and non-believers.  We draw kids in grades 6 – 12 from multiple school districts and home schools and lots of religious backgrounds.
Our company is led by an all-volunteer group of adults who have all been safe sanctuary trained and BCI or FBI checked. As part of our program, we encourage youth to get involved in programs that benefit the community, and support social justice and benefit the world around us.
Perhaps the biggest difference between us and other groups is that we do not charge a participation fee - you don't have to sell anything, buy anything, take any classes, or purchase any costumes.  We are truly open to ALL.
Our 2016/2017 Season:
Auditions September 6th; performance tour November 4-5, 11-12: a theme of transformative love.
Cotton Patch Gospel is the retelling of the Gospel of Matthew based on the book The Cotton Patch Version of Matthew and John by Clarence Jordan. It is a powerful retelling of Gospel story set in 1960's Georgia with wonderful music from Harry Chapin. The show runs just under 2 hours and is a poingant way to introduce the gospel or to find new ways of relating to it. 
Set in the vernacular of the civil rights era, it connects us to the passion and love for God and for each other.  The
Episcopalian
called it "Powerful drama and a joyous celebration."  We just call it transformative
April 28-30 and May 5-7th at Mayfield Village Reserve Hall, we will be performing 
I Never Saw Another Butterfly. (License pending approval)


This is another story of how love can transform  horror and anguish and bring beauty and hope out of despair and desolation.  It is the story of the 15,000 children of the Terrazine Concentration camp, and the survival of a mear 100.  This production connects the youth of today to the history of the haulocast. It is a shinging example of courage, kindness and strength. 
This opportunity to help grow our organization means so much to us because we can continue to make sure that evey person that asks for our help will get the chance to shine on stage, with their peers and after the lights are dimmed. It gives us the opportunity to change the world, one letter at a time.
Here's what we will do with the funds:
Continue the process of becoming a 501c3.                        
Purchase Insurance for our board, volunteers, and participants.
License and Script Fees for Musical
Liscense for Drama
Honorarium for Instrumentalists
Marketing and outreach
Educational outreach
Costumes, sets, props, makeup
Begin purchasing sound equipment
Begin purchasing Light Equipment
Construct a better storage building for costumes and set pieces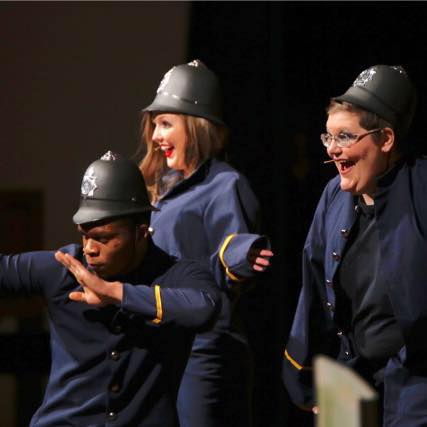 Become the first supporter
Your donation matters
Organizer and beneficiary
Jill Pappenhagen
Organizer
Chesterland, OH
Jill Pappenhagen
Beneficiary