Akampurira Becomes a Lawyer!
Hello, my friends.



My name is Akampurira, Edith. I am a 26yr old woman from the Kabale district of southwestern Uganda. I am the eighth born in a family of thirteen—nine boys and four girls, with two half-brothers and one half-sister. 

A barefooted dream.


(Me on the left)


Since my dad and mom were just simply peasant farmers, not salary earners, they could not afford to have us taken to school.

I was therefore adopted by my aunt when I was just 3yrs old. I can't say it was an easy life over there. I grew up not knowing what it really meant to have a mom. Often when my friends talked about their parents, I had no story to tell them. 

I never had toys or birthday presents. It was a hustle all the way through, especially going to school bare-footed with all the sharp stones in the cold. With no gifts to bring relief, life was very hard, nearly impossible, though it gave me the driving force to strive even harder.

My first goal if I ever was to succeed was to dress my feet. After that, I would help many more children who were like me.     

 
"I wish my mom and dad were rich, but when I grow up and get money, I will have many shoes for myself and will not go barefooted any longer, and I will help the poor young children."


I said these words to my aunt one Christmas in 1997 when I had gone barefooted Christmas Day. All the children at church made fun of me because of that, and all I could do was cry.

Even though it was very painful, I learned from it and used it as my motivation and encouragement, though the ache for motherly love is still with me.

It did not help too that my father always denied me and aired it to my face that I was not his daughter. These gaps from love hurt deeply, but slowly I persevered and carried on with my life.


(My uncle's coffee garden)


When I became a teenager, I went to work in my adopted dad's coffee gardens. That's where I was able to raise money for myself and provide for my own upkeep in school, buying a few new clothes, as I was later taken to the boarding school section in my school.  

In 2010, when I finally completed high school, my aunt told me to go back to my mom and dad. She added, "I have done my part. If your parents want, let them sell a piece of land to further your studies, or else you can go and dig."

I was almost buried with the shame of failure.

I remember my adopted dad, who was then my friend, telling me, "Darling, for the very first time, things will work out someday. For now, smile through the tears, don't be discouraged."




Taking his advice, I traveled 7hr drive home to my parents. However, when I got there, my dad started chasing me away in his usual manner, reminding me of how I was not his child. My aunts and uncles told me to get married because for them 18 yrs old was too old to start a home.

I couldn't stand it long, and soon after I asked my mother's permission to go to the city and try out my luck getting a job to raise money for my college tuition.

In order to survive, I started hawking some, until one day I met my cousin, the son of my adopted parents. We exchanged glances, but when I got near the car window, he rolled it up and drove away.

It got worse after then. I spent my days sleeping in a house with a leaking roof and eating only one meal a day.

Though I was still focused on my goal, the money I managed to save was not enough for my tuition.
Therefore, I opted to help my little brother complete his final year in high school instead.





In 2013 I tried again. I saved up an amount of money, applied to law school, and was accepted.

Unfortunately, the money I had in savings could not even cover the first semester, so the opportunity slipped through my hands.

Things seemed to keep passing me by, but I never gave up hope nor let go of my dreams. Therefore, I decided to join the Uganda Police Force so as not to remain idle, and to still be able to work in line with my dream to keep it alive.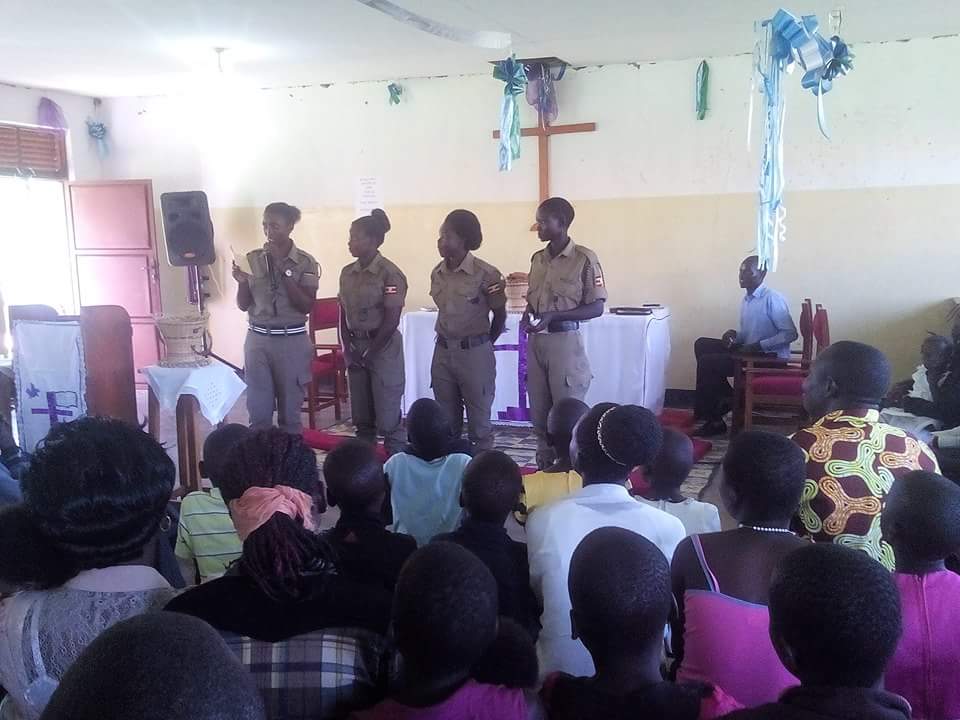 (Police officers were called upon to lead the service in Pader Church of Uganda. I am on the far left)


(Me giving the summon on behalf of our district police commander. My theme was about purpose, quoting from Moses and the call of Abraham)

After going through 6 months of initial military training, and another 6 months of police procedures, law, and police mode of conduct, I served 2 years on the force.

Arriving in 2017, I have applied to law school a second time, and have been accepted for the second time!



As of June 2017, I was accepted into law school at Kampala International University in Uganda. This time, I will not allow this opportunity to slip out of my fingers due to a lack of money.  

I will become a lawyer.

At first, I was really discouraged seeing as though this opportunity might pass through my hands AGAIN due to money. However, this time I have great encouragement and motivation, and I believe that this opportunity will not slip by because where there is a will, there is a way.  



I want to help fight for justice and I want it badly. Our country is so corrupt and the poor and innocent are rotting in jail due to unfairness.

I remember when I was young, I witnessed a lady whose land and home were both snatched from her by her in-laws after the death of her husband. Because she was a woman, poor and uneducated, her family took advantage of her.

In 2004 I remember a murder incident of a certain woman by her boyfriend. However, due to corruption, even with substantial evidence the man went unpunished after shedding innocent blood.

It is because of this that I desire to fight for the rights of the innocent and young, the poor, and the injustice within the law.

My goal is to get a financial breakthrough so that I may help create fairness, fight against injustice, and motivate youth with my story.

Will you help me?



My Bachelors of Laws will be an investment of $800.00 per semester. Working full time as a police officer I make roughly $1400.00 a year. However, getting a Bachelors of Laws will require that I take study leave of absence from work in order to study, which is my only source of income at this moment in time.

This means that in addition to tuition, I will need to raise money for my living expenses for the entire four years as well as, in addition to books and other crucial supplies.

Raising $11,560.00

Below is a full list of expenses for my four-year degree:

1.)       Tuition and fees = $6,400 ($800 per year for 4 years)
2.)       Housing expenses (renting off campus) =   $2,042 ($510 per year for 4 years, includes rent, utilities, and furniture)
3.)       Books = $160 ($40 per year for 4 years)
4.)       Handouts (printing and copying) = $144 ($36 per year for 4 years)
5.)       Meals = $480 ($120 per year for 4 years)
6.)       Transportation = $800 ($200 per year for 4 years)
7.)       Supplies (Used Mac Book and USB Drive) = $565
8.)      Unforeseen expenses = $100
9.)       GoFundMe ( 5% commission fee + 2.9% payment processing fee + $0.38 fee per donation)  = $835.30

GRAND TOTAL = $11,555.30  


60% of the first semester due by Mid-July.

Upon getting accepted into law school, I am required to make a 60% deposit of the first semester, ($480.00) immediately by mid-July in order to be fully considered, after which the entire first semester ($800.00) is due by August 21st.  Paying off the first semester will give me some time to raise the rest of the funds, and pay for my school as I go along.

With you help, this will become a reality.

 "Who knows where the wealthiest place in the world is?"

Some years ago, I watched a short video clip where the speaker asked this question. I was eager to know where the wealthiest place in the world could be, but when I heard of the answer, I didn't want to believe it, because it got me frightened.

He said, "The wealthiest place in the world is the graveyard/cemetery." Do you know what his reason was?

His answer was very simple but exceedingly awesome. He explained that the cemetery is where you will find people who have been buried, and unfortunately, their ability, skills, gifts, are buried along with them."

Having watched and listened to that clip, it impacted my life, and I said to myself:

"I will do whatever it takes to give birth to my dreams and to not add to the wealth of the graveyard, or be buried with my dream."
 
I want to birth performance, I want the world to be impacted by my services as a lawyer, and my life story. Therefore, I have decided to ask for help and your support as I give birth to the aspirations that were entrusted to me, and to make them a reality.

I sure have tried may times.  I also won't say that I have failed because I only will be considered a failure if I keep doing it alone.

My dream may be personal, but the most important thing is that it involves people.

I truly call upon you for your help in raising me up, because though going down we may not need people, going up we certainly do.

I want to live a flourishing, fulfilled, fragrant life. I need your support to give life and a reality to my goals, dreams, vision, and aspiration.

Please allow me your support in order to touch and mentor people, while being able to live.
Where ever in the world you may be, I promise I will make you proud.  

 


THANK YOU!

Edith Akampurira






TESTIMONIALS:


"Akampurira's service to us and the people is perfect and without question. For the short period, I have worked with her, she has shown the ability to handle even the most challenging of tasks with a lot of care and maturity. She is a very responsible and selfless person, who has concern for others irrespective of age, tribe or religion."

- Kadunga Denis Pinyi, Commander, Uganda Police Force


"Akampurira once shared her vision with me, and due to her objectivity, I really saw a brighter future for her as a lawyer which has been one of her dreams to create fairness and justice. She is dependable, mentors to the youths, handles issues with maturity, and leaves a mark in everyone she encounters."

 - Adonga Brian Wilfred, Head of Finance—Pader


"Edith comes from a humble background but has beaten all odds to make sure she makes it in life. A humble and kind woman, she is patient, loving, and she has a positive attitude towards work, people, and other issues of life. I would like to assure you that Edith will perform to your expectation."  

 - Dorothy Mbaguta Okello, Founder, Missions Beyond Frontiers (MBF)



FAQS:

What do you plan to do once you get your degree?

It is my goal to first pursue a Bachelors of Laws, after which I intend to pursue a Masters and later a Ph.D. in law. However, becoming a lawyer is the first of many greater dreams, including opening my own practice, becoming very prominent and successful within the field, then retiring to become a motivational speaker and author, after which to use my influence to change the world. With my success, I also wish to build an orphanage to give a home to poor and innocent children who are suffering, and give out a helping hand to the needy.







Organizer