In Memory of Dylan Kowalewski
Dylan, father of Sophie (Age 6) and Miles (Age 8) died suddenly on April 17th, 2014, at the age of 40 from advanced heart disease. His family has been left up in the air in terms of figuring out the finances and insurance following his passing.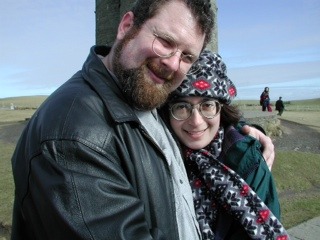 Dylan was a devoted and loving father and husband. He was also an advocate of reading for pleasure, fondly known as "The Monster Librarian". Dylan's love of reading resulted in his founding of the website,
Monster Librarian
, to address a lack of resources available to librarians and readers looking for a good book to read.
Dylan was the sole breadwinner for his family since his wife, Kirsten, has epilepsy. Her seizures are not completely under control and her doctor has said she cannot drive. It would be difficult for Kirsten to get to and from a job without transportation.
As neighbors, we have offered help and support but there are a lot of financial issues that this fund will try to address. Kirsten has a helper that comes three afternoons a week to run errands, take the family to appointments, and to take the kids to their afternoon activities. Secondly, the family's health insurance was through Dylan's employer and they are now paying for coverage through COBRA (about $1,300 a month) while looking for other coverage. There are so many expenses that we cannot cover all of it but this fund will go a long way in helping Kirsten and her family transition into a life without Dylan.
Dylan was a kind and generous man and he always said, "I am there for my people." In this time of need, let's come together and be there for his family.
Organizer